We've endured more than a few more hurricanes, fires, floods and other horrors since the original version of this encore Meatless Monday post ran on November 21, 2011. I've updated this story but kept the inspiration from years past. Wishing you and your family a Thanksgiving to be grateful for.
When Hurricane Irene put her Vermont farm under water in 2011, Suzanne Slomin had to start over — her business and her life. She had every right to feel miserable. And yet Slomin felt "grateful to be part of a true community. Our friends and neighbors have been faithful to us, offering physical, economic and emotional support when we have been vulnerable and in need."   Now the creative force behind Green Rabbit Bakery, baking organic loaves through solar power, she's nourishing the community that kept her strong.
Slomin — and the rest of us — have struggled through tough times. That's all the more reason gratitude belongs on your Thanksgiving menu. Giving thanks, especially in the face of hardship, is humanizing, energizing and doesn't cost a dime. Gratitude makes the food taste better. It makes you better, too. "The attitude we carry is very important," the late, great Anne Marie Colbin told me.
"If we are negative about the food we eat, we are eating our own negativity," said Colbin, who founded Natural Gourmet Institute. "That can't be good."
Veggie Queen Jill Nussinow agrees. "Your energy goes into the food you prepare. I think that's huge." Nussinow, along with so many others, was forced to evacuate from the Sonoma fires. You couldn't blame her if she passed on Thanksgiving altogether. Instead, she looks forward to the physical act of preparing a meal of thanks. "The chopping, the stirring, is where you get to put the love in. When you eat it, you get it back," she says. "You're giving something, you're getting something. It's complete. How amazing is that?"
She also knows you're slammed every day and especially at the holidays. Fear not. Nussinow, the author of Vegan Under Pressure and The New Fast Food gives you kitchen techniques and tools to get the love back quicker.
Much is made of the caloric and nutritional energy we get from food, but not enough about the spiritual. In these days, when snark and attitude rule and we focus more on the politics of what we eat — and politics in general — it takes a certain boldness to give voice to our powerful relationship with food. This is more than just new age whatever, there's science behind it. Preparing food for ourselves and others improves our well-being.
"We need to cook for each other," says Melissa Clark , New York Times food columnist and bestselling author of cookbooks including her new Dinner in an Instant. "It will not solve all the problems but it will help us get in the right place. We are better people when we eat well. I really, really believe that."
You don't have to be pious or belong to a cult to feel awe at the abundance on our plates, or, adds wine guy extraordinaire Terry Theise, transcendence in a glass. Wine itself proves "the sacred can exist," says the author of Reading Between the Wines. "You've done nothing to deserve the beauty in this glass. It just seems wasteful to take that experience for granted."
So raise a glass and take a moment out of your crazy, overstuffed life to be thankful for the food we have, the people who grew it and the people we share it with. "It doesn't need to take a long time, you don't need to make a big show of it," said Colbin. "Just say thank you to the sun and moon and the growers and truckers and packers."
Thanksgiving needn't be elaborate. It needn't involve turkey. If you're into gratitude and compassion, trust me, your meal and you will be better without it. It just needs to involve thanks. "No matter what you eat," as Colbin said, "be grateful."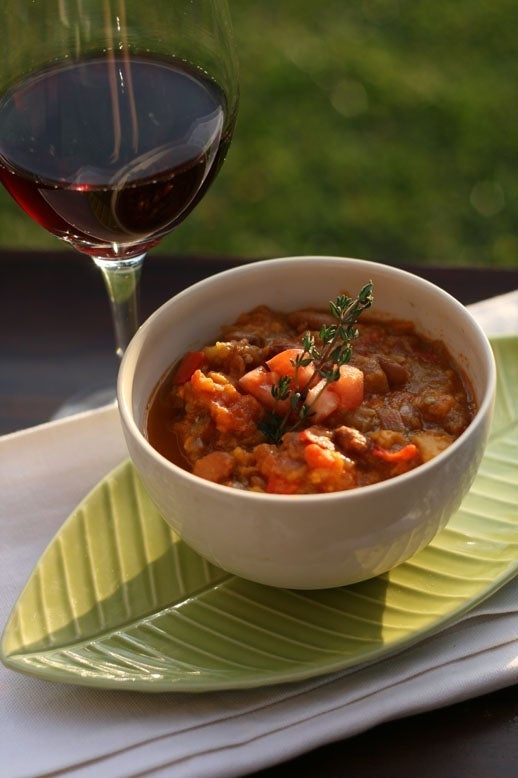 Autumn Sunset Stew
Recipe used by permission from The New Fast Food, ©2016, Jill Nussinow, MS, RD.
You can use any vegetables that are fresh in the fall for this gluten-free recipe. It is highly adaptable and very delicious. Season it any way that you like. Here I use thyme and smoked paprika but use Herbs de Provence, chili powder or curry – it's your call.
2 minutes high pressure; natural pressure release for 10 minutes; 3 minutes high pressure, natural pressure release
1 tablespoon olive or other oil, optional
1–2 teaspoons smoked paprika (pimentón) or chipotle powder
1 medium red pepper, diced
3–4 cloves garlic, minced
1 cup dry red, pinto or black beans, soaked overnight
1 cup diced firm tofu (optional)
½ cup diced potatoes, any color
1 cup diced sweet potato or winter squash or one more cup if eggplant is not in season
1½ cups chopped eggplant, if in season
2 sprigs fresh thyme or other herbs
2 cups chopped fresh or canned tomatoes
Freshly ground black pepper, to taste
Heat the oil, if using, in the cooker over medium heat or on sauté. Add the paprika, onion and pepper. Sauté for 1 minute. Turn off sauté. Add the garlic, beans, and stock and lock on the lid. Bring to high pressure over high heat. Lower the heat to maintain high pressure for 2 minutes, or just set your electric pressure cooker for 2 minutes. Let the pot sit for 10 minutes or until the pressure drops. When 10 minutes is up, quick release any remaining pressure.
Remove the lid, tilting it away from you. Add the remaining ingredients except toma­toes, salt and pepper. Stir the stew. Add the tomatoes on top of the other ingredients without stirring (do not add salt and pepper, yet).
Lock on the lid, return to high heat and bring to high pressure or set your electric pressure cooker for 3 minutes. Reduce the heat to low if using a stove top cooker and maintain high pressure for 3 min­utes. Let the pressure come down naturally.
Remove the lid, tilting it away from you. Remove the thyme sprigs. Make sure that the beans are cooked through. (If not, return the pot to the heat, adding more liquid, if neces­sary, and pressure cook another minute or two.)
Add the salt and pepper. Serve hot over rice or quinoa.
REAL LIFE. REAL NEWS. REAL VOICES.
Help us tell more of the stories that matter from voices that too often remain unheard.
This post was published on the now-closed HuffPost Contributor platform. Contributors control their own work and posted freely to our site. If you need to flag this entry as abusive,
send us an email
.