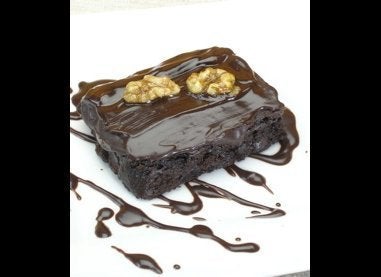 Fran Costigan, author of More Great Good Dairy-Free Desserts, remembers the dark days, when vegan sweets were "dry and brown and tasteless." She looks at the leaden recipes from the '80s -- and a fair number from today -- and wonders, "How did someone think that was going to taste good?"
Deliciousness is key for Costigan, who started the traditional route. Right out of New York Restaurant School, she landed a job as a pastry chef in a "very tony upper East Side shop." Patrons loved her sweets, she loved her job, "but I didn't feel well-- stomach aches, felt moody and exhausted."
Around that time, Brooklyn-born Costigan came across Food and Healing by Natural Gourmet Institute founder Annemarie Colbin. "It was one of those wow moments. It made so much sense to me, that food and our health would be related," says the woman who'd grown up eating "canned and frozen. My mother gave me ice cream for breakfast."

Colbin's book inspired Costigan to give up sugar and turn vegan. Overnight. While she doesn't recommend these drastic measures for everyone, "I don't remember it being hard. I had been feeling so awful, had accepted that as part of life." Without dairy, eggs and processed sugar in her life and in her diet, "I felt really good. It was as if someone turned on the lights in the room. I didn't want to go back to feeling the way I used to."
Costigan signed up for NGI's chef training program, including a natural pastry arts intensive (intense is how Costigan operates). She set about giving all the desserts she loved a plant-based makeover, combining the traditional techniques she learned at restaurant school with the healing natural ingredients she discovered at NGI. Her rich, gooey brownies and Chocolate Cake to Live are plant-based but they're also major chocolate delivery systems. "When desserts are good, they're just good," she says.
As a new vegan, Costigan admits she was militant, but after twenty years of living, eating, baking and teaching, she's taken a much more mellow approach. There's no up side to being "more vegan than thou," as she puts it. Her vegan baking boot camp classes at NGI -- where she once studied -- always sell out and are open to everyone -- "absolute beginners and professionals," omnivores, vegans, people on restricted diets and people who, like Costigan "really like dessert."
"We're all individuals," she says. "I start every class by saying, I'm not the food police. We are all where we are in the moment. Being vegan is about compassion and it extends to more than other vegans. It should extend to everyone and to the earth."
Tolerant of people, she's pretty dang demanding of her ingredients. "I don't like ersatz food, I don't want highly processed or fake stuff -- those are chemicals. I'd rather use natural sweeteners. I really care about fair trade." She cares about organic, too. Vegan white sugar had its fans for a time, but Costigan wasn't one of them. It's made from beets, "and most beets today are genetically modified."
Since Costigan began "veganizing desserts," the natural ingredients she's passionate about have become much more available. Interest in vegan, gluten-free vegan and raw vegan desserts has skyrocketed. But for Costigan, one thing remains constant -- if you want to sell someone on vegan dessert, "it has to be delicious."

Super Fudge Low Fat Brownies
from Fran Costigan's More Great Good Dairy-Free Desserts

Decadent, deeply chocolate, and definitely fudgy, these miraculous brownies are made without eggs, dairy or refined sugar. The prune puree replaces most of the fat, and adds a healthy does of fiber. These are plenty rich unadorned, but if you want to take them over the top, spread with Chocolate Ganache as pictured. Recipe follows.

Costigan uses all organic ingredients. Other smart cookies will, too.

For the Brownies
¾ cup whole wheat pastry flour
½ cup all purpose white flour
2 tablespoons arrowroot
1 cup Dutch process cocoa powder
½ cup organic cane sugar
1 tsp aluminum-free baking powder
½ tsp baking soda
½ tsp fine sea salt
3 tablespoons organic canola oil or another neutral oil, plus more for oiling pan
1 cup pure maple syrup, dark amber or grade B
⅓ cup prune puree (recipe below) or use baby food prunes or apple and plums
2 tablespoons water
2 tablespoons pure vanilla extract
½ cup walnuts, toasted, cooled and coarsely chopped
(optional) ⅓ cup vegan chocolate chips

For Prune Puree: (Makes 2/3 -1 cup)
6 ounces dried, pitted prunes
7 ounces boiling water, more if needed

Soak the prunes in water until very soft. Pour prunes and soaking liquid into a blender and blend until perfectly smooth. Use immediately or refrigerate up to 2 weeks in an airtight container.

Position a rack in the middle of the oven and preheat to 350˚ F. Oil a 9 x 9-inch pan with oil.

Place a wire mesh strainer over a medium bowl. Add pastry flour, white flour, arrowroot, cocoa, sugar, baking soda, baking powder and salt to the strainer and sift into the bowl. Stir with a wire whisk to distribute the ingredients.

In a separate bowl, whisk oil, maple syrup, prune puree, water and vanilla until very well blended. Pour into the dry ingredients and mix until smooth. Stir the walnuts and chocolate chips, if using into the batter. (The batter will be thick.)

Spread the batter into the prepared pan evenly. Bake for17 to 18 minutes, until the top looks dry and set, and the sides of the brownies have pulled away from the sides slightly. A tester inserted into the center will be coated with very moist cake, but the cake will not feel gummy. The brownies will firm as they cool.

Place the pan on a wire rack and cool to room temperature. Refrigerate or freeze before cutting--cold brownies slice neatly. Store in the freezer, well wrapped up to a month. The brownies taste great straight from the freezer!

Chocolate (Vegan) Ganache

8 ounces dark chocolate, finely chopped (between 62 to 72% cocoa)
¾ cup soymilk or almond milk ( or soy or coconut milk creamer)

Put the finely chopped chocolate into a medium-size heatproof bowl.

Pour the soymilk into a in a small saucepan and heat to just under a boil over medium heat a boil. Pour over the chocolate. Swirl the bowl to submerge the chocolate. Allow the chocolate to begin to melt about 1 minute, then stir gently with a wire whisk until smooth.

The ganache will be thick enough to spread on the brownie in 10 to 20 minutes at room temperature. Spread the ganache over chilled brownie for the shiniest glaze.

Popular in the Community