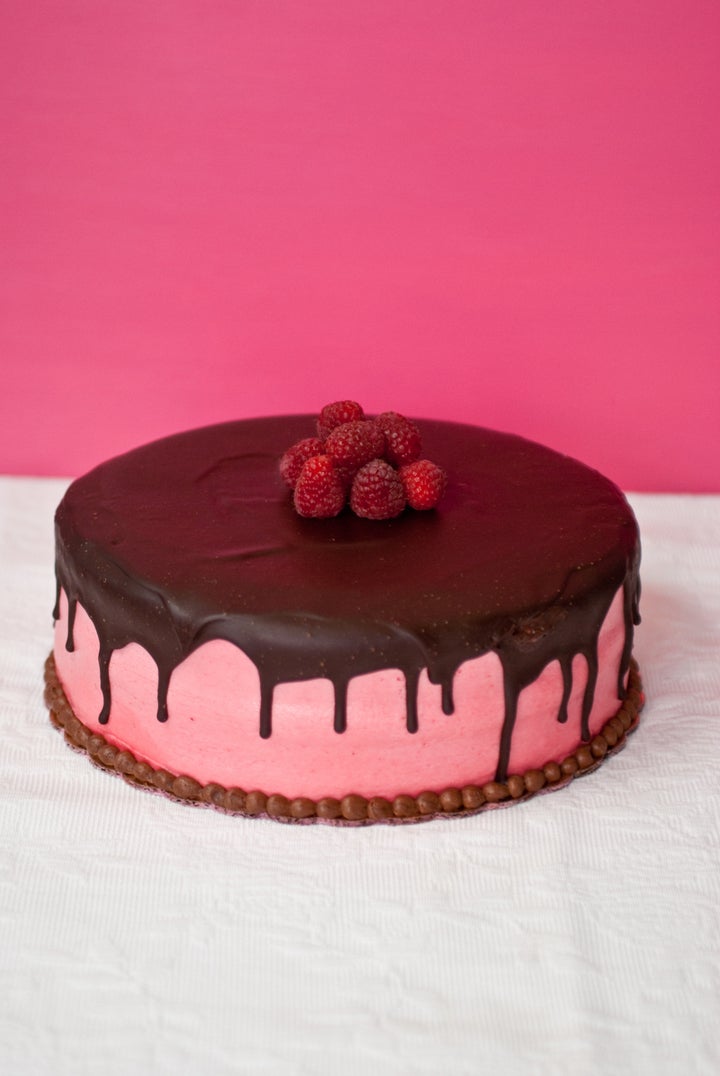 "Anybody who says they don't have a sweet tooth is a total liar," says Doron Petersan, defending champ of Cupcake Wars and the head of Sticky Fingers Sweets & Eats. A DC institution since 1999, Sticky Fingers is the bakery of your childhood fantasies, with eye-popping arrays of outrageous cupcakes, ooey-gooey brownies, whoopie pies, mile-high layer cakes swirled with buttercream, sticky cinnamon buns -- and they're all vegan.

Did your face just fall? Fear not. Sticky Fingers' cupcakes bested them on all on Food Network not because they're vegan, but because they're "fun, exciting. Flavor comes first." Sweet and decadent follow close behind.

Petersan grew up in Queens and upstate New York, the daughter of an Italian mom who fed her family healthy, wholesome food. "She baked a lot of bread, made healthier things like banana muffins, zucchini bread."

Very nice, but what Petersan craved was "chocolate-covered chocolate." As the tatted temptress writes in the introduction of her brand new book Sticky Fingers' Sweets, "We all know how to make carob-covered frozen bananas and applesauce flaxseed bulgur muffins. You won't find those here."

Sticky Fingers' Sweets reveals all the bakery's secrets, including recipes for the cupcakes that won the war, like chocolate banana Gilbert Ganachefried cupcakes and the George Caramelin, chocolate-spice cupcakes with bourbon caramel and bourbon and vanilla bean frosting. Fun, definitely, but there's more than a little science behind it, and in Petersan's hands, science is sweet and sexy.

Having worked in restaurants throughout her teens, Petersan got a degree in nutrition at the University of Maryland. The way the body metabolizes different ingredients, well, that's good to know, but what she liked best was "the science behind food," the chemical interactions enabling her to make the fluffy, sweet, baked goods she craved without using animal products.

Petersan had been working as a veterinary tech and went meatless the first time she audited a dog in surgery. "The inside of the dog was like the inside of the chicken breast I'd had the evening before," she says. "That was it for me." She knew giving up meat was right. She just wasn't happy about it. "I was sad because I thought I was giving up all my favorites. I learned it was not that way at all."

Being vegan "is more fun," she says. "It's opened up my palate, made me more creative with my cooking and baking. It's our mission to be make fun food that is vegan, that is friendly to the animals and the environment, but first and foremost, it's great food."

The best thing she learned from Cupcake Wars is "to think outside the flavor box, to come up with good, fun flavor combinations, not to be afraid." She and her team of fabulous baking buds continue to push the limits of what sweet science can do. They've been working at perfecting two elusive vegan treats. "Eclairs and macaroons -- we play with them constantly. But until we can do it perfectly, we won't do it."

There are no so-so sweets at Sticky Fingers. What you will find are amazing animal-free goodies including a Champagne cake (watch Paterson make it tomorrow on The Today Show) and their new chocolate pepper cupcakes with salted caramel and bourbon smoked salt.

Petersan stands by the creed she quotes in her book -- "I refuse to sell anything I won't eat myself." Sweet.



Choco Raspberry Dream

from Sticky Fingers' Sweets by Doron Petersan

Looking for a sexy sweet for your Valentine's Day sweetie? This Sticky Fingers cake is all that and vegan, too.

"You can never go wrong with chocolate," says Petersan. "It just screams love right in your face."

Makes one 9-inch round two-layer cake or 18 cupcakes

2 cups (10 ounces) all-purpose flour
1-½ cups plus 3 tablespoons sugar
¾ cup cocoa powder
2 teaspoons baking soda
1/2 teaspoon salt
1-¼ cups coconut milk (recommended: So Delicious)
⅓ cup vegetable or canola oil
½ cup brewed coffee, cooled
4 ounces good-quality dark chocolate, melted
1 teaspoon vanilla extract
2 teaspoons vinegar (recommended: apple cider vinegar)

Raspberry Frosting (recipe follows)
Chocolate Ganache (recipe follows)

1 cup fresh raspberries for topping

Preheat the oven to 350°F.

Line two 9-inch round cake pans with parchment paper, or lightly oil and dust with flour.

Whisk the flour, sugar, cocoa powder, baking soda, and salt into a medium bowl. Set the bowl aside

In a small bowl, whisk together the coconut milk, oil, coffee, melted chocolate, and vanilla.

Add the wet ingredients to the dry ingredients and whisk until just incorporated.

Fold in the vinegar until you begin to see streaks. Do not overmix the batter.

Distribute the batter evenly between the 2 pans. *

Bake for 20 minutes, or until the cakes spring back to the touch.

Place the pans on a cooling rack to cool completely, then run a knife or plastic dough scraper around the edges of the pan to loosen the cake from the sides. Turn the pans upside down onto the rack to remove the cakes.

* If you are making cupcakes, fill 18 lined cupcake cups three-quarters full and bake for 16 to 19 minutes, until a toothpick inserted in the center comes out clean. Place the cupcake tins on a cooling rack to cool completely, then turn the tins upside down to remove the cupcakes.

Frost your cake with the raspberry frosting.

Make sure your ganache is pourable but not hot to the touch, as you don't want to melt your frosting. With a spoon or a glass measuring pitcher, pour the ganache in the center of the cake until it reaches the sides. Pour a small amount along the edge, enough so you get a few drips running over the sides. Let the ganache set before moving the cake around or you risk losing your frosting and your ganache in a topping avalanche. Top with fresh raspberries.

If you are making cupcakes, frost them however you like, with a round or star tip, or even by hand. You want those ridges! Then fill a piping bag one-quarter full with ganache, cut a small part of the tip off , and drizzle the ganache over the cupcake. More chocolate is what you desire? Then dip the entire top of the frosted cupcake into the ganache. Chocolate-covered raspberry heaven.

Raspberry Frosting

Makes enough to frost one 9-inch round two-layer cake or 18 cupcakes

1 cup plus 2 tablespoons nonhydrogenated vegetable
shortening (recommended: Earth Balance)
¼ cup plus 2 tablespoons nonhydrogenated vegan margarine (recommended: Earth Balance)
⅓ cup raspberry puree (store-bought or homemade; see Note)
4-1/4 cups powdered sugar
1-½ tablespoons lemon juice

In the bowl of a stand mixer, combine the shortening and margarine and whip with the paddle attachment until completely combined. Scrape the bottom of the bowl to ensure that the ingredients are mixed thoroughly.

Add the raspberry puree and mix until incorporated. Scrape the bottom of the bowl to ensure that the puree is mixed thoroughly.

On low speed, slowly add the powdered sugar a little at a time.

Add the lemon juice and mix to combine. Scrape the bottom of the bowl and mix on medium-high speed until all the ingredients are combined and the frosting is fluffy, about 2 minutes.

NOTE

To make homemade berry puree: Heat 1-1/2 cups fresh or frozen berries in a medium heavy-bottomed saucepan over medium-high heat, stirring constantly until they break down, about 15 minutes. Remove from heat and blend with an electric hand blender, then return to the heat and cook down until most of the liquid is evaporated, about 15 minutes. Let cool completely before using.

Chocolate Ganache

Makes 2 cups

1/2 cup coconut creamer (recommended: So Delicious)
8 ounces 70% dark chocolate, chopped, or pistoles

Heat the coconut creamer in the top part of a double boiler over medium heat until steaming. Do not boil.

Place the chocolate in a heatproof bowl, pour the hot creamer over the chocolate, and let sit for 30 seconds.

Whisk the coconut creamer and chocolate until the chocolate is melted and the two ingredients are completely combined. The ganache should be thick but still pourable.

Calling all HuffPost superfans!
Sign up for membership to become a founding member and help shape HuffPost's next chapter