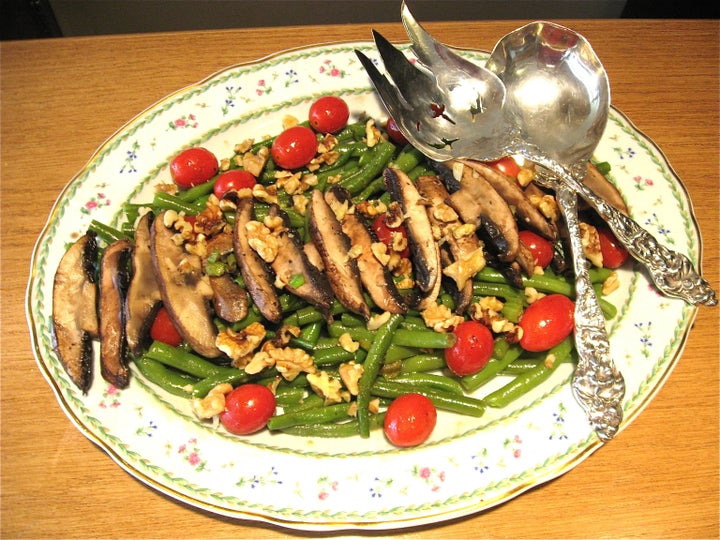 Tomorrow is Bastille Day, celebrating the start of the French Revolution. The French Revolution didn't happen because it seemed like a fun idea with a rockin' theme song. It happened because the French had had it up to here with social and economic conditions you may be familiar with, including crippling national debt, high unemployment and astronomical food costs.
The tipping point came when France got whacked by a few nasty crop-decimating seasons. Not so much food, lots of people and sorry-ass food distribution. Starving and desperate, people lived on bread. Then the price of bread shot up so it cost almost as much as a week's wages. Folks took to the streets.
Okay, America in 2009 isn't exactly like the France of 220 years ago, but there are eerie parallels. Debt? Check. Unemployment? We're at 9.5 percent. We have a plentiful food supply but wonky ideas about distribution. We bypass local farmers in favor of food flown in from afar. This comes at a cost -- dwindling fossil fuel and a disconnect --we've become estranged from our food.
In that regard, the French had it better than we do. They had an intimate relationship with their food -- they not only ate it, they grew it and cooked it. They didn't have to decipher labels and worry about what funky additives lurked in their processed food. Local, seasonal eating was all anyone knew.
We, on the other hand, have forgotten the pleasure of enjoying produce at its moment of ripe perfection. Instead we're "feeding at the food industry's all-you-can-eat buffet," as Hank Cardello writes in Stuffed. What's worse, our food industry rewards bad behavior. A fast food burger is cheaper than fresh broccoli. But there's a hidden cost -- unlike the French, we're not wraithlike from starvation, we're obese -- more than ever -- but we're undernourished and sick because of the foods we eat.
Marie Antoinette is believed to have said, let them eat cake. The American food industry is saying, let them eat crap.
Let's start our own revolution. Let's take to the streets, take to our kitchens, take back the food we eat. Pass on processed food and buy from farmers who grow our produce responsibly. And -- mon dieu -- let's learn how to prepare it.
Celebrate Bastille Day by remembering fun Frenchman Francois de La Rochefoucauld who said, "To eat is a necessity but to eat intelligently is an art." Eat intelligently. Eat well. Eat green. Eat as though the world depends on it. Because it does. Viva la revolution and bon appetit.

To find out more about Meatless Monday, go to www.meatlessmonday.com
Warm Green Bean Salad Comme Les Francais
No doubt about it, the French know how to eat and what to eat -- including the pleasure of warm salads. Warm salads are no veggie afterthought, they're dinner's raison d'etre.
If the only warm salad you know is the classic wilted spinach salad puddled in bacon dressing, this green bean salad is a lovely summer thing, bright, freshness, pigless and a breeze to make when it's too hot to hang out in the kitchen.
Add crusty whole grain bread and veggie pate or cheese and you've got dinner.
1-1/2 pounds green beans
3 cloves garlic
2 scallions
8 ounces portobellos
1 teaspoon olive oil
1/4 cup white wine or vegetable broth
salt and pepper to taste
1/4 cup walnuts, coarsely chopped
1/2 pint grape tomatoes
1/3 cup olive oil or walnut oil
2 tablespoons prepared Dijon mustard
1 tablespoon honey
3 tablespoons balsamic vinegar
optional -- hard boiled egg halves for garnish
Trim green beans and steam until bright green and crisp-tender, about 7 minutes. Rinse and plunge beans into ice water (this may be done a day ahead. Once beans are cool, blot dry and refrigerate covered until ready to use).
Chop garlic and scallions. Heat olive oil in a large skillet over medium-high heat. Add garlic and scallions. Stir until vegetables wilt, about 3-5 minutes. Add sliced portobellos and cook another 2 minutes. Flip mushroom slices and add the wine or broth. Reduce heat to medium and continue sauteeing until mushrooms darken and are just tender. Remove skillet contents to a plate, reserve the skillet as is.
Place chopped walnuts in an ovenproof dish and toast in oven at 400 for 8 to 10 minutes, until dark and fragrant. Remove from oven.
Meanwhile, prepare salad dressing. In a small bowl, whisk together olive or walnut oil, mustard, honey and balsamic vinegar.
Place skillet over medium-high heat. Add green beans, pour dressing over all and toss to coat. Toss gently until heated though, about 5 to 7 minutes. Add grape tomatoes and stir. Continue heating another 3 minutes. Vegetables should be just warm with a slight luster from the dressing.
Season with salt and pepper to taste and transfer to bowl or platter. Top with portobellos and walnuts and optional hard boiled eggs.
Calling all HuffPost superfans!
Sign up for membership to become a founding member and help shape HuffPost's next chapter