Back 400 years ago, 53 Pilgrims -- English colonists who'd fled religious persecution -- celebrated having survived a year in the new world. From one of the few primary sources of that time, we learn, "Our harvest being gotten in, our governor sent four men on fowling, that so we might have a special manner rejoice together." That was our first Thanksgiving.
Things sure have changed in 400 years. For starters, there's a lot more pilgrims. Now there's over 60 million refugees, forced from their homelands by war and want. They come not from one country but many -- Syria, Afghanistan, Pakistan, Nigeria, Albania, Haiti and more.
Think of those first Pilgrims as you plan and prep your own Thanksgiving feast, but don't forget the pilgrims among us now. Some traditions no longer serve us. We can rejoice without fowl. Some traditions, though, are keepers. Feeding and caring for others is part of our human makeup -- one of the good parts. At a time of epic divisiveness, Thanksgiving offers us the opportunity to welcome others to the table. Because however different we are, we all need to eat.
Wishing you a happy and compassionate Thanksgiving.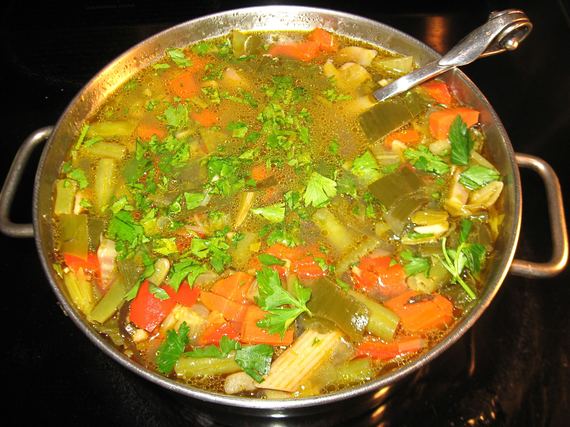 Back to Nature Vegetable Soup


I'd planned a Thanksgiving Meatless Monday post for today with a rich holiday recipe to go with it. Then came the terrorist attacks in Paris As President Obama said, it is not just an attack on Paris, but an attack on all humanity."

The rich recipe will surface in December. Now I want to offer this recipe for French vegetable soup nature. Nature, in French, roughly translates as plain. What it really means, in culinary terms, is food prepared simply, but with honor and care. Cuisine nature isn't austere, it's both opulent and comforting. The tradition is as old and enduring as France itself. Viva la France.

3 tablespoons olive oil
1 leek, chopped
3 cloves garlic, minced
3 carrots, chopped
1/2 pound mushrooms (about 2 cups), sliced
1 red pepper, chopped
2 stalks celery plus celery leaves, chopped
5 cups vegetable broth
1/2 pound green beans (about 2 cups), chopped into bite-sized pieces
1/2 cup noodles or short pasta, such as penne
sea salt and fresh ground pepper to taste
1 bunch flat-leaf parsley, chopped fine

Heat olive oil in a large stock pot over medium-high heat until the oil turns lustrous. Add chopped leek, garlic and carrots. Cook about 5 minutes, stirring occasionally, until vegetables relax and start to soften.

Add mushrooms, red pepper and celery and continue to cook, stirring now and again for another 10 minutes, letting vegetables caramelize.

Add broth, bring to boil, then cover, reduce heat to low and let soup simmer for 30 to 45 minutes.

Add green beans and pasta and cook, covered, for another 10 to 15 minutes, until pasta is al dente, the beans are tender yet maintain their bright lively greenness and the broth slightly thickened.

Season with sea salt and pepper to taste. Sprinkle in the confetti of parsley.

Serves 6.
Calling all HuffPost superfans!
Sign up for membership to become a founding member and help shape HuffPost's next chapter