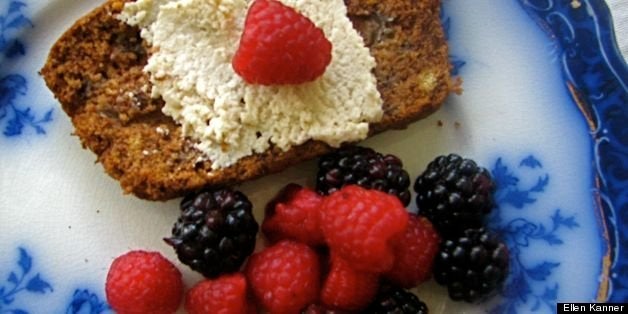 Fellow vegans, it's time to up your gastronomic game. Remember runny, smelly brie? Remember sharp, aged cheddar? Plant-based versions that stand up to the real luscious dairy deal can be yours, thanks to Miyoko Schinner and her bestselling book, "Artisan Vegan Cheese."
Why bother making your own vegan cheese when you can buy it? "I don't want to put down any other cheeses, but you get this artificial chemical flavor in your mouth," says the "Vegan Mashup" star. "I don't consider that food. I'm all about real food."
She wasn't always. Born in Yokohama, she moved to the States with her family when she was seven. "All I wanted was to be American," says Schinner, who lives in the Bay Area with her husband, three kids, several dogs and about a dozen chickens. "TV dinners and American cheese -- I loved that stuff. Until I became a vegetarian."
She was 12 when suddenly the all-American pork chops Schinner's mother had learned to cook for her were "entirely unappetizing. I couldn't bring myself to eat them." Schinner went meatless and began preparing her own meals. She worked her way through her parents' cookbooks "substituting something plant-based for meat," moved on to Julia Child and in college, worked with a caterer friend. "She taught me fondant, puff paste, phyllo, genoise, buttercream. I became enamored of French cuisine."
Backpacking across Europe after college and returning to Japan in her twenties deepened Schinner's love and palate for haute cuisine. It also taught her how other cultures live and eat. They shop for food every day. They have to. Refrigerators are small. "You can't go to Costco and get this huge package of food with preservatives in it. You go to your local markets for a little bit of this, a little bit of that." You cook, "making something from scratch every single day." An artisan was born. "I baked my own bread, made my own soy milk, my own marinara, ketchup, everything." Even cheese.
Schinner had moved back to the States by then and given up dairy entirely. "Cheese and eggs," she sighs. "I loved that stuff. I was cheese addict." Rather than give up what she loved, she spent years recreating cheese's magical texture and taste using nuts and other plant-based ingredients. Her vegan cheeses fool omnivores, thrill vegans and the lactose-intolerant, have no cholesterol, don't come anywhere near a cow, sheep or goat, and most important, meet her standards. They're standards she wishes her fellow vegans would share. Often, as long as it's plant-based, we'll happily settle for "less than stellar dishes and be amazed."
Schinner is tougher to amaze. She's constantly refining her own techniques and recipes. She has no trouble waiting months for a vegan cheddar to reach aged perfection. She'll even show you how to do it in her book. But she also offers simple speedy wonders with big cheeselike delivery. For "Vegan Mashup" and for a forthcoming book, she aims for the sweet spot between artisanal and accessible, showing easier ways to make recipes with "rustic elegance, something you'd have sitting under an arbor in Tuscany with a big glass of wine."
It's enough to send you back into the kitchen, which is just what Schinner wants. "I want people to learn how to cook for the same reasons one might go meatless -- to reduce waste, to be as sustainable as possible. And the food tastes better."

Cashew Cream Cheese

from Miyoko Schinner's "Artisan Vegan Cheese," copyright 2012. Reprinted with permission from The Book Publishing Company.

2 cups raw cashews, soaked in water for 8 hours and drained
½ cup water
2 tablespoons plain, unsweetened nondairy yogurt (preferably homemade)
Pinch salt

Process the ingredients: Put the cashews, water, nondairy yogurt and salt in a blender. Process until smooth and creamy, occasionally stopping to scrape down the blender jar and move the mixture toward the blades.

Culture the cheese: Transfer to a clean glass container, cover and let rest at room temperature for 24 to 48 hours, depending on how sharp a flavor you want and the ambient temperature (culturing will proceed more quickly at warmer temperatures). For use in cheesecakes that will be sweetened, allowing it to culture for a full 48 hours will create a tanginess that will nicely complement the sweetener.

Cover and refrigerate.

The cheese will get firmer as it chills.

Makes about 1 pound (about 2 cups)

Note: Stored in a covered container, cashew cream cheese will keep for about 2 weeks in the refrigerator or 4 months in the freezer.