Happy World Farm Animal Day and happy Vegetarian Awareness Month.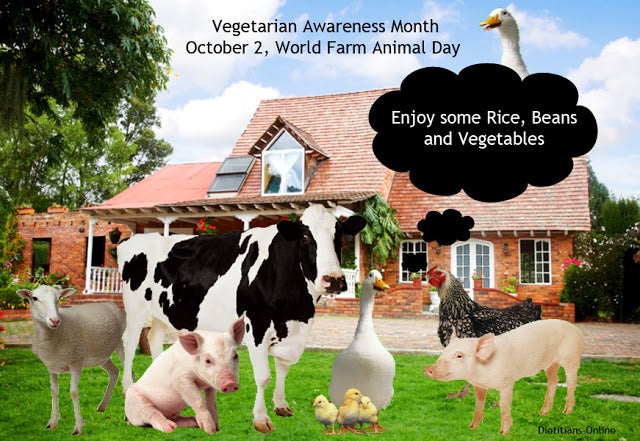 Doug Hines has worked in the protein space (yeah, it's a thing) for over 40 years. He's done beef, he's done Bumble Bee. He's seen the rise of factory farming, chemical-laced technofood and "genetically modified frankenfish raised in tanks that can grow to 40 pounds in a few months." It's standard business practice for many food manufacturers, but not for Hines' company, Atlantic Natural Foods. Here, they're all about plants. "We're looking at garbanzo as the protein of the future," says Hines, company chairman and partner. "It's flavorless, the protein content higher, the fiber's great."
Atlantic Natural Foods is the largest company in the plant-based protein space — a space with a market forecast to reach $6 billion in the next 5 years. It just makes good business sense. Animal protein, with its toll on natural resources and its crazy carbon output, is expensive. Plant protein costs less to produce than meat, has lower environmental impact. Moving to a plant-forward diet could ultimately free up half America's cropland now devoted to animal production, reduce our carbon output by half and feed more people.
Plant protein — beans, nuts, quinoa and other whole foods — isn't new. Neither is Atlantic Natural Foods' flagship brand, Loma Linda. It's been producing soy-based meat analogs for 125 years (yes, vegetarians roamed the earth even then), before we even had a term for them. The brand takes its name from America's only Blue Zone, those global regions where people live longer, fuller, healthier and happier lives. What is new is Loma Linda Blue, introduced this year, plant-based curries and chilis. "They're a one-minute meal solution not for elite but the mainstream," says Hines. They're single-serve, ready-to-eat, shelf-stable, sustainable and with a price point making them as affordable to eat as they are to produce.
Also new is Atlantic Natural Foods' brand Neat, another plant-based protein line, with products ranging from pancake mixes to Mexican crumbles. Soy-free and gluten-free, these nut and bean-based products were developed by Laura Lapp, who isn't a food scientist as much as she is a problem solver. In other words, she's a mom. She created Neat when her two young daughters announced they were going vegetarian. "Starting with dinner that night," recalls Lapp. "I had a challenge on my hands."
They wouldn't eat meat, but being four and seven at the time, they wouldn't eat vegetables, either. Lapp had to find a way to feed them well "in a kid-friendly form." Most commercial vegan products "had a long list of unpronounceable ingredients." She developed products containing a handful of ingredients you already know, like pecans and garbanzos.
Thanks to Atlantic Natural Foods, Neat production is scaled up not only to feed Lapp's daughters, now 10 and 13 (and big into animal rights), but to consumers everywhere, along with Loma Linda products. The way Hines sees it, plant-based protein is the secret sauce, the thing that lets Atlantic Natural Foods produce flavor, nutrition and pleasure that costs less to produce and to eat, and helps the planet, too. That's a terrific bottom line.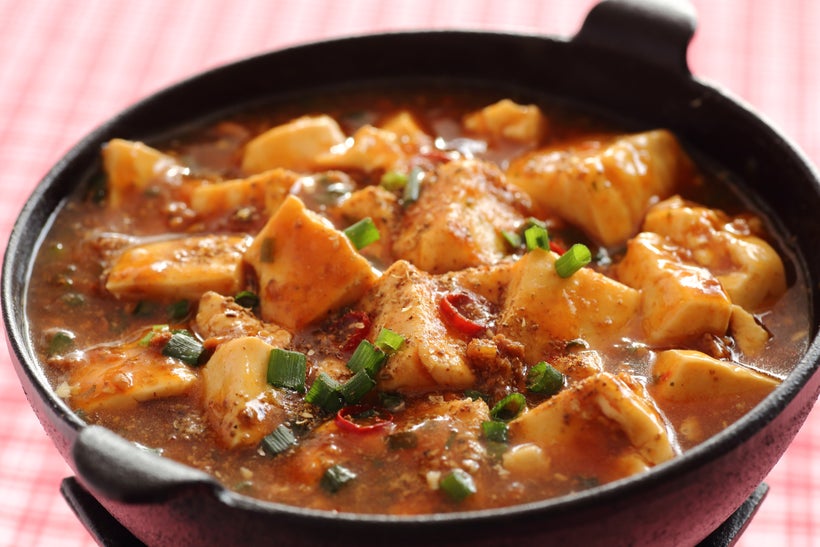 Ma Po Tofu
Ma po tofu, tofu swimming in spicy Sichuan sauce, is classic Asian comfort food. Most recipes contain meat and many are fussier to make than need be. Simplicity and flavor combine in this version I gratefully adapted from Asian culinary pioneer Nina Simonds. As Lapp says, "It doesn't have to be complicated to taste good."
1 package Neat crumbles or 1 pound other plant-based protein or 1 pound fresh mushrooms, minced
3 tablespoons soy sauce or tamari, divided use
2 tablespoons sake, divided use
1 teaspoon toasted sesame oil
2 teaspoons peanut, grape seed or other neutral oil
2 scallions, thinly sliced
2 tablespoons fresh ginger, minced
2 tablespoons garlic, minced
1 teaspoon sriracha (for medium heat) or sambal oelek (Asian chili sauce, providing more chili burn)
1-1/2 cups vegetable broth
1 15-ounce pack firm tofu, drained, pressed and sliced into 1-inch cubes
1 tablespoon cornstarch (optional)
chopped roasted peanuts, chopped scallions and/or chopped cilantro for optional garnish
In a wok or large skillet, prepare Neat crumbles or other plant-based protein according to package directions. Alternately, sauté minced mushrooms in 2 teaspoons of oil over medium-high heat for 8 to 10 minutes, until they soften, darken and cook through.
Mix plant protein or mushrooms with 1 tablespoon soy or tamari, 1 tablespoon of the sake and the sesame oil. Spoon into a bowl and set aside.
Wipe out wok or skillet and return to burner and set on medium-high heat. Add the peanut or other neutral oil and heat until the oil starts to shimmer. Add scallions, garlic and ginger. Stir quickly for a minute or so, until everything sizzles, softens and turns fragrant.
Pour in vegetable broth and stir in the sriracha or sambal oelek and remaining 2 tablespoons of soy and 1 tablespoon of sake. Add the tofu and plant-based protein or mushrooms. Bring to a boil, stirring carefully, then reduce heat to low. Cover and simmer for 20 minutes.
The ingredients in Neat naturally produce a velvety sauce during the cooking. Mushrooms or other plant-based protein may yield different results. If your sauce comes out on the thinnish side after cooking, coax it to coalesce — in a small bowl, whisk together the tablespoon of cornstarch with 4 teaspoons cold water to form a paste. Stir into the wok of tofu, plant-based protein and sauce. Continue to cook and stir for another 3 to 5 minutes, until sauce thickens.
Calling all HuffPost superfans!
Sign up for membership to become a founding member and help shape HuffPost's next chapter
This post was published on the now-closed HuffPost Contributor platform. Contributors control their own work and posted freely to our site. If you need to flag this entry as abusive,
send us an email
.