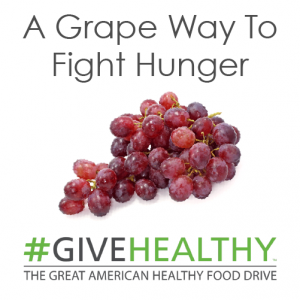 Old-school food drives' dented cans and tired processed foods are out. Fresh fruits and vegetables are in. That's right, real, fresh food. The online platform, created by Amp Your Good, enables hunger organizations to launch food drives and makes it easy for donors — including you — to pledge the healthy food that benefits them most. Amp Your Good CEO Patrick O'Neill calls it crowd-feeding.
Go to the site, find the organization you want to support, purchase the items they choose. #GiveHealthy does the rest, right down to delivery.
"Technology underpins the movement," says O'Neill. Partnering with national health and hunger orgs including Wholesome Wave and Food Tank expands #GiveHealthy's reach and resources. Full disclosure --- I'm a #GiveHealthy ambassador. Why? Our food choices have never been more important — or more challenging. The new administration's proposed health care bill and the move to weaken the nutritional standards for school lunches leaves the most vulnerable even more at risk. Forty two million Americans are food insecure, with limited funds and limited access to fresh food. A box of canned goods, however heartfelt, can't feed them all.
Financial contributions have always fed more people than canned goods past their sell-by date, and hello, did you see how much sodium is in that canned soup? #GiveHealthy offers the ease of online ordering and eliminates unseen costs like sorting and distribution. More of your donation goes to providing fresh produce and other healthy foods. Less waste, more fresh sustainable food.
#GiveHealthy officially launched at DC's Broccoli City Festival, where donations benefit the Capital Area Food Bank. May is donation month, so what are you waiting for? Organizations receive food through July. But even after the last delivery, #GiveHealthy continues. It's more than a food drive, it's a movement to end hunger, and we can all play a part. Hey, we're generous and innovative and #GiveHealthy helps us make the most of it by making giving bigger, better, easier, and healthier.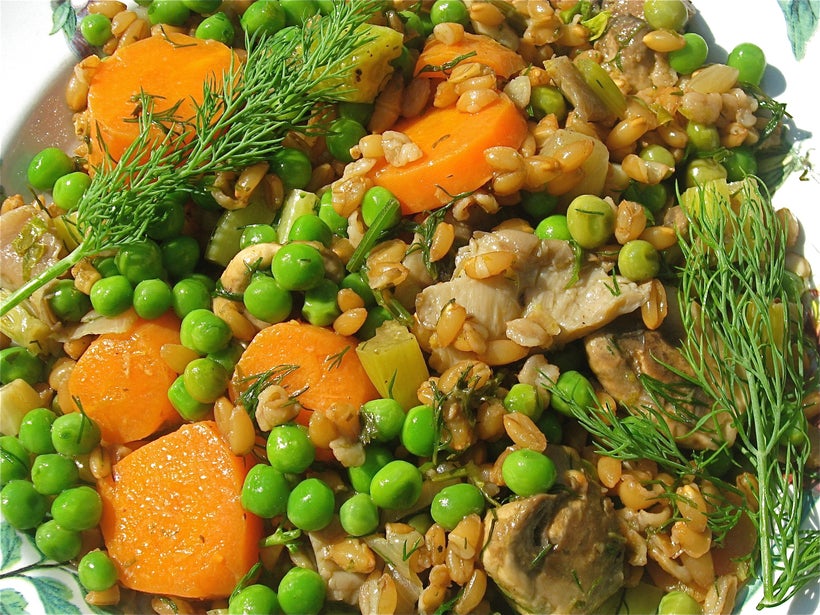 Farro and Spring Vegetables With Lemon and Dill
Fresh spring produce and bright herbs make this whole grain dish pop. Farro is a chewy, nutty ancient whole grain high in protein and fiber. If you can't find it, barley or wheat berries makes a good substitute.
1-1/2 cups water or vegetable broth
2 tablespoons olive oil, divided use
4 ounces mushrooms, sliced
1 cup green peas, fresh or frozen and thawed
zest and juice of 2 lemons
1/4 cup fresh dill, chopped
sea salt and fresh ground pepper to taste
In a medium saucepan, bring water or broth to boil. Add farro. Reduce heat to low, cover and simmer for 20 to 30 minutes, until farro plumps and most of the liquid is absorbed. Set aside.
In a large skillet, heat 1 tablespoon of the olive oil over medium-high heat. Add sliced onion, minced garlic, chopped carrots and celery. Stir occasionally and continue cooking until vegetables soften, about 5 minutes.
Add sliced mushrooms and continue cooking another 5 minutes.
Drain farro, reserving any cooking liquid.
Gently stir farro into vegetables, along with 2 tablespoons of the cooking liquid, if mixture seems dry.
Just before serving, add peas, lemon zest and lemon juice, chopped dill and sea salt and pepper to tate.
Stir gently and heat through.
REAL LIFE. REAL NEWS. REAL VOICES.
Help us tell more of the stories that matter from voices that too often remain unheard.
This post was published on the now-closed HuffPost Contributor platform. Contributors control their own work and posted freely to our site. If you need to flag this entry as abusive,
send us an email
.