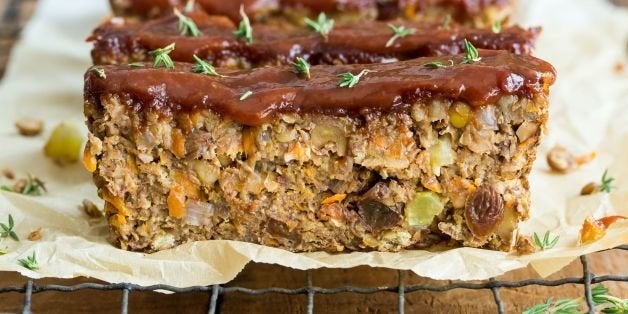 Canadians tend to be nicer than Americans -- more candor, less snark. There's some exceptions, but then there's Canadians like Ontario's Angela Liddon, Oh She Glows blogger and author of the just-released "Oh She Glows Cookbook."
From lentil walnut loaf to peanut butter cookie dough bites, her recipes are not only plant-based, they're proof "you can have decadent foods and be healthy at the same time -- it doesn't have to be one or the other." For Liddon, that wasn't always the case. She wrestled for years with an eating disorder.
"It started when I was preteen, 11 years old. It seems so young when I think about it now -- I was just a kid." There's that candor thing. "I was starting to go through puberty and get some curves and put on some weight," she says. "It spiraled from there."
Liddon's online honesty about her struggles and recovery has earned her blog a devoted readership. So have her recipes -- not bad for a girl who was teaching herself to cook when she started the blog in 2008. "It was a really big learning curve," she says."I didn't know a thing about cooking."
She got better. Liddon tested 600 recipes for her book before winnowing it down to a more manageable hundred. As she's discovered, "The beauty of cooking is that you can start off really small, tackle those recipes that are five or ten minutes to whip up." Once you gain some confidence, you can, like Liddon "play around in the kitchen. I'm experimenting all the time."
Not only did Liddon learn to cook, she learned how to have a healthy relationship with food for the first time and learned what real food was. Growing up in the '80s, "everything was quick and easy and packaged -- a lot of canned beans and hot dogs and packaged frozen dinners." Then during the time of her eating disorder, "I felt fear around food," she says. So she didn't eat it. "It was all about diet food, 100-calorie packaged cereals, fat free butter spray." That was normal. The idea of vegan food, on the other hand seemed "weird," she admits.
But in the early days of her blog, she started noticing vegetables everywhere -- on other blogs, at her farmers market. "Really good, gorgeous vegetables," she says. "I started experimenting with recipes, planted a vegetable garden, my husband and I went to the farmers market every weekend, we got a CSA subscription -- I was so inspired."
Having obsessed about her weight for years, Liddon banned diet magazines and ditched her scale. She let the vegetable love in. And she got the glow.
"I really love these ingredients," she says."I discovered a passion for plant-based -- fruits, vegetables, whole grains, nuts and seeds." A longtime animal lover, "animal welfare was a huge motivating factor" in going vegan, but it came with an unexpected side benefit. "I have this positive experience, this amazing connection with my food -- it was never anything I had experienced before I went vegan."
If being plant-based once seemed as alien to her as fat free butter spray does now, that and the blog have been, she says, "my saving grace. I don't have any fear anymore." Nice.

Lentil-Walnut Loaf

Reprinted by arrangement with AVERY, a member of Penguin Group (USA) LLC, A Penguin Random House Company. Copyright © GLO BAKERY CORPORATION, 2014

For the loaf:

1 cup uncooked green lentils
1 cup shelled walnuts halves, finely chopped
3 tablespoons ground flaxseed
1 teaspoon extra-virgin olive oil
3 cloves garlic, minced
1 medium yellow onion, finely chopped (about 2 cups)
Fine-grained sea salt, for seasoning, plus 1 teaspoon sea salt, or to taste
Freshly ground black pepper, for seasoning, plus 1⁄4 teaspoon freshly ground black pepper
1 cup finely chopped celery
1 cup grated carrot
1⁄3 cup grated peeled sweet apple (optional)
1⁄3 cup raisins
1⁄2 cup gluten-free oat flour
1⁄2 cup spelt bread crumbs
1 teaspoon dried thyme, or 2 teaspoons fresh thyme leaves
1 teaspoon dried oregano
1⁄4 teaspoon red pepper flakes (optional)

For the balsamic-apple glaze:

1⁄4 cup ketchup
2 tablespoons unsweetened applesauce or apple butter
2 tablespoons balsamic vinegar
1 tablespoon pure maple syrup

Fresh thyme leaves, for garnish (optional)

Make the loaf:

Cook the lentils. In a food processor, process the cooked lentils for a few seconds into a coarse paste, leaving some lentils intact for texture. Set aside.

Preheat the oven to 325°F. Spread the walnuts on a rimmed baking sheet and toast them in the oven for 9 to 11 minutes. Set the walnuts aside, and raise the oven temperature to 350°F.

Line a 9 x 5" loaf pan with parchment paper.

In a large wok, heat the oil over medium heat. Add the garlic and onion and sauté for about 5 minutes, or until the onions are translucent. Season with salt and black pepper. Add the celery, carrot, apple (if using), and raisins. Sauté for about 5 minutes more.

Carefully stir in the processed lentils, flaxseed, walnuts, oat flour, bread crumbs, thyme, oregano, 1 teaspoon salt, ¼ teaspoon black pepper, and red pepper flakes, if using, Stir until well combined and adjust the seasoning to taste, if desired.

Press the lentil mixture firmly and evenly into the prepared loaf pan. Use a pastry roller to roll it out smooth and compact the mixture.

Make the Balsamic-Apple Glaze:

In a small bowl, whisk together the ketchup, applesauce, balsamic vinegar, and maple syrup until combined. Spread the glaze over the loaf with a spoon or pastry brush.

Bake, uncovered, for 50 to 60 minutes, until the edges are lightly browned. Cool the loaf in the pan for 10 minutes. Slide a butter knife around the edge of the loaf and gently lift it out of the pan (using the parchment paper) and onto a cooling rack.

Cool for 30 minutes more before slicing. If the loaf is sliced while warm, it may crumble slightly, but it holds together well when fully cooled. Garnish with fresh thyme leaves before serving, if desired.

Tip: For a gluten-free loaf, use gluten-free bread crumbs instead of spelt bread crumbs.

Serves 8.

REAL LIFE. REAL NEWS. REAL VOICES.
Help us tell more of the stories that matter from voices that too often remain unheard.