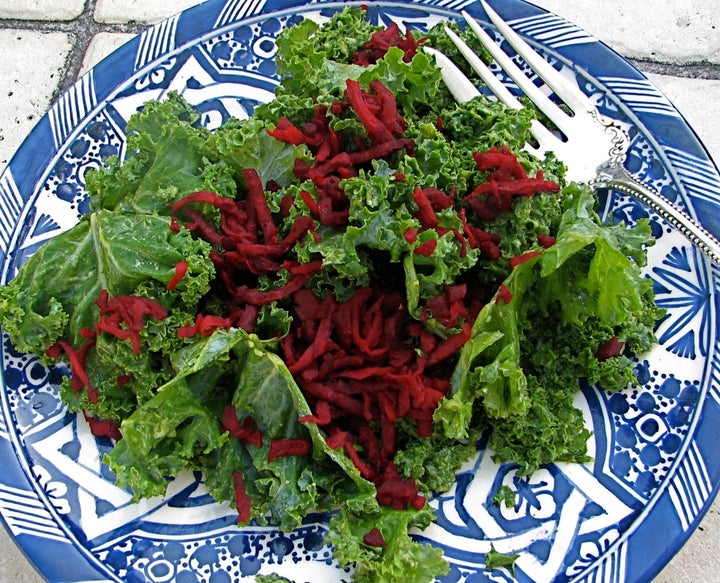 Chocolate for your Valentine's Day sweetie? Boring. Drs. Brian and Anna Marie Clement, your doctors of sexual healing, say if you want to put some sizzle in your sex life, go with watermelon. Or kale.
The Clements run Hippocrates Health Institute, a pioneer in natural wellness for over half a century. "What draws people here is its historic reputation, tens and tens of thousands who've reversed disease and premature aging," says Brian. So who are these people? "Every person, every age. It's like your neighborhood."
Most people come for Hippocrates Health's three-week intensive wellness program. Brian, who's directed the facility for over 30 years, says, "We watch people come back to life." And back to lust. "One thing we hear constantly and consistently is, 'Yes, my cancer went into remission, but my God, my sex life has never been as good as this.'" That led him and his wife to write "7 Keys to Lifelong Sexual Vitality: The Hippocrates Institute Guide to Sex, Health, and Happiness," published by New World Library.
The Clements' are big into sex. We all are. "This biological force governs every choice we make until the day we die. Even when you comb your hair, or doll up, that's sex hormones still working for you," says Brian. The Clements want to keep them working. An active sex life ups your immunity, energy and emotional happiness. Plus, it's fun.
None of those seven keys to sexual vitality involves popping a pill. "It's a journey of consciousness," says Anna Maria. "Your kindness, your compassion, your awareness, it's determined by what we consume."
Their book, which they're packaging with edible body butter for Valentine's Day, contains sections on tantric exercises, fantasy and adult films, but central to the book and to the Clements are foods designed to rev your libido -- we're talking nature's aphrodisiacs like kale, rich in vitamin A, B complex, calcium, choline and zinc.
The book's dozen recipes are vegan and raw, the Clements just don't make a big deal about it. What is a big deal are the results. They cite the 2008 Texas A&M study showing watermelon delivers "Viagra-like effects to the human body's blood vessels and could even help to increase libido." Does it really work? "Absolutely. I'm buying watermelon left and right, eating the rind and seeds," Brian jokes.
Back in the 1960s, he was less into eating watermelon, more into fried bologna. "I was obese and smoking three packs a day and plenty of grass." In college, he met a guy who practiced yoga and didn't eat meat. While Clement was slightly weirded out, "something resonated." He gave up meat, then dairy, and credits it with saving his life. "I was lucky."
His wife Anna Maria grew up in Sweden, where "there's a healthiness, an openness" about sexuality. The average Swedish diet, though? Not so much. "Meat, gravy potatoes, dessert," says Anna Maria, who, with her whole family, went vegetarian when she was young.
The Clements met on the job at Hippocrates Health. They've stayed there -- and stayed together -- for decades. "There's nothing like having a relationship that goes on and on and on, it's the best," says Anna Maria. "There's so much memory, you've been through so much together, you grew up together and supported each other."
"We're grandparents, we're best friends, we want to hang out together and make love," says Brian.
The Clements are calling for more and better sex for all, including what Brian calls the Boomer Sexual Liberation Front. "Let our generation lead the way to healthier sex, less guilt and shame, and much longer, more fulfilling lives." Better stock up on watermelon.

Lovin' Kale Beet Salad

from Brian and Anna Maria Clement's "7 Keys to Lifelong Sexual Vitality"

Dressing

1/2 cup fresh lemon juice
1/2-inch piece fresh ginger root
1/2 cup sesame oil
Pinch of cayenne pepper
1 small clove garlic
1/2 teaspoons kelp powder
1/2 cup sauerkraut
1/4 bunch dill

2 bunches lacinato kale (also known as black kale or dinoasaur kale), stemmed and thinly sliced
3 large beets, shredded

In a blender, combine the dressing ingredients and blend until smooth.

In a large bowl, massage the dressing into the kale until the kale is soft. Add the beets and toss thoroughly.

Let marinate for at least 1 hour, and serve.

Serves 2 to 4.
Calling all HuffPost superfans!
Sign up for membership to become a founding member and help shape HuffPost's next chapter