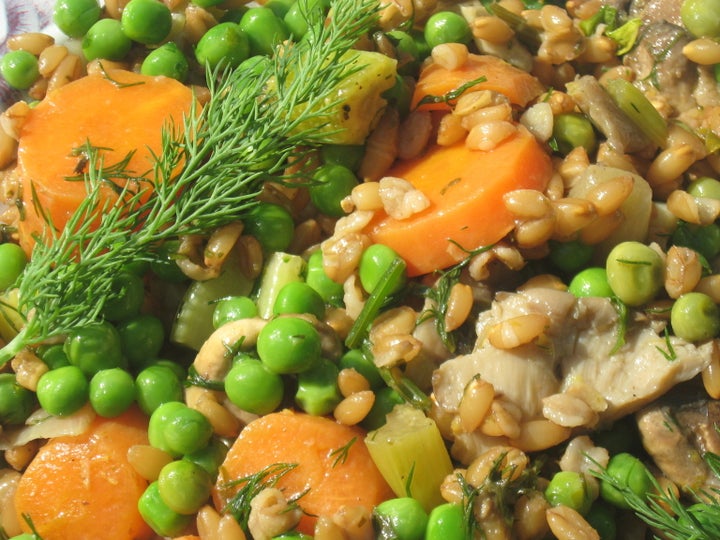 You know you're doing something right when you piss off the beef and pork people. The editor of Pork magazine recently decried the Meatless Monday effort on (wait for it) Cattlenetwork.
The pork and beef lobbies have a lot more power and money behind them than environmental organizations and health nonprofits like Meatless Monday, and the fact the editor saw fit to comment shows the plant-based effort has some punch. She's worried we're ganging up on her.
Her beef? She claims a Meatless Monday video likens working together to go meatless to supporting the war effort in World War II thus equating patriotism with being plant-based. What the video really says is what plant-based proponents of all stripes and flavors have been saying all along -- cutting back, cutting out meat once a week can only help the environment by conserving the natural resources used in animal farming. It can only improve our health by reducing our risk of cancer, heart disease and diabetes,three major health threats linked to meat consumption. Most Americans eat 45% more meat than the USDA recommends. Hey, it's only the truth.
The truth, though, can be dangerous turf. A decade ago, the Cattlemen's Association tried to bring Oprah -- Oprah -- to her knees. They sued her for defamation for a show in which she made claims linking mad cow disease to beef. The only reason the suit didn't stick is, she was right. She explained 10 people had died eating tainted beef. It isn't libel if it's true.
The animal industry is looking for meatless pushback and they have found Paul McCartney and the UN International Panel on Climate Change. In his paper "Clearing the Air," presented to the American Chemical Society, UC Davis air quality professor Frank Mitloehner says Sir Paul can't go selling meatlessness as a solution to global warming. No one can.
The heart of his argument is the way greenhouse gas emissions were calculated "Livestock's Long Shadow," the seminal 2006 UN report which links animal production to global warming. Co-author Gidon Eshel, a Bard applied mathematician, stands by his findings. "The basic analysis we did is so simple and relies purely and completely on uncontested information."
The problem is what some, in their zeal, have done with that information. "PETA did some kind of in-house analysis and reached high numbers of emissions that I thought were inflated."
The data went viral and the meat folks of the world seized on it as ammunition to dismiss our role in climate change. Mitloehner says the answer to global warming isn't less meat and milk, it's more. By way of factory farming. "The developed world should focus on increasing efficient meat production in developing countries, we should adopt more efficient Western-styled farming practices to make more food with less greenhouse gas production."
Eshel feels Mitloehner presenting his paper before the American Chemical Society is a little like the Pork editor ranting about the meatless movement to the beef folks. "It's more than enough to disqualify a person from engaging in an honest discussion about this, The pharmaceutical companies are the ones making a lot of money from supplying 65% of all antibiotics to healthy animals for weight gain and milk production."
Mitloehner's study also had $5 million in underwriting, five percent of which came from the beef industry. "Livestock's Long Shadow" was underwritten by "nobody whatsoever," says Eshel. "I am not beholden to anybody, financially, morally or otherwise."
He pulls out studies, graphs and charts which all add up to one thing -- "When you eat meat, you exert three times as much pressure on land demand and reactive nitrogen as you do with a plant-based diet."
Although plant-based himself, "I'm not an advocate of veganism or a plant-based diet," says Eshel "I'm a researcher whose findings always lead away from animal-based foods, environmentally speaking."
Mitloehner did not respond to requests for an interview.
The meat folks can take on Oprah, they can take on Paul McCartney, they can take on an applied mathematician or even a 97-pound vegan like me. But the meatless movement is gaining traction because the truth is still the truth.

True Meatless Farro and Spring Vegetables With Lemon and Dill

Farro is a chewy, nutty ancient whole grain high in protein and fiber. If you can't find it, barley or wheat berries makes a good substitute.

3/4 cup farro
1-1/2 cups water or vegetable broth
2 tablespoons olive oil, divided use
1 onion, sliced
4 garlic cloves, minced
2 carrots, chopped
3 ribs celery, chopped
4 ounces mushrooms, sliced
1 cup green peas, fresh or frozen and thawed
zest and juice of 2 lemons
1/4 cup fresh dill, chopped
sea salt and fresh ground pepper to taste
optional: 1/2 cup crumbled feta for garnish

In a medium saucepan, bring water or broth to boil. Add farro. Reduce heat to low, cover and simmer for 20 to 30 minutes, until farro plumps and most of the liquid is absorbed. Set aside.

In a large skillet, heat 1 tablespoon of the olive oil over medium-high heat. Add sliced onion, minced garlic, chopped carrots and celery. Stir occasionally and continue cooking until vegetables soften, about 5 minutes.

Add sliced mushrooms and continue cooking another 5 minutes.

Drain farro, reserving any cooking liquid.

Gently stir farro into vegetables, along with 2 tablespoons of the cooking liquid, if mixture seems dry.

Just before serving, add peas, lemon zest and lemon juice, chopped dill and sea salt and pepper to taste.

Stir gently and heat through.

Top with crumbled feta, if desired.

Serves 4.