Today we celebrate Independence Day, that time a few hundred years ago when our forefathers broke with British tyrants. Their revolution took nerve and hard work, but it turned out okay. So okay, in fact, it's time to try it again. This time, we're not taking aim at the Brits - they've got enough problems. We need to take aim at ourselves.
We're obese. Not pretty. Not healthy. Not cheap. The annual health costs are between $150 and $200 billion. Our forefathers didn't have a revolution in order for us to stuff ourselves to death. The new revolution needs to happen in the kitchen.
Don't believe me? Here's some more off-putting stats. According to a recent study:
-- Over 60 percent of overweight participants say their food portions are too large.
-- More than half say their family doesn't know how to choose healthy food.
-- Over 40 percent of respondents say they'd eat healthier, except fast food and food delivery make it easier not to.
-- The same number say they're too busy to eat healthy.
As a result, most Americans eat products, not food.
Spoiler alert -- the study was conducted and funded by Home Chef, the meal kit company, or rather one of many meal kit companies. Touted as the new great market disrupt, meal kit subscription markets itself as home cooking with the sourcing and sous cheffing done for you. You pay, and the components of your favorite foods come pre-portioned, made-to-measure, cleverly packaged and shipped to your door. Some assembly required. Combine the contents in the boxes and bags, simmer and voila, dinner.
Anything that gets you in the kitchen is good. Yet I'm conflicted about meal kits. I wonder about price point. Safe, accessible, healthy food should be accessible for all, not just those who can afford it. I wonder about other costs, too, including the amount of packaging waste it produces. When you factor in the carbon involved in shipping, I question sustainability.
Perhaps Mark Bittman has questions, too. The VB6 author and former Opinionator left the New York Times for the vegan meal kit startup Purple Carrot . . . only to leave it a few months later.
Most of all, though, I wonder about us. I can't think of anything more essential to our daily wellbeing and our overall humanity and socialization than cooking -- and we outsource it. Is it really so hard to open a can of beans that we have to pay someone else to do it for us?
Beautifully-styled food and celeb chefs make great entertainment but they're as far from real, everyday eats as meal kits are. Worse, they contribute to the lie that you're unqualified to cook. If you can read this, you've eaten enough food by now to get a good sense of it. You know more about making it than you think you do.
The revolution will not come with an app or a kit. Rather than outsourcing, empower yourself. Kitchen literacy, from sourcing your food to preparing it, is the real declaration of independence.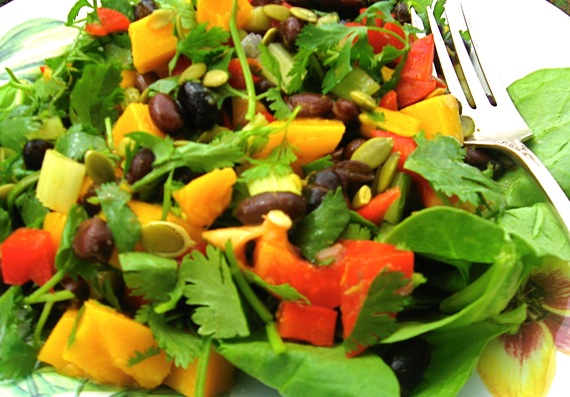 Fireworks Black Bean and Mango Salad

This salad is so quick and easy, it barely qualifies as a recipe. But it explodes with pizzazz, pairing the sweet summer burst mango (let's hear it for fresh, seasonal and local -- summer means mango season in South Florida) with a zing of chili. Black beans add fiber for fullness and protein because that's what your body wants. Besides, everything works with basic black. All this and it's fat-free, too.

Serve atop the fresh local farmers market greens of your choice.

1 jalapeno, minced (wear gloves when handling chilies -- really. Yes, even you.)
1 red pepper, diced
2 ribs celery, chopped fine
2 15-ounce cans black beans, rinsed and drained (or 4 cups cooked black beans)
1 teaspoon cumin
juice of 1/2 lime
2 mangos, peeled and diced
1 bunch cilantro, chopped
sea salt and fresh ground pepper to taste
1/4 cup toasted pepitas (pumpkin seeds) for garnish, optional but adding fabulous crunch, not to mention goodly amounts of manganese and magnesium
3-4 cups fresh greens like spinach, arugula or frisbee

In a large bowl, gently mix together jalapeno, diced red pepper and celery. Add the black beans and combine well.

Add the cumin and the lime and toss to coat.

Just before serving, add the mangos and chopped cilantro. Season to taste. Place atop greens and serve at once, garnishing with toasted pepitas, if you like (and you will).

Serves 4 to 6.

Related
Popular in the Community