Food is a total sensual experience, from how it's arrayed on the plate to its tantalizing aroma, from its rich layers of flavor to the way it melts on your tongue and surrenders when you bite it. Food, like sex, is all about life force. But it has to be the right food.
Meat will slow you down in the bedroom (or wherever the naughtiness takes you). It can be artery-clogging, hard to digest, and having something die for your dinner is a total buzz kill. You want food to delight and excite.
My prescription? Arugula. It's been touted to up your game in the bedroom since Pliny the Elder back in ancient Rome. Finally, something to make you eat your greens.
Even humble carrots and celery have a hidden sex life. They're what Ukrainian women feed their lackluster lovers. Carrots are rich in vitamin A, which ramps up progesterone. Celery is high in vitamin C, friend of all the sex hormones. And being firm and erect, they both provide an inspiring visual.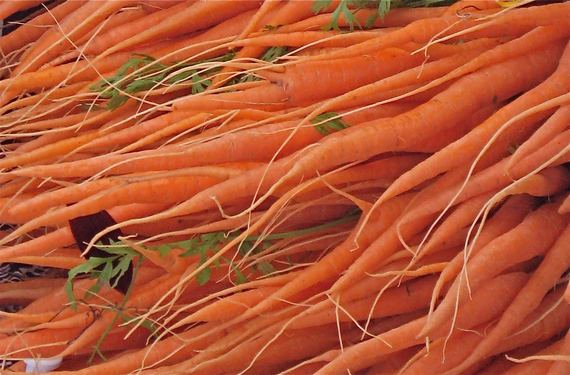 Zinc is the "it" nutrient for guy sex. It keeps your sperm and heart pumping. It's in oysters, which is why they've long been considered an aphrodisiac. Leave the bivalves in peace, eat almonds, instead. They've zinc-rich, and unlike oysters, they're fragrant and shaped like a woman's hips. Almonds are also loaded with vitamin E, which benefits the bod, and with B vitamins, which top off your testosterone levels.
Spice up your life. Warming spices like cardamon, cinnamon, chili and ginger do more than make food delicious, they're great for circulation -- they make your skin glow and make all your good juices flow.
You don't need Viagra, you need vegetables. Plant-based foods aren't just good for you, they can make you feel good, too. Real good.
Spice-Roasted Carrots With Romesco

These roasted carrots are really fabulous on their own, but for a smokin' hot Valentine's Day, I've ramped them up with the whole aphrodisiac arsenal -- arugula, almonds (both crushed and in the romesco sauce) and an array of warming spices.

Serves 4 to 6.

2 pounds carrots, trimmed and peeled, if needed
2 teaspoons smoked paprika
2 teaspoons cumin
1/4 teaspoon cinnamon
1/2 teaspoon turmeric
pinch chili powder
1 tablespoon olive oil
3 garlic cloves, minced
sea salt to taste
juice of 1 lemon
1/4 cup almonds, toasted and chopped
4 cups arugula

Preheat oven to 400 degrees.

Spread carrots on a shallow rimmed baking sheet.

In a small bowl, mix together the smoked paprika, cumin, cinnamon, turmeric and chili powder.

Drizzle olive oil over the carrots. Sprinkle spice mixture over the carrots and toss to coat.

Scatter minced garlic over all, sprinkle with sea salt and roast for 30 minutes, stirring or shaking the baking sheet once or twice, so carrots cook evenly.

Remove and squeeze lemon juice over the carrots.

Mound arugula on a platter, place carrots on top, dollop with romesco sauce and service with a garnish of chopped almonds.

Romesco Sauce

This romesco, made in a food processor or a blender, aims to deliver maximum flavor with minimal time and arcane ingredients. It may be made several days ahead and refrigerated. Allow it to come to room temperature before. Luscious dolloped on these carrots or any roasted vegetable, it's also nice slathered on crusty bread.

Makes about 1-1/2 cups, serving 8 to 10.

2/3 cup blanched, whole almonds
1 mild dried chili, such as an ancho
1 slice baguette, torn into pieces
3 garlic cloves, peeled
1 or 2 ripe plum tomatoes or 2/3 cup canned fire-roasted tomatoes, drained
1 teaspoon sherry vinegar or red wine vinegar
1 1/2 teaspoons sweet paprika
1/3 cup olive oil
Sea salt to taste

Heat oven to 375 degrees. Pour nuts onto a small, rimmed baking sheet and toast until they darken slightly and smell buttery, about 10 minutes. Set aside to cool.

Meanwhile, set chili in a small bowl and add enough boiling water to cover. When cool, drain pepper. Remove and discard seeds and stem.

Drop bread, garlic, chili and almonds into a food processor or blender. Process for a minute or so, until a thick paste forms, scraping the sides. Add the tomatoes, vinegar, paprika and olive oil and pulse. The sauce should be of a hummus-like consistency, thick but not gluey. Add a tablespoon or two of water if it seems too dry. Add sea salt to taste.
Popular in the Community