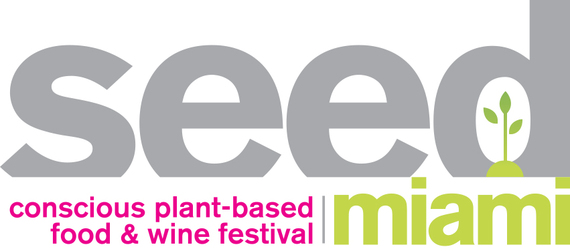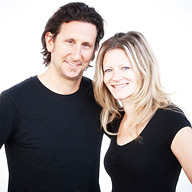 Whole Foods Veg News and other folks we love are on board, but Seed began as the brainchild of Alison Burgos and Michelle Gaber. Seasoned event promoters who know how to throw epic parties like Miami's LGBT event Aqua Girl, the two didn't know much about vegan. Until recently.
Their busy, party-promoting lives meant "go, go, go, bigger, harder, stronger, faster," says Burgos. "I paid the price for that." It landed her in pain, in a wheelchair and diagnosed with rheumatoid arthritis.
"Doctors were pumping me through with prescription meds, but the medications weren't doing it." Going vegan -- not her first choice -- did. And it turns out being vegan isn't so bad. "I thought being vegan the rest of my life was going to be like a death sentence. What I've learned is you can go to great restaurants and live a really amazing invigorated, delicious life being living plant-based," says Burgos. "I've gone off three meds and lost 50 pounds." Seed is her way of celebrating.
Oh, sure, there are veg fests in DC, Chicago and San Francisco, but this is Miami, a city let us say slow to catch hold of the plant-based wave. Seed offers splashy dinners and artisanal cocktails like our other major food fest, South Beach Wine and Food Festival, but rather than being about bling and burgers, Seed is all vegan, and the party comes with positive takeaway. Ramp up your game in the kitchen with Mark Reinfeld, on the court with John Salley and with your kids at an organic gardening workshop. As a Miami native, I'm amazed Burgos and Gaber have made Seed come together in such a big Miami way. As a participant (full disclosure -- I'm on a fabulous local panel discussing conscious eating), I'm thrilled.
"In Miami, if you really want to move the needle, you don't preach to the choir, you talk to everybody. Plant-based living, conscious living can be cool, hip, accessible and delicious and that's what we're trying to accomplish with Seed," says Burgos. "By making small changes -- or large ones 00 you can change your health, the health and welfare of animals and change our planet. That to me is really powerful."
"What's really cool about Seed is we respect and embrace wherever you are and why you're here," says Burgos. "We're building something we hope will be a real voice in South Florida."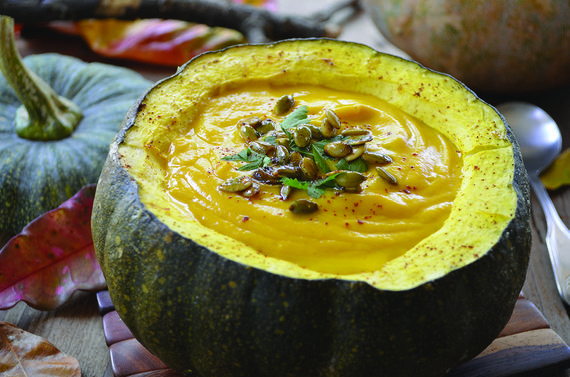 Curried Pumpkin Soup

Reprinted from "The 30 Minute Vegan: Soup's On!" by Mark Reinfeld, copyright 2013. Reprinted with permission from Da Capo Lifelong.

Golden, rich and spicy here's a go-to soup for autumn, pumpkin season.

Serves 6 to 8

4 cups vegetable stock or water
1 1/4 cups diced yellow onion
3/4 cup diced celery
1/2 teaspoon seeded and diced hot chile pepper
4 large garlic cloves
4 cups peeled, seeded, and chopped pumpkin (1/2-inch pieces)
2 to 3 teaspoons curry powder
1/2 teaspoon ground cumin (try toasting)
2 1/2 teaspoons sea salt, or to taste
1/4 teaspoon ground black pepper
1 teaspoon coconut nectar, agave nectar, or maple syrup
1 1/2 cups soy creamer or nondairy milk, such as coconut, soy, rice, or almond
2 teaspoons freshly squeezed lime juice
2 tablespoons finely chopped fresh cilantro

Place the vegetable stock in a 3-quart pot over high heat. Add all the remaining ingredients, except the soy creamer, lime juice, and cilantro, and cook until the pumpkin is just soft, about 15 minutes, stirring occasionally.

Add the soy creamer, carefully transfer to a blender, and blend until creamy.

Return the mixture to the pot, add the lime juice and cilantro, and cook for 5 minutes over medium-low heat, stirring occasionally.

Variations

Replace the pumpkin with any winter squash, such as butternut, acorn, or buttercup. You can also use an equivalent amount of canned pureed pumpkin.

Replace the curry powder with 2 teaspoons of chili powder and 1/2 teaspoon of chipotle chile powder, for a Mexican theme.
Related
Popular in the Community