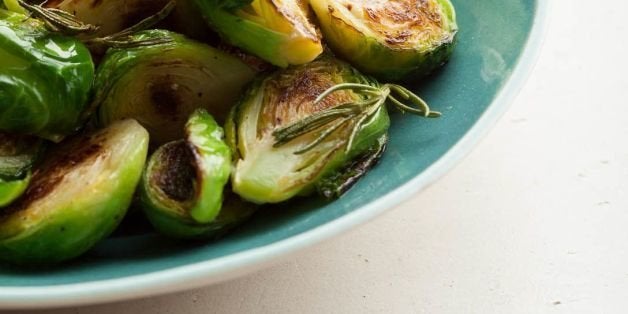 You don't get to be Howard Stern's airtime sidekick for 30 years by being a weenie. Good thing. Since the release of "The Vegucation of Robin," "I've been mocked across the board," says Quivers . "But I felt really, really good."
Feeling good is a new phenom for Quivers. "I was having health issues all my life. You're just not conditioned to think of them as health issues." Fatigue was normal, so was constant pain, poor circulation and weight gain. Cleanses helped her lose weight and feel better. . . until they made her feel worse. A nurse in her pre-Howard days, Quivers had never made the connection between what she ate and how she felt. "Absolutely not," she says. "I made the connection between food and weight, but feeling good or bad was a separate issue."
One thing kept coming up -- the power of a plant-based diet. Quivers didn't care. Growing up, "vegetables were the things that were left on the plate, the things I was punished for not eating. I couldn't wait to get away away from vegetables," she says. "I thought being vegan was going to be some really horrible way of life that had no flavor." Vegans "were boring, not fun, dogmatic, strict, restrictive and they were not enjoying life."
And then a desperate Quivers saw the vegan light. "I loved the way I felt. I loved being healthy," she says. She signed a book deal in 2007, wrote the book and ran her first marathon at the age of 58. Then cancer derailed everything. Try selling a vegan-for-health book with the author undergoing chemo. The publisher held the book and Stern held his tongue -- for a change. He arranged for Quivers to do their Sirius XM morning show from home, rather than in the studio and stood by her through 15 months of treatment and recovery. There's a reason she subtitles the book "How Real Food Saved My Life." Quivers credits her recovery to her plant-based ways -- that and finding her way around her own kitchen.

"I never cooked before I became vegan. Preparing a meal as opposed to ordering in all the time, you start thinking about where your food comes from and how it gets to your table. You notice that chain." That's been Quivers' real vegucation.
"The Vegucation of Robin" is part personal story, part vegan basics and recipes from vegan chef Christopher Sanchez and part bad timing. "I'm mockery-proof," says Quivers. "I'm enjoying life so much."
Snark all you want, just eat more vegetables.

Roasted Brussels Sprouts with Fresh Rosemary

From "The Vegucation of Robin Quivers, "reprinted by permission by Avery, a member of Penguin Group (USA) LLC, A Penguin Random House Company © Robin Quivers, 2013.

The girl who once ran from vegetables, Quivers now goes into raptures over their "incredible variety, their amazing flavor. My favorite vegetable is Brussels sprouts. I never had them as as child. I absolutely love them. They're so wonderful."

1 pound Brussels sprouts, stems trimmed and cut in half
2 tablespoons olive oil
½ teaspoon salt
¼ teaspoon black pepper
3 sprigs fresh rosemary
1 bay leaf

Preheat oven to 400°F.

In a medium-size mixing bowl, toss all the ingredients together, then arrange them evenly on a baking sheet.

Roast 25 minutes, giving the tray a good shake halfway through, or until the sprouts are fork-tender and golden brown. Discard the bay leaf and rosemary stems.

Makes 4 servings.

Calling all HuffPost superfans!
Sign up for membership to become a founding member and help shape HuffPost's next chapter