Rich Landau and Kate Jacoby run the hottest vegan restaurant in Philadelphia and maybe anywhere, are up for a James Beard Award (Jacoby for best pastry chef, Landau for best regional chef) , won "Chopped" and are the darlings of Food and Wine. That'd be plenty. Then they opened another restaurant. Are the husband and wife team behind Vedge crazy? Nah. They're jeans and faux leather folk into "a really great bar and badass edgy food, all plant-based," says Landau. That's what spurred them to open their second restaurant, V Street five months ago. Tiny space, tiny kitchen, tiny menu, big global flavors, V Street is Vedge's sexy younger sister.
"Vedge is a vegetable restaurant, V Street is a street food bar. It has a more casual vibe, inspired by dishes we've had when we've travelled," says Landau. "Street food tends to be more casual." More casual in feel, but with Landau and Jacoby in the kitchen, still majorly impressive, with dishes like jerk trumpet mushrooms and Peruvian fries.
V Street shows how their approach in the kitchen has evolved since their first restaurant Horizons a decade back. There they featured veganized 1950s era American comfort food, making seitan stand in for steak. Then, says Landau, "we started falling in love with vegetables." He does sound smitten as he talks about the produce they get through Lancaster Farm Fresh Co-op like "fennel dripping beads of water, you could bite into it like an apple, it's like candy."
What's sweet for Jacoby is "when we look out and see a packed dining room of people having a plant-based meal. It's really rewarding." Landau agrees. "You do not have to eat animals to have a good meal."
The couple are plant-based for animal rights, and when they're not cooking at their two restaurants, chef at vegan and animal rights fundraisers and festivals. They even postponed the opening of V Street for a day in order to fly down to kick off Miami's vegan Seed Food and WIne Festival with a spectacular vegan dinner.
"This isn't just a restaurant for us, this is our life, our mission. We're chefs but underlying this, we are absolute activitists.," says Landau. Agenda isn't on their menus, though. "It's all about the food. We don't like people to think too much, just enjoy." You can enjoy even if you're nowhere near Philadelphia, thanks to their cookbook "Vedge." This, too, is part of the couple's activism. After hearing countless diners say they could be meatless if only they could eat at Vedge all the time, Landau and Jacoby painstakingly took recipes from the restaurant and made them workable for home cooks, even without the fancy pro kitchen gear."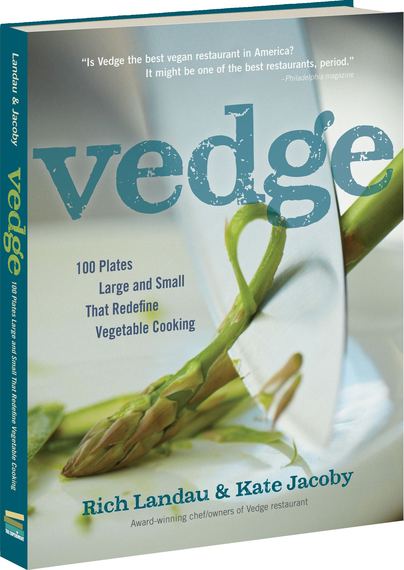 Landau and Jacoby love V Street, "our edgy rock and roll restaurant, serving crazy little vegetable concotions" but make no mistake, they're pro. Their Beard nominations (winners announced tomorrow) "are huge," admits Landau. "For a vegan chef to be recognized among all the traditional chefs, it's not just big for us, it's big for everything we do. It's a turning of the tide, breaking the boundaries about what food is, how food is perceived, for taking this thing forward."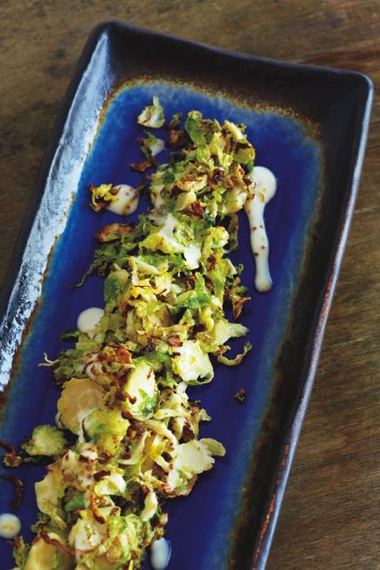 Shaved Brussels Sprouts with Whole-Grain Mustard Sauce

Recipe from "Vedge: 100 Plates Large and Small That Redefine Vegetable Cooking," copyright Rich Landau and Kate Jacoby, 2013, reprinted by permission from The Experiment Publishing.

"This is one of our signature dishes and usually the first thing people make from the cookbook," says Jacoby. It's quick and luscious and creamy, a perfect transition as we inch towards spring. The key to success "is all about the shaving," says Landau.

Serves 2 to 3.

½ cup vegan mayo
2 tablespoons whole-grain mustard
1 teaspoon salt
1 teaspoon freshly ground black pepper
1 pound Brussels sprouts, 2 or 3 layers of outer leaves removed and bottom cores cut off
2 tablespoons olive oil
2 teaspoons minced garlic

To make the sauce, whisk together the vegan mayo, mustard, 1 tablespoon water, ½ teaspoon of the salt, and ½ teaspoon of the pepper in a small bowl. Set aside.

Run the Brussels sprouts through the slicer blade of a food processor or carefully shave on a mandoline.

Heat the olive oil in a large sauté pan over high heat. Just as the oil starts to ripple, add the garlic and the shaved Brussels sprouts. Sear for 30 seconds, then stir to prevent the garlic from burning.

Add the remaining ½ teaspoon salt and ½ teaspoon pepper, then allow the Brussels sprouts to sear for 4 to 5 minutes, stirring occasionally so they brown evenly.

Transfer the Brussels sprouts to a serving dish, drizzle the mustard sauce on top, and serve.
REAL LIFE. REAL NEWS. REAL VOICES.
Help us tell more of the stories that matter from voices that too often remain unheard.