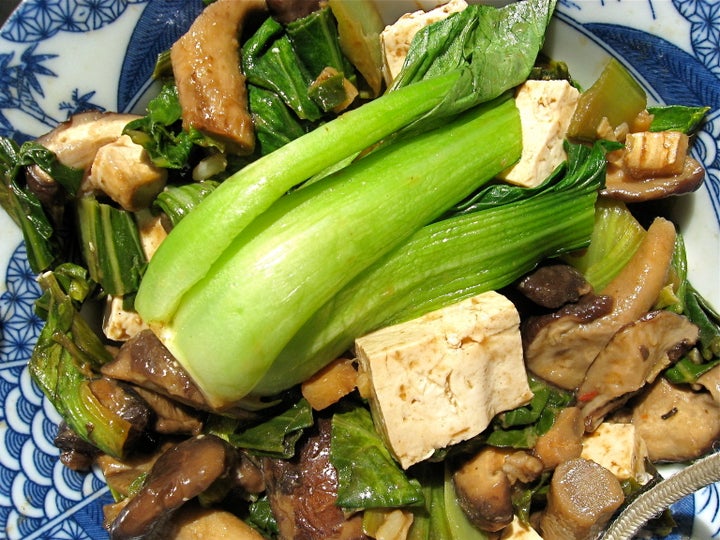 Admit it, you've been thinking about it. Especially with the holiday excess leaving you feeling as puffed as a fugo. Maybe you want to go vegan to reduce your carbon footprint. Or because you need to reduce your cholesterol. You do it out of a moral choice or because you've decided salmonella and E.coli outbreaks and food recalls mean steak and eggs are now off the menu -- forever. You've come to a definitive ah-hah moment, the point where you feel, as Rainer Marie Rilke wrote, "You must change your life." The question is, how do you do it? Welcome to the 21-Day Vegan Kickstart. It starts today and it's free.
The basic info comes from Barnard, who's been plant-based for a quarter century and preaching the gospel of vegan almost as long. What is new is the way the Kickstart packages everything into tasty plant-based morsels. PCRM first trotted out the program over a year ago with modest expectations. "It just became huge," says Susan Levin, PCRM's director of nutritional education. Over 150,000 people have Kickstarted their lives. You can, too.
The Kickstart gives you three weeks of recipes, menu plans and celeb tips for breezing through potentially awkward social scenarios like dinner with the boss or your meat-eating buds. And there's what Levin calls "the pretty great surprise" about what eating meatless really means -- and it's not about deprivation.
"The misconception that you're giving up food blossoms into this introduction to other foods. Look at all the produce at the farmers market, you should be eating all of it. Not in your repertoire? Try it. All these grains, great varieties of rice, quinoa, millet, barley, grains as old as the hills, try all those. And beans -- they're the best protein source ever," says Levin, clearly on a roll.
In addition to recipes for great eats, the Kickstart provides another kind of nourishment. The online community forum gives plant-based pros -- anyone who's already made the change to meatlessness -- a chance to share wisdom and experience with those sorely in need of it. Every day, people report on their progress and guide each other. "I see a lot of group support and input," says Levin. "The participants are almost like surrogate family."
It's a big family. Upwards of 30,000 people have registered for the Kickstart, and there's room for you, too. Here's to the Year of Eating Meatlessly. Happy 2012.

Hoisin Mushrooms With Bok Choy

So, without meat and eggs, what's for dinner? This sexy Asian dish. It comes together in minutes. Serve over brown rice or Asian noodles.

1 pound bok choy, chopped
3/4 pound shiitakes or other mushrooms, sliced
2 tablespoons fresh ginger, chopped
2 cloves garlic, minced
1 tablespoon canola or peanut oil
2 tablespoons soy sauce, divided use
1 pound firm tofu, cut into cubes
2 tablespoons hoisin
2 tablespoon sesame oil
2 tablespoons sherry
dash red pepper flakes, if desired

Heat peanut or canola oil in a wok or large skillet over medium-high heat. Add chopped ginger and garlic and saute for 3 minutes. Add sliced mushrooms and 1 tablespon of the soy sauce. Stir until mushroom just soften, 1 to 2 minutes.

Reduce heat to medium and cover, letting mushrooms cook for 5 minutes.

Remove lid, add chopped bok choy to wok or skillet, stirring gently, about 5 to 7 minutes.

In a small bowl, mix together remaining tablespoon of soy sauce, the hoisin, sesame oil and sherry.

Add the soy-hoisin mixture and the tofu cubes to the mushrooms and bok choy. Continue cooking, stirring occasionally, until bok choy is tender and the tofu is heated through.

Serves 4 to 6.