Every family should have its own designated party giver. When VegKitchen diva Nava Atlas was growing up, that meant her Aunt Blanche. "She was the family hostess, she set the style," recalls the author of many meatless cookbooks including "Vegan Holiday Kitchen." "It was never anything fancy, but comfortable, generous and gracious. She was someone to aspire to. She helped everybody. And everyone loved her."
Aunt Blanche would have approved of "Vegan Holiday Kitchen," which offers favorite dishes for every holiday. As Atlas puts it, it's "tradition with a twist." The twist is a vegan makeover.
Let's be clear -- vegans like to party, too. We just choose not to do it with ham. Or brisket. Or lamb. Or all the other meaty, eggy, milky dishes that seem to make up a traditional holiday table. "Our pleasure should not come at the cost of harming other creatures," says Atlas.
Happily, those of us who like to eat and party well need not suffer, either. This was not always the case. Atlas went meatless, back in the 1970s, when meatless meals were boring, brown and bland. "Being vegan today is easier," she says. "The products taste good, vegan, there's ethnic eateries everywhere." And there's "Vegan Holiday Kitchen." Atlas shows holidays can be bountiful and not an animal harmed. Beloved winter holiday hits go meatless, including vegan holiday cookies spiced with cinnamon and ginger, mock chopped liver (cashew, onion and mushroom pate) and "vegg" nog, thick and rich with almond milk and cashew butter, liberally spiked with rum. The spirit of the season remains but anything animal is excised.
"I love being part of the vegan community," says Atlas. "It's so supportive. We get more admiration. A lot of people say, 'I wish I could be a vegan,' not, 'Wow are you crazy?'"
For vegans who may not run with such an enlightened crowd, "Vegan Holiday Kitchen" offers tips on navigating tricky social situations, like the family dinner where your aunt insists you eat the roast she slaved over (because what's a family holiday without a little guilt or passive-aggressive behavior?) or the office party where everything contains bacon, including the cocktails (bacon-infused bourbon. It happens).
"I always offer to bring something, an appetizer or a main dish," says Atlas. She
not only has her Aunt Blanche's way with a party, she has her generous nature, as well. Atlas is donating a portion of "Vegan Holiday Kitchen" royalties to the New York Coalition for Healthy School Food, a statewide nonprofit advocating for more nourishing school lunches, including local, organic and plant-based options.
Though Atlas had been meatless since her teens, she, along with her husband and two sons, "became vegan as a family, the four of us -- it's a really powerful thing. We were making the same statement, we were all on the same plate. I was always so grateful we could be on this path together. It's such a gift."
Her family prefers to keep holiday celebrations low-key. And plant-based. Atlas may dish up her vegan shepherd's pie, rich with lentils and mushrooms and entirely sheep- and lamb-free. For her, the holidays aren't so much about formal religion, they're about "that oasis of comfort we create in the midst of our busy and often uncomfortable lives. The food we serve and how we serve is more than what's on the table, it's what's behind it."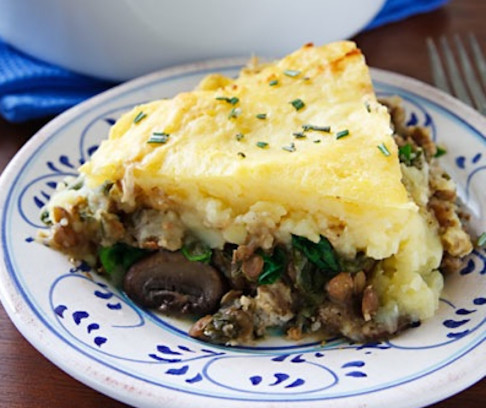 Hearty Lentil and Mushroom Shepherd's Pie
Reprinted with permission from "Vegan Holiday Kitchen" by Nava Atlas, copyright 2011, published by Sterling.

If you're looking for what Atlas describes as "that oasis of comfort," this dish is it.
Serves 8.

8 large or 10 medium potatoes
2 tablespoons nonhydrogenated margarine
1/2 cup rice milk
Salt to taste
2 tablespoons olive oil
1 large onion, finely chopped
2 cloves garlic, minced
6 ounces cremini or baby bella mushrooms
Two 15-ounce cans lentils, lightly drained but not rinsed (or about 3 1/2 cups cooked lentils with a little of their cooking liquid)
2 tablespoons dry red wine, optional
1 to 2 tablespoons reduced-sodium soy sauce or Bragg's liquid aminos
2 teaspoons seasoning blend (such as Spike or Mrs. Dash)
1/2 teaspoon dried thyme
Freshly ground pepper to taste
3 tablespoons cornstarch or arrowroot
8 to 10 ounces baby spinach or arugula leaves
1 cup fresh bread crumbs or panko bread crumbs (gluten-free if needed)

Peel and dice the potatoes. Place in a large saucepan with enough water to cover. Bring to a simmer, then cover and simmer until tender, about 20 minutes. Drain and transfer to a small mixing bowl.

Stir the margarine into the potatoes until melted, then add the rice milk and mash until fluffy. Cover and set aside until needed. Preheat the oven to 400 degrees.

While the potatoes are cooking, heat the oil in a medium skillet. Add the onion and sauté over medium heat until translucent. Add the garlic and mushrooms and continue to sauté until the onion is golden.

Add the lentils and their liquid and bring to a gentle simmer. Stir in the optional wine, soy sauce, seasoning blend, thyme, and pepper. Cook gently for 5 minutes. Combine the cornstarch with just enough water to dissolve in a small container. Stir into the lentil mixture.

Add the spinach, a little at a time, cooking just until it's all wilted down. Remove from the heat; taste to adjust seasonings to your liking.

Lightly oil a 2-quart (preferably round) casserole dish, or two deep-dish pie plates. Scatter the breadcrumbs evenly over the bottom. Pour in the lentil mixture, then spread the potatoes evenly over the top. If using two pie plates, divide each mixture evenly between them.

Bake for 30 to 35 minutes, or until the potatoes begin to turn golden and slightly crusty. Let stand for 5 to 10 minutes, then cut into wedges to serve.

This post originally ran on December 11, 2011.
Related
Popular in the Community