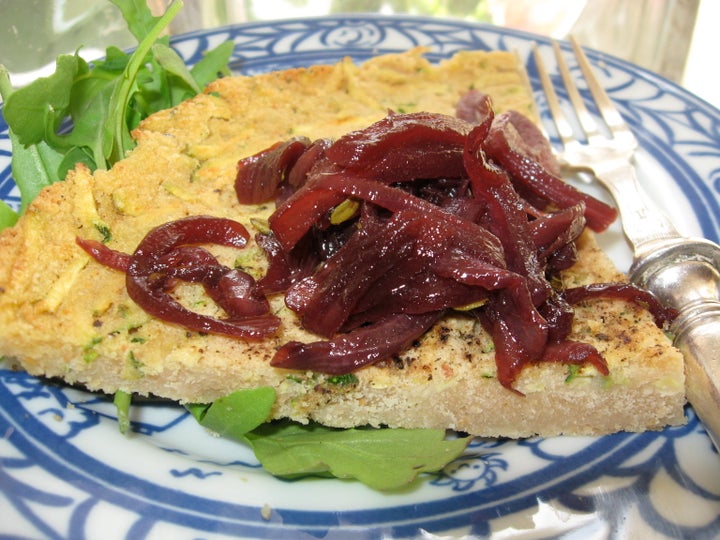 A vegan walks into a bar, gets a glass of the house red and says, "Barkeep, there's fish bladder, pig hoof, egg and milk in my wine."
Um, it's not a joke. Though you think wine equals grapes equals vegan, it may not be so. Winemakers often use isinglass (refined sturgeon bladder) to filter out grape seeds and skins. Dee-lish? Not so much. And not vegan, either. Gelatin (pig or sometimes cow hoof), casein (milk protein), egg whites and other animalesque bits are likewise used in traditional wine filtration.
The good news -- many wines are naturally, totally plant-based. They don't require animal bits for processing. The bad news -- it varies from winery to winery and from vintage to vintage. Finding a wine that's truly vegan shouldn't drive you to drink.
"It's never clear and I feel people need to know," says Cheryl Durzy, vice president of Clos LaChance Winery. That's why they're producing The Vegan Vine. "We're committed to being only vegan all the time."
This Central Coast winery makes a zesty, award-winning Cabernet Sauvignon, a summery, citrusy Sauvignon Blanc and a bladder-free everyday red. In addition to producing totally vegan wine, Clos LaChance is totally sustainable. "We were one of the first wineries to be certified as sustainable in early 2010."
Certification is hard work which starts with passing a 290-point test. Then it's a matter of maintaining eco-friendly practices, from using organic sprays to sustainable water -- better for the land, but more work for the winemakers. That's okay by Durzy and her sister, who run the winery their parents started in 1992. "For a family business like us, when you're sustainable, you're going to be around for a long time. You want to leave the land better than you found it. You don't want to leave the next generation a big mess to clean up," says Durzy, whose two children, ages four and eight, are literally growing up in the vineyard.
Clos LaChance also makes Mommy Juice (does Durzy know a market niche or what?), but in total, the winery produces only 6,000 cases a year, most of which is The Vegan Vine.
Crush -- harvest -- is just a few weeks away. With this being the first year of The Vegan Vine production, we're not talking about wines with decades of age, but don't get your Robert Parker on. "Nothing drives me crazier than wine snobs," says Durzy. "Wine can enhance life, can be healthy for you, has all these wonderful components." These are wines meant to be enjoyed. Without meat.
You can thank the vegan daughter of a Clos LaChance employee for inspiring The Vegan Vine, but Durzy's long been aware of "the beef industry's impact on the atmosphere." She's driven past "this huge cattle farm in Coalinga. It smelled so bad."
The Vegan Vine has made Durzy more conscious. And more meatless. "It's helped me look at everything I do, how I buy my food, feed my family. I talk to the growers, am more involved in the process in everything we can consume." She's a Meatless Monday convert and so's her family. "My kids love it. I try to do different recipes every week."
Quinoa tabbouli sparked with lemon and mint would be great with the citrus and mineral notes in The Vegan Vine's Sauvignon Blanc. Today's Meatless Monday recipe, chickpea-zucchini pancake with red onion jam plays up the earthiness and fruitiness in the Cabernet Sauvignon. Talk about your classic wine pairing -- meatless meals tend to be wine-friendly and The Vegan Vine produces vegan-friendly wine. Cheers.

Chickpea Zucchini Farinata With Cabernet-Red Onion Jam

In Liguria, they call it "farinata," in Provence, they call it "socca." In both cases, it's a Mediterranean pancake made with chickpea flour, so it's not just luscious, it's gluten-free and is a great way to use summer zucchini. Crispy crusted with a tender inside, farinata's great by itself or with this sweet and savory jewel-tone red onion jam, which can be made a day or several days ahead.

For farinata

1-1/2 cups chickpea flour*
1-1/2 cups water
4 tablespoons olive oil, plus 1 additional for coating the skillet
1 medium zucchini
sea salt and freshly ground pepper to taste

Pour chickpea flour into a medium bowl. Slowly pour in water, stirring constantly until mixture forms a thick batter. Stir in the 4 tablespoons of olive oil. Cover and refrigerate for at least 1 hour and as long as overnight. Batter should be creamy and golden, with texture and color like tahini.

An hour before baking the farinata, shred the zucchini (hand grate or use a food processor), place in a colander or sieve and sprinkle with a little salt, to help drain the zucchini of excess water.

Place an oven rack in the uppermost position and set oven to broil.

Lightly oil an 8 or 9 inch skillet.

Wrap shredded zucchini in a towel or paper towel and squeeze. Blot dry. Stir into chickpea batter.

Pour into skillet, spreading with a spatula so the mixture is even. Give it a garnish of sea salt and fresh ground pepper.

Broil farinata for 8 to 10 minutes, or until pancake is golden and is starting to firm up.

Reduce oven temperature to 450 and move farinata to middle oven rack. Continue baking for another 18 to 20 minutes, until pancake is set.

Remove from oven and let cool slightly before slicing into wedges and serving.

Makes 4 servings. Don't forget the onion jam.

* Available at gourmet markets, Middle Eastern markets and many natural food stores.

For cabernet-red onion jam

1 tablespoon olive oil
2 red onions
1 cup cabernet or other red wine
4 tablespoons agave nectar
2 tablespoons balsamic
leaves from a few sprigs of fresh thyme (about 2 teaspoons thyme leaves)
sea salt and pepper to taste

Peel onions and cut in half. Then slice the halves thinly, so they form half-moons.

Heat oil in a large skillet over medium-high heat. Add onions and cook for 10 minutes, stirring, or until onions soften and turn translucent.

Pour in the cabernet, agave and balsamic, stir in thyme. Continue cooking uncovered for 10 minutes, so the liquid reduces and turns syruppy. Stir occasionally to keep onions from sticking.

Cover skillet, reduce heat to low and cook for 15 minutes, or until until mixture becomes jammy. Let cool. Season with sea salt and pepper to taste.

Good with farinata or flatbread, dolloped on any grain or legume salad, fabulous with fresh, ripe tomatoes.

Keeps covered and refrigerated for up to 2 weeks.

Makes about 2 cups.
Support HuffPost
The Stakes Have Never Been Higher
Related
Popular in the Community