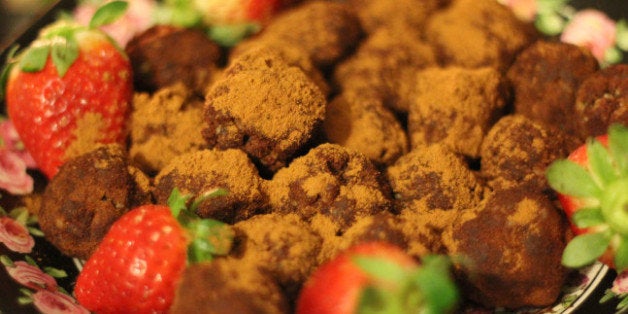 In my book, Feeding the Hungry Ghost, I write, "Breaking bread together is an ancient rite of welcome. It is also a revolutionary act. Ending all wars doesn't take another war. It takes a communal meal." So I was way thrilled when EatWith invited me to be their first Miami host. EatWith is the fabulous global community of 500 hand-picked hosts who open their homes and make you dinner. It's a chance to connect with new people in an intimate environment and enjoy a shared meal. It's like a pop up dinner party. And it's my secret weapon. I think sharing a meal is among our best hopes for humanity. So, right, no pressure as a I prepared for my first EatWith dinner here.
I am small and riddled with flaws. So is my home. But we can both offer warmth and welcome. Welcome meant slaughter, back in biblical days, as in Luke 15:23 -- Bring the fattened calf and kill it, and let us feast and celebrate. Sacrificing your calf was how we honored guests -- we offered up the best we had. I get that, but knowing something precious, beautiful and innocent had to die for my dinner doesn't make me want to celebrate, it makes me want to cry. My feasts, EatWith and otherwise, are plant-based.
I still offered guests the best I have-- produce and herbs right from my very small vegetable garden. It didn't provide enough for an entire three-course meal but it did provide peppery arugula, purslane, dinosaur kale, Cuban oregano, feathery dill, watercress, cilantro and parsley, enough for 18 people. These along with white beans, quinoa, fresh, local eggplant, green beans, tomatoes, carrots and some of my favorite seasonings including cumin, garlic, harissa, turmeric, sage, za'atar, orange blossom, anise, cinnamon and cardamon combined for a life-affirming, sensual feast.
I took advantage of living in Miami. It might have been the only place in the country where I could serve dinner to 18 guests outside on a balmy evening under the stars. A few of the guests I knew -- including a childhood friend I hadn't seen in years -- but most I was meeting for the first time. This was the moment I could have freaked out. But I think of people as ingredients in a great stew. We each add something unique and delicious, but when we come together, with a little warmth and a little time, we become something even greater. And so it was. After talking and eating and drinking and laughing, everyone left that EatWith dinner as my BFF.
Can't say I'm a fan of Luke 15:23. My favorite biblical quote is, Better a dinner of herbs where love is than a fattened ox and hatred with it (Proverbs 15:17, if you want to know). As I write in my book, "Every meal -- any meal, no matter how humble -- can offer the opportunity for deeper connection. So pull up a chair. Let's eat."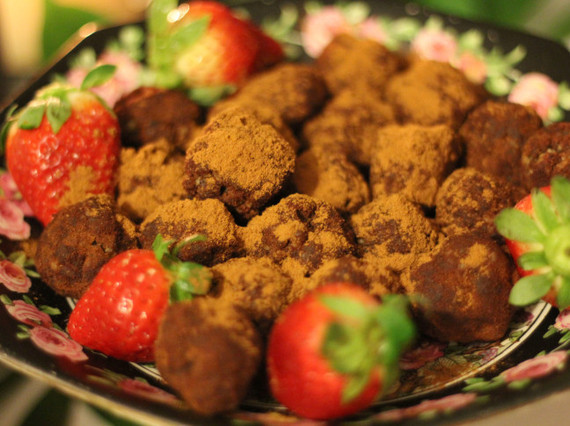 Multifaith Sweetness and Light Sugarplums (Date Truffles)
from my book, Feeding the Hungry Ghost: Life, Faith and What to Eat for Dinner,
copyright Ellen Kanner, New World Library, 2013.

Makes 2 dozen sugarplums

12 dried Medjool dates, pitted
8 dried apricots
1/2 teaspoon cardamon seeds
1/2 teaspoon anise seeds
1-1/2 cups walnuts
1/4 cup ground cinnamon or unsweetened cocoa powder

Put the dates and apricots in a food processor and pulse briefly, until they form bits that just start to come together in a mosaic. Add the cardamon seeds, anise seeds and walnuts. Pulse again until just combined; the mixture will not quite adhere to itself. For lack of a better world, we can call it dough.

Wrap and chill the dough for at least 2 hours and up to overnight.

Pour the cinnamon (or cocoa) ito a shallow bowl. Grab a generous pinch of the dough and roll into a ball about the size of a walnut. Roll the dough ball in the cinnamon until it's dusted on all sides. Continue with the remaining dough until you have 2 dozen sugarplums. The dough tends to absorb the spice, so roll the balls in the cinnamon a second time, if desired.

They keep beautifully for a week or more chilled in an airtight container.
Calling all HuffPost superfans!
Sign up for membership to become a founding member and help shape HuffPost's next chapter