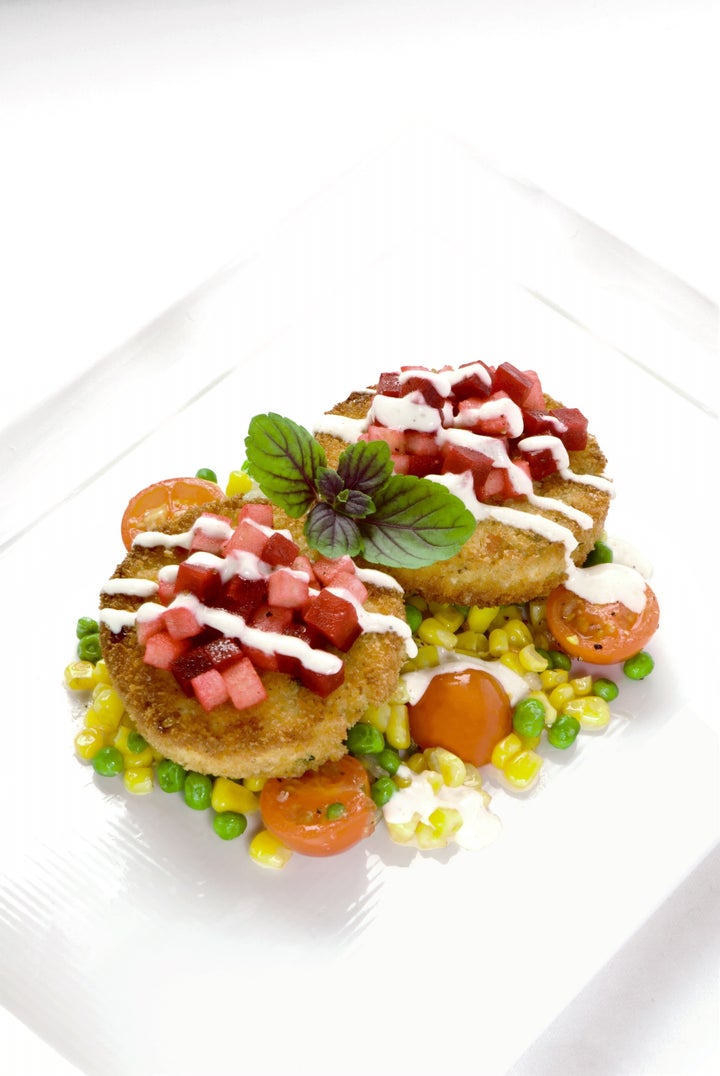 More than just a fun name, the lunch this Saturday at the Wynn Hotel features vegan chef extraordinaire and The Conscious Cook author Tal Ronnen plus the not insignificant culinary talents of the hotel's chefs.
The Wynn is named for Steve Wynn (that's Mr. Wynn to you), casino mogul and, as of last summer, vegan. When you have your own hotel, you can do things like decree all the restaurants in it must start offering vegan options. This might have been disturbing career news for David Walzog, chef at SW Steakhouse (SW stands for Steve Wynn.) Instead, Walzog embraced the concept with ardor and without having a steak knife held to his throat.
"It's fun cooking vegan and vegetarian at a steakhouse. It certainly interests me as a chef and it's good cooking," says Walzog, author of The New American Steakhouse Cookbook. Good enough to have Walzog working alongside Ronnen at Viva Las Vegan.
Ronnen, who cheffed Ellen and Portia's vegan wedding reception, grew up eating meat and still likes the taste -- for a vegan, he's down with a steakhouse concept. And Walzog is down with meatless meals. "I would never just say I'm a steakhouse chef. I'm a chef. I love ingredients, love to bring the best out of anything, whether that be tofu, vegetables or anything else." The man who once ran meat eateries including the Strip House -- declared the site of New York's best steak -- has been creating meatless recipes for the restaurant.
With his steakhouse background and Vegas sensibility, Walzog's doesn't serve meatless guests alfalfa sprouts, nor does his staff serve up attitude. On the other hand, he isn't out to make plant-based dishes that "mock beef," either. He's going for dishes with "richness and balance and fullness that stand up to the guy eating a rib eye," he says. "We build [plant-based] protein into the plate -- chickpeas and Gardein products." Walzog's staff says his meatless meatballs, served with dairy-free creamy polenta outclass meatballs made with, you know, meat.

Ronnen and Walzog collaborated on Viva Las Vegan, serving up a plant-based menu that's totally Vegas. It involves plants, not implants, but Walzog believes, "This may be one of the most impactful events happening during the weekend." The menu itself has what Walzog calls "wow factor" and a certain amount of showbiz. "There'll be video that will project onto big screens. Guests can watch how this is being made, they'll be able to get a handle on how the dish was put together." And the very fact they've got 300 people signed up for a plant-based lunch -- in Vegas, baby -- shows "a groundswell of cultural change. This has a message and a cause to it -- and an effect to some degree, God willing."
It's changed Walzog. He hasn't given up on meat, but "I'm going to apply better eating habits, moderation." And he's embraced some meatless staples. "At my house, with my family, we replaced dairy with almond milk, butter with Earth Balance [plant-based butter substitute], cream cheese with vegan cream cheese. Just those simple things, nutritionally it's a great benefit. Why not do it?"

That's the message he hopes to get across at Viva Las Vegan. "Give [plant-based]ingredients a try, see how things happen in the kitchen, keep an open mind, change things up a little bit, take a step in that direction."
Here's a case where what happens in Vegas shouldn't stay in Vegas. Viva Las Vegan, baby.


Old Bay Tofu Cakes with
Pan-Roasted Summer Vegetables, Horseradish Cream, Apples, and Beets

From Tal Ronnen's The Conscious Cook

For Viva Las Vegan, Walzog took these crabless crabcakes and pairs them with his own signature ancho chili rub. It's vegaspectacular with many components. Make a single part, some of it, or the whole thing. If you're going to make the horseradish cream, start a day ahead.

For the horseradish cream:

¾ cup vegan mayonnaise
¾ cup regular cashew cream
2 1/1 tablespoons prepared horseradish
Juice of 1 lemon
Sea salt and freshly ground black pepper to taste

For the cashew cream:

2 cups whole raw cashew, rinsed well under cold water

Put the cashews in a bowl and add cold water to cover them. Cover the bowl and refrigerate overnight.

Drain the cashews and rinse under cold water. Place them in a blender with enough fresh cold water to cover them by 1 inch. Blend on high for several minutes until very smooth. (If you're not using a professional high-speed blender such as a Vita-Mix, which creates an ultra-smooth cream, strain the cashew cream through a fine-mesh sieve.)

Makes about 3-1/2 cups regular cream

For the tofu cakes:

Sea salt
2 tablespoons canola oil
½ cup finely diced onion
½ cup finely diced carrots
2 teaspoons minced garlic
1 sheet nori seaweed
2 pounds firm tofu
2 ½ tablespoons cornstarch
1 tablespoon Old Bay seasoning
¼ cup nutritional yeast flakes
½ teaspoon white pepper
Juice of 1 lime

For the apples and beets:

1 beet, washed
2 tablespoons balsamic vinegar
1 Fuji apple
1 tablespoon extra-virgin olive oil
Sea salt and freshly ground black pepper

To cook and serve:

1 cup panko bread crumbs
1 ½ tablespoons Old Bay seasoning
Sea salt and freshly ground black pepper
1 cup plain unsweetened soy milk
½ cup canola oil, or more if needed
Pan-Roasted Summer Vegetables (recipe follows)

Make the horseradish cream: Place all the ingredients in a bowl and mix well. Cover and refrigerate until ready to serve.

Make the tofu cakes: Place a small sauté pan over medium heat. Sprinkle the bottom with a pinch of salt and heat for 1 minute. Add the oil and heat for 30 seconds, being careful not to let it smoke. This will create a nonstick effect. Add the onion and carrots and sauté until soft, 3 to 5 minutes. Add the garlic and sauté for 1 minute longer. Set aside to cool completely.
Holding the nori sheet with tongs, toast it by fanning it over a low gas flame or electric burner, being careful not to burn it and turning it so that all of it gets toasted. If you have a spice grinder or a coffee grinder that you use exclusively for spices, break the nori into pieces, place it in the grinder, and pulse until powdered. Alternatively, crumble it as finely as you can with your hands or pulverize it with a mortar and pestle.

Place the onion mixture, nori powder, 1 teaspoon salt, and the remaining tofu cake ingredients in a food processor and pulse until well combined but still chunky. Transfer to a bowl, cover, and refrigerate for 30 minutes.

Make the apples and beets: Place the beet in a small saucepan. Fill with water to cover and add the vinegar. Bring to a boil and cook until you can easily insert a toothpick into the center, about 25 minutes. Drain and peel the beet (a spoon works well). Finely dice the beet and put it in a small bowl. Finely dice the apple and add it to the bowl. Add the oil and salt and pepper to taste; toss to combine. Set aside.

Cook the tofu cakes: In a shallow dish, stir together the bread crumbs, Old Bay, and 1 teaspoon each of salt and pepper. Pour the soy milk into a separate bowl. Using your hands, form 12 small cakes from the tofu mixture. Dip both sides of each tofu cake in the soy milk, then press into the bread crumbs, coating well. Place the cakes on a baking sheet lined with parchment paper. Refrigerate for 30 minutes, or until firm.

Place a sauté pan over medium-high heat. Sprinkle the bottom with a pinch of salt and heat for 1 minute. Add the oil and heat for 2 minutes, being careful not to let it smoke.

Working in batches, sauté the tofu cakes (make certain that the oil comes about halfway up the sides of the cakes) until browned on both sides and heated through, 2 to 3 minutes on each side. Remove the cakes to a second baking sheet lined with parchment paper and place in a warm oven until you finish all of the cakes.

Assemble the dish: Scoop a large spoonful of the Pan-Roasted Summer Vegetables onto the center of each of 6 small serving plates. Place two cakes side by side on top of the vegetables. Top the cakes with a spoonful of the apples and beets and drizzle with the horseradish cream.

Makes 6 servings
Prep time: 1 ½ hours

* pan-roasted summer vegetables

Sea salt
2 tablespoons extra-virgin olive oil
1 shallot, minced
2 ½ cups fresh corn kernels
(from 3 medium ears)
1 cup fresh or thawed frozen peas
1 ½ cups cherry tomatoes, halved
3 large basil leaves, cut into chiffonade
Freshly ground black pepper

Place a large cast-iron skillet over medium heat. Sprinkle the bottom with a pinch of salt and heat for 1 minute. Add the oil and heat for 30 seconds, being careful not to let it smoke. This will create a nonstick effect.
Add the shallot and sauté for 3 minutes. Add the corn and peas and sauté for 3 minutes. Add the tomatoes and basil and season with salt and pepper to taste. Cook for about 2 minutes, until just heated through. Serve hot.

Makes 5 cups
Popular in the Community