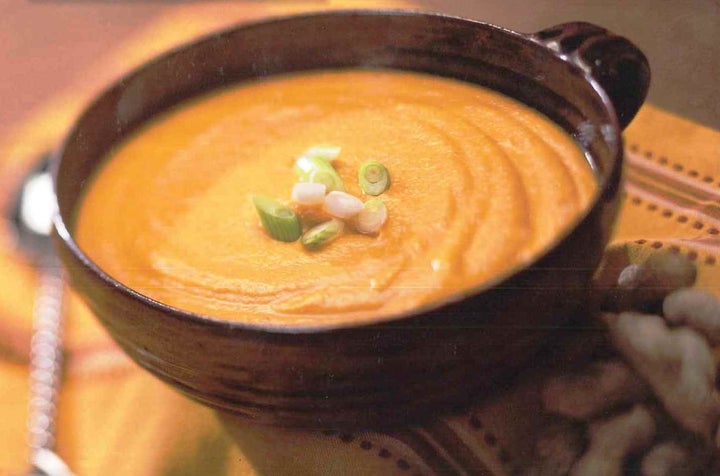 I remember school cafeteria food -- with a certain amount of horror -- but not actually eating it. What I remember was our lunch lady cashier, who was huge and mustached and who scared the bejesus out of me. Once, as I paid for lunch, I dropped a coin into my spaghetti. In a fever of panic and shame, I wiped the quarter on a napkin, and then on the hem of my shirt, and handed it to her with the rest of the money. She went bananas, shouting, "You give me this dirt?" Well, I was a second grader. I'd cleaned it off, I didn't have any more money, I didn't know what else to do. I don't know how the moment passed, but I'm still alive to tell the tale. And I made a connection right then -- what you get in the school cafeteria is dirt. There are more positive messages coming out of many school cafeterias these days, and better food, too -- all worth celebrating as we begin National School Lunch Week.
Public school cafeterias are up against a lot, feeding lots of kids on almost no money, complying with USDA regulations, limited by using certain subsidized foods and having little in the way of actual kitchen equipment. Most modern school kitchens are equipped to heat the packaged food they receive, no more. Some of the most successful school lunch programs come not from within the school system but from outside it.
There wasn't much to celebrate about National School Lunch Week before Alice Waters, Chez Panisse muse and creator of the Edible Schoolyard. Waters figured out feeding kids better makes them better students and better citizens, but plopping down a plate of carrots in front of them doesn't always work. Students need to be part of the process, from growing their carrots to cooking them. The program, integrating gardens and kitchens into school curriculum, has taken root all across the country and as far away as New Zealand.
Oprah chef Art Smith took Waters' concept and ran with it to create Common Threads, the nonprofit which teaches cooking skills to underserved students. During each class, kids connect with sharp knives, hot stoves and hot chefs -- some as hot as Tyler Florence, Michelle Bernstein and Jamie Oliver -- to produce a meal they then sit down and enjoy together. Along with the cooking classes, they receive appetizers of information, learning about different foods, different cultures, healthier choices and where our food comes from.
New York Coalition for Healthy School Food offers New York schools a one-two punch of educational programming and meatless lunches. "This organization is about every aspect of getting healthy food into kids in a way that bypasses the 'yuck factor,'" says fan and Vegan of the Year Victoria Moran. "They don't downplay the fact that plant-based eating is the gold standard. I salute any organization that tries to get kids healthier, but I support NYCHSF because they're looking at health in its holistic sense -- physical, ethical, and global."
Even when schools provide healthy food and healthy messages about it, what goes on outside the classroom threatens to undermine it all. Food companies spend over a $1 billion marketing junk food to children. The CDC links that to the childhood obesity crisis. DooF (that's food backwards) uses food companies' tactics -- fun! videos! games! -- but swaps the buy-junk message for one with a healthy takeaway.
It's still a challenge to put a healthy school meal in front of children. It's still a challenge to get them to eat it. But there are more than decent lunches coming out of school cafeterias these days. There are positive connections kids can make with what they eat to last them for the rest of their lives. There are even nice lunch ladies.

West African Peanut Soup

From Common Threads' "Eat the World: Good-for-You Food for Families":

Cozy and kid-friendly, this is a great soup families can make and enjoy together.

1 cup chopped onions
1/2 tablespoon peanut or canola oil
1/4 teaspoon cayenne pepper or other ground dried chilies (or to taste)
1/2 teaspoon grated or minced peeled fresh ginger root
1/2 cup chopped carrots
1 cup finely diced sweet potato (up to 1/2 cup white potatoes can be substituted)
2 cups vegetable broth or water
1/2 cup tomato juice
1/2 cup smooth peanut butter
1/2 cup chopped scallions or chives
Salt and pepper -- a dash of each

Cut the onions, peel and mince the ginger, peel and chop the carrots and dice the sweet potatoes.

Saute the onions in the oil in a medium pot until the onions start to look clear (translucent).

Stir in the cayenne and fresh ginger.

Add the carrots and saute for 2 to 3 more minutes. Add the potatoes and broth or water, peanut butter and then bring the soup to a boil, and then simmer, for about 15 minutes, until the vegetables are tender.

Chop the scallions or chives and set aside, these will go on top of the soup

When the vegetables are tender (you pierce them with a fork), take the pot off the heat and let it cool slightly. Then, with an adult, pour the soup slowly into a blender or food processor. Puree the soup until the vegetables are smooth. Add a dash of salt and pepper, if you like.

Dish up the soup right away, or return it to the pot and reheat the soup vegrry gently, adding more water, broth, or tomato juice if you prefer a thinner soup.

Top with plenty of chopped scallions or chives.

Serves 4.