Pasta is not your bad boyfriend. The food we love loves us back according to a global group of scientists at last week's World Pasta Congress.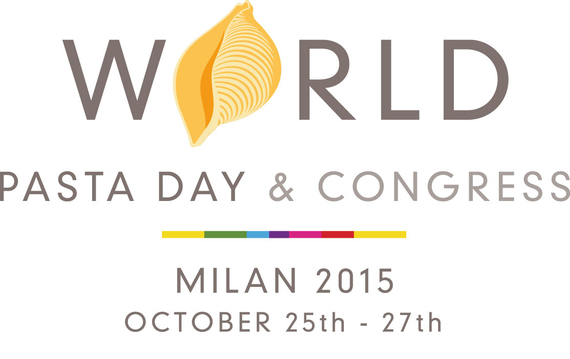 Organized by Oldways, the International Pasta Organisation and AIDEPI, the congress takes place every five years. I was among the US press delegation invited as the congress took on the challenge of addressing all the pasta myths and misperceptions -- carbophobia, gluten panic and more. Twenty scientists, academics, physicians, nutritionists and sustainability experts gave a united thumbs-up to pasta (would that we could get our own congress to agree on anything). Their findings:
Pasta is healthy. Durum wheat, traditional pasta's must-have ingredient (in Italy, it's the law) looks different from other strains of wheat. Our bodies metabolize it differently, too. There's a reason athletes pile on the pasta before a competition --it's easily digestible, keeps your stomach satisfied longer and offers a clean burn and a low glycemic index. The low glycemic magic -- extra important if you're diabetic -- comes through the act of making pasta -- extruding or pushing it through a pasta machine, which compacts its nutritional and structural density. Keep pasta's glycemic index low by cooking it the way it's designed -- al dente, not all gummy. Think of pasta as a gateway to the foods you know you should be eating (but don't). Load it up with vegetables and legumes. For extra nutritional oomph, go for whole grain pasta.
Pasta contains gluten. Gluten is not the devil, it's the protein in wheat. Gluten-free pasta and other products are a boon for diagnosed celiac sufferers, but not for the rest of us. The presenting scientists are less exercised about gluten than about how gluten-free products, now earning over $3 billion in sales, are being marketed to mainstream consumers as a healthier alternative. Often, they're not. Gluten-free products tend to be lower in protein, fiber and nutrients than the foods they're replacing, plus they often underperform (that is, they taste bad). Um, remember the wave of low-carb products? Dark days.
Pasta is sustainable. Barilla Center for Sustainability established this in 1999, with its double pyramid, showing a correlation between the most sustainably grown foods and the ones that provide us the most nutrition. We're talking plants, the base of the Mediterranean Diet food pyramid and, of course, the Vegetarian and Vegan food pyramid.They're the foods we should be eating more of. Another sustainability plus -- in most cases, the durum wheat in pasta is GMO-free. It's further proof we can treat ourselves right and treat the planet right, too.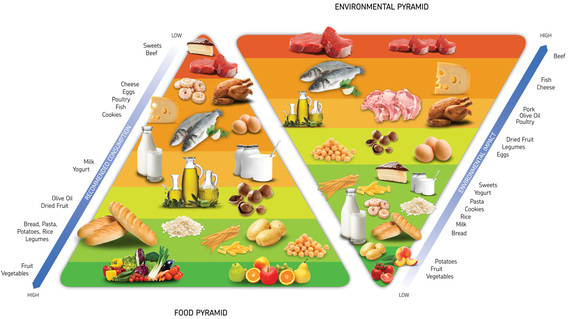 Infographic courtesy of Barilla.
Pasta is accessible and affordable. You don't need to be a scientist to know that. Even as food prices continue to rise, a box of pasta costs less than a pumpkin latte and arguably provides more nutrition. A single serving contains less than 200 calories and at least 5 fiber grams and half a dozen protein grams. Can't say that about that latte.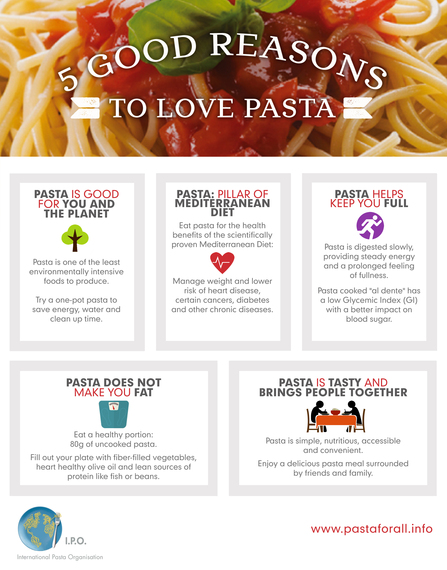 I am not a scientist. I am a soulful vegan writer and cook. But with so much bad news coming at us, here's something good. And something worth eating. Pasta deserves a place at the table and a place in your heart.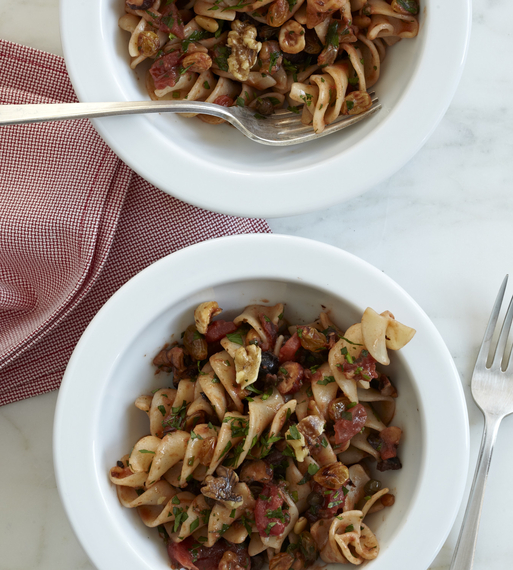 Photo by Stewart, Tabori and Chang.

Cheapskate Pasta

Recipe from "Pasta Modern," copyright 2013 by Francine Segan. Reprinted by permission from Stewart, Tabori and Chang.

The Italians traditionally celebrate Christmas Eve with the Feast of Seven Fish. So what about vegans? We like to party, too. "Pasta Modern" author and culinary historian Francine Segan shared this recipe from Naples, with no fish, just flavor (and nuts, dried fruit, capers and olives), delivering savory, sweet, chewy, crunchy, bright and bold in every bite. The PC name of this dish is Christmas spaghetti, but it also goes by cheapskate pasta, which is closer to my cheap and cheery heart. Call it what you like but don't wait for Christmas to try it.

Serves 6.

1 pound fussilloni or other short pasta
salt
5 tablespoons olive oil
1 garlic clove, sliced
½ cup assorted nuts, such as hazelnuts, walnuts, pine nuts, chopped
3 tablespoons of any dried fruit, such as apricots, dates or raisins, chopped
2 tablespoons salted capers, rinsed
1 28-ounce can diced tomatoes
10 pitted oil-cured black olives
1 teaspoon dried oregano
1/4 cup fresh parsley, chopped, plus more for garnish

Cook the pasta in salted boiling water until al dente. Reserve 1 cup of the pasta cooking water, then drain the pasta and set aside.

Meanwhile, heat the oil and garlic in a large pan over medium-high heat for about 2 minutes or until fragrant. Then stir in the nuts, raisins, capers and tomatoes and cook for about 5 minutes. Add the olives, oregano and parsley and cook 1 more minute.

Toss the pasta into the sauce. Stir in some of the pasta water to help blend the flavors and create a smooth consistency.

Serve topped with more parsley.

Popular in the Community