I don't need to remind you that tomorrow is Election Day, Vote like your life depends on it -- not just for president, but for every elected official on your ballot. They all affect how we eat. The Union of Concerned Scientists, HEAL Food Alliance and Food Policy Action have joined forces to create Plate of the Union, calling on candidates to make food and farming central to their mission, and if elected to fix our fractured food system.
Launched four years ago, Food Policy Action posts a scorecard on how elected officials vote on food policy. That means farming, labor, safety, school lunches, SNAP programs, food waste, protecting animals, GMO labeling and more. You probably know the nonprofit's co-founder Tom Colicchio as the Top Chef judge or as the chef at Craft and Gramercy Tavern. He's omnivore, I'm vegan, but we both believe safe, healthy, affordable, accessible and sustainable food is an unalienable human right. That means all of us:

the Asian, the Hispanic, the Jew,
The African and Native American, the Sioux,
The Catholic, the Muslim, the French, the Greek,
The Irish, the Rabbi, the Priest, the Sheikh,
The Gay, the Straight, the Preacher,
The privileged, the homeless, the teacher.
-- from Maya Angelou's "On the Pulse of Morning," the inaugural poem for President Bill Clinton.
A long and bruising campaign season concludes tomorrow night. Then once again it will be morning in America. Sign Plate of the Union's petition to our next president. We all deserve to be served at America's table.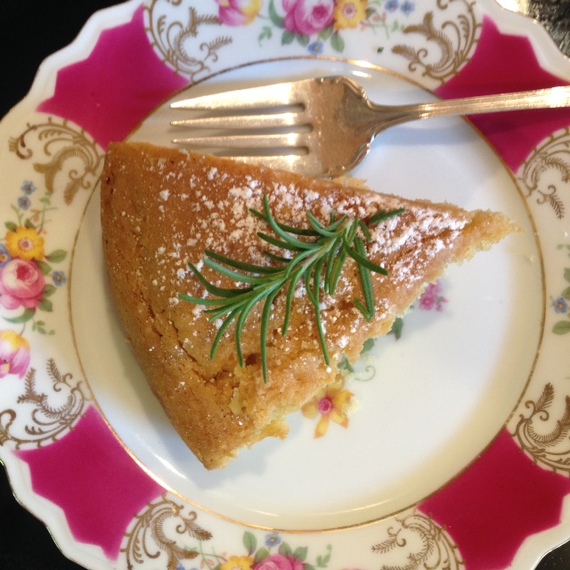 Morning in America Rosemary Lemon Teacake

It just takes a single sprig of fresh rosemary to add a haunting autumnal note to this simple lemon cake. It's quick, easy and not too sweet for a gentle morning wakeup or for warming a chilly afternoon. Lovely with tea or coffee.

1 cup unsweetened almond milk (you may use soy)
1 fresh lemon, juice and zest
1-1/2 cups unbleached all-purpose flour
1/2 teaspoon aluminum-free baking powder
3/4 teaspoon baking soda
1/4 cup grapeseed, canola or other neutral oil
2/3 cup evaporated cane sugar
1 teaspoon fresh rosemary leaves, minced fine

Preheat oven to 350°F. Lightly oil an 8-inch cake pan.

In a large bowl, stir together almond or soy milk and lemon juice. Mixture will curdle slightly. Don't fret. Set aside.

Meanwhile, in a separate bowl, combine flour, baking powder, baking soda, lemon zest and minced rosemary.

Add oil sugar, vanilla, lemon juice and zest to almond or soy milk mixture. Whisk briefly to emulsify.

Add dry ingredients to wet and stir until just combined. Gently pour batter into cake tin.

Bake for 30 minutes or until cakes is golden, puffed and slightly pebbly on top. It should spring back when lightly touched.

Let it cool in the pan before turning out.

Garnish with a dusting of powdered sugar and a sprig of rosemary or a drizzle of lemon glaze.

For lemon glaze:

1-1/2 cups powdered sugar, sifted
juice of 1 lemon

Combine powdered sugar and juice in a small bowl. Stir until thick and smooth.
Drizzle over cake and let it set for 10 to 15 minutes. Glaze will harden to a pretty gloss.

Serves 6 to 8.

Calling all HuffPost superfans!
Sign up for membership to become a founding member and help shape HuffPost's next chapter