Tomorrow is World Health Day, according to the World Health Organization and this year, they're targeting food safety. Not very sexy perhaps, but important -- important enough so President Obama is pushing to overhaul our labrynthine food system for greater safety oversight . So what can you do? A lot. Individual food choices are a big wellness factor. If you want to get serious about your health, get a jump on World Heath Day tomorrow by making today meatless.
According to the newest USDA dietary guidelines, "a healthy dietary pattern is higher in vegetables, fruits, whole grains, low- or non-fat dairy, seafood, legumes, and nuts; moderate in alcohol (among adults); lower in red and processed meat; and low in sugar-sweetened foods and drinks and refined grains."
Maybe you're totally buff, but chances are you know someone who isn't. Over one third of adults are clinically obese. That goes for our kids, too. It's not pretty, not healthy and not cheap. Obesity alone costs us over $147 billion a year. Numerous studies link cancer, diabetes and heart disease -- your big three causes of American mortality -- to obesity, which is controlled by diet and lifestyle. The World Health Organization says to reduce obesity, "increase consumption of fruit and vegetables, as well as legumes, whole grains and nuts."
Look -- meatlessness works. A new study published in the March/April issue of American Journal for Health Promotion follows an 18-week study in which participants, either obese or diagnosed with type 2 diabetes, switched to a vegan diet. They lowered their LDL and their stress, boosted their mood, productivity and immunity, experiencing better physical and mental health all around.
If that doesn't make you dial down your burger consumption, consider this -- the FDA links our resistance to antibiotics to the overuse of antibiotics routinely fed to livestock. Resistant bacteria get into everything. Including us.
As Vedge chef and James Beard Award finalist Rich Landau puts it, people go vegan "to save the environment, the animals or yourself." Maybe you don't care about the planet or animals, "but at the very least, do it for youself."
So do it for yourself. Go meatless on World Health Day, or any day. Go meatless for a week -- US VegWeek is coming. Do it for the rest of your life and make all health break loose.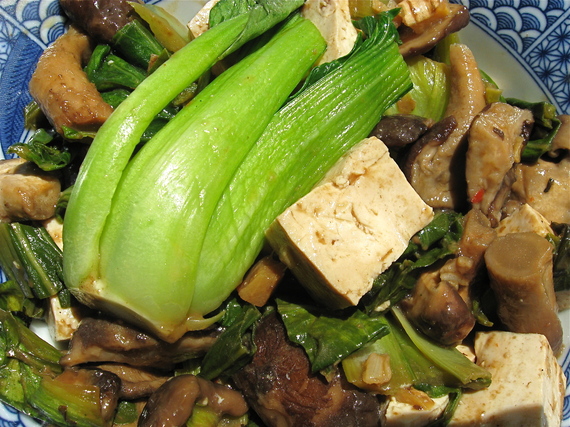 Hoisin Mushrooms With Bok Choy

This sexy Asian dish comes together in minutes. It's good for you, the planet and all the creatures on it. Serve over brown rice or rice noodles.

Serves 4 to 6.

1 tablespoon peanut or other neutral oil
2 tablespoons fresh ginger, peeled and chopped (about a thumb-sized piece)
2 cloves garlic, minced
3/4 pound shiitakes or other mushrooms, sliced
1 pound bok choy, chopped
2 tablespoons soy sauce, divided use
2 tablespoons hoisin
2 tablespoon sesame oil
2 tablespoons sherry
1 pound firm tofu, pressed and drained and cut into cubes
1 handful of scallions, sliced thin
dash red pepper flakes, if desired

Heat peanut or other neutral oil in a wok or large skillet over medium-high heat. Add chopped ginger and garlic and saute for 3 minutes. Add sliced mushrooms and 1 tablespoon of the soy sauce.

Stir until mushrooms just soften, 1 to 2 minutes. Reduce heat to medium and cover, letting mushrooms cook for 5 minutes.

Remove lid, add chopped bok choy and stir gently, about 5 to 7 minutes.

In a small bowl, whisk together remaining tablespoon of soy sauce, the hoisin, sesame oil and sherry.

Add the soy-hoisin mixture and the tofu cubes to the mushrooms and bok choy. Continue cooking for a few minutes, stirring occasionally, until bok choy is tender but still bright in color and the tofu is heated through.

Garnish with chopped scallions and optional red pepper flakes.
Calling all HuffPost superfans!
Sign up for membership to become a founding member and help shape HuffPost's next chapter