It's winter and I'm not grilling as much as usual, so I've been fiddling with my meatloaf recipe (which I also cook on the grill in the summer). It's getting pretty good, but whenever the topic comes up with friends, they all have some great ideas and new twists on this All-American classic. So I never can finish my recipe.
Get More Meathead
Read more recipes, techniques, tips, product reviews, and reports from Meathead's kitchen and grill deck at
AmazingRibs.com
So here's my idea. Let's develop a killer meatloaf together. In the comments below, please share with everyone your recipes or your tips and tricks and tell us your meatloaf stories. Tell us about the best one you ever tasted, the worst, and your kitchen disasters and successes.
I'll take the best sounding ideas, cook them, and try to organize them into a recipe that I'll post here. Hopefully a few of you will try these ideas too, and offer feedback. In a few weeks, perhaps we'll end up with a recipe we can call the Huffington Loaf. Hey, maybe we can even get Arianna to try it.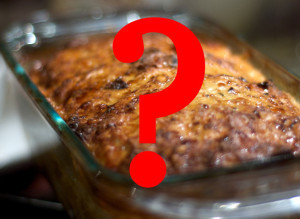 Let's start with about 2 pounds of meat. Allowing for mix-ins and shrinkage, that should make enough to serve 4 to 6. Here are some ideas:
Meat. Should it be ground beef only? Pork? Veal? Turkey? Sausage? Bacon? Pepperoni? Coarse grind? Low fat?
Mix-ins. Onions? Garlic? Peppers? Carrots? Fruit? Eggs? Panade? Bread crumbs? Crackers? Flour? Ketchup? Mustard? Canned soup? Soup mix? Celery? Grains? Potatoes? Cheese? Beets (yes, I've heard of beets in a meatloaf!)?
Seasonings. Which herbs and spices?
Toppings. BBQ sauce? Honey? Jam? Balsamic reduction? Gravy? Bread crumbs? Sour cream? Mushrooms? Cheese?
Prep and cooking. What shape is it? In a loaf pan or not? Temp? Time? Grill? Smoke? How to drain the fat?
Side dishes. What do we serve, and drink, with meatloaf.
Other tips. Do you freeze uncooked meatloaf? Cooked? How do you serve leftovers?
Photo from Flickr: chispita_666
Text Copyright (c) 2011 By Meathead, and all rights are reserved
For more of Meathead's writing, photos, and recipes, please visit his website AmazingRibs.com
Calling all HuffPost superfans!
Sign up for membership to become a founding member and help shape HuffPost's next chapter