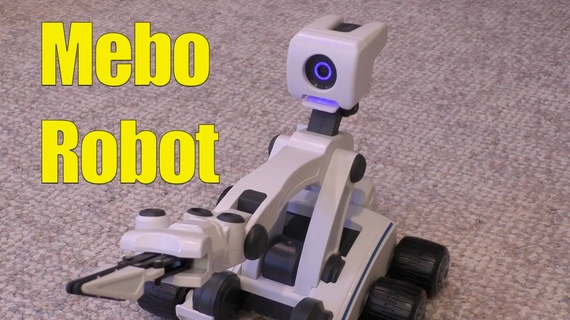 If it sees like you, talks like you - is it you? What about if it burps like you?
Unless you have a robotic claw and wheels instead of limbs, it is probably not you. It is your robotic alter ego - Mebo Robot from Skyrocket Toys.
I will give you a moment to pick up the pieces of your mind blown mind now. Toys sure are getting philosophical in 2016. By using your tablet or phone (iOS or Android) you pilot the Mebo Robotic Claw all around, using the HD video stream to see what Mebo sees and pickup various objects with the claw. Mebo becomes your robotic alter ego.
Mebo is really something you need to see to appreciate. Please watch our video review of the Mebo Robot Claw -
Mebo Robot Provides All Types of Play Value
Sometimes a toy is technically cool, but the kids just don't play with it for more than a day. The reason this happens is that the toy does not have play value. It is technically impressive, but not really long term fun for the kids.
Thankfully, this is not the case with Mebo Robot. Kids can play all types of games, trying to pick-up objects in a certain amount of time, piloting Mebo to a destination while being in a different room, spy missions, freaking people out by making burping sounds from the corner, put an object down...and the list goes on and on.
Here are some of the key features of Mebo:


Real Time 720P Video and Audio Streaming to Your Phone or Tablet


Record HD Video


Take Photos


Hear Everything Mebo Hears


Speak Through Mebo and Play Sound Effects


5-Axis Precision Controlled Arm


360 Degree Range of Motion


Pick-Up and Drop Items Remotely


If you have kids who like getting into a little mischief, the Mebo Robot would make an awesome Christmas present under the tree. Just remember Moms and Dads, you never know when Mebo is watching!
REAL LIFE. REAL NEWS. REAL VOICES.
Help us tell more of the stories that matter from voices that too often remain unheard.