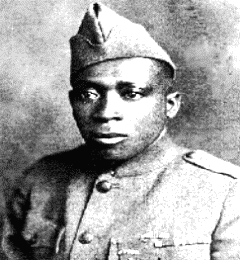 Yesterday, Sgt. 1st Class Leroy Petry became only the second living recipient of the Medal of Honor for the wars in Afghanistan and Iraq at a White House ceremony where President Obama said the medal "reflects the gratitude of our entire nation."
And it does. Petry received the Medal of Honor for his heroism during a fire battle in eastern Afghanistan when he, already wounded, retrieved and threw a live grenade away from his fellow Rangers, preventing the serious injury or death of his comrades. But as he released the grenade, it detonated and catastrophically amputated his right hand.
However, there are other cases of heroism where -- in my opinion and in the opinion of others -- such gallantry and intrepidity deserving of our nation's highest honor for bravery in combat is yet to be recognized or where such recognition has been very slow in coming.
One such case is Marine Corps Sgt. Rafael Peralta, who in a fire battle in Fallujah, Iraq, in November 2004, while himself mortally wounded, shielded his fellow Marines from serious injury or even death by pulling an enemy-thrown grenade to his body, thereby absorbing the blunt of the blast and giving his life in the process.
Peralta was recommended for the Medal of Honor by the Commandant of the Marine Corps -- a recommendation that was endorsed by the Secretary of the Navy. Instead he received the Navy Cross.
There has been a huge outcry at this injustice, by fellow Marines, the media, elected officials, the American people and by Sgt. Peralta's family, who refused to accept the Navy Cross. Numerous articles have been written on this, including by this author, here and elsewhere.
Today, let us rejoice that we have a second living Medal of Honor recipient from the Afghanistan War, but let us not give up on Sgt. Peralta, just as so many have never given up on Henry Lincoln Johnson, a member of New York City's all-black 369th Infantry Regiment -- the famous "Harlem Blackcats" -- who 93 years ago "displayed extraordinary valor" on a French battlefield when at least 200 African-American members of his Regiment were killed and another 1,300 were wounded. Johnson himself was shot three times and suffered 21 debilitating knife wounds.
The 369th's approximately 3,000-man volunteer unit was lent to the French army by General John J. Pershing, who commanded the American Expeditionary Forces (AEF).
A recently unearthed memo, signed by Gen. Pershing, details the heroism of Private Johnson and of Private Needham Roberts, Johnson's comrade on sentry duty the day of the battle:
Reports in hand show notable instance of bravery and devotion shown by 2 soldiers of American colored regiment operating in French sector. Before day light on May 15 Private Henry Johnson and Private Roberts while on sentry duty at some distance from one another were attached by German raiding party estimated at 20 men, who advanced in 2 groups attacking at once from flank and rear. Both men fought bravely in hand to hand encounters, one resorting to use of bolo knife after rifle jammed and further fighting with bayonet and butt became impossible. Evidence that at least one and probably second German was severely cut. Third known to have been shot. Attention drawn to fact that the 2 colored sentries first attacked continued fighting after receiving wounds, and despite of use of grenades by superior force, and should be given credit for preventing by their bravery the taking prisoner of our men. Three of our men wounded, of whom two by grenades but all are recovering, and wounds in two cases are slight.
It is this memo, along with an eyewitness account and a letter to Johnson's wife from Johnson's commanding officer, that may be the additional evidence that confirms that "Mr. Johnson is a hero and deserves the Congressional Medal of Honor," according to Oregon Sen. Ron Wyden.
Sen. Wyden, New York Sen. Charles Schumer, Portland City Commissioner Nick Fish and many others have sought the Medal of Honor for Sgt. Johnson. They include Rep. Charles Rangel, D-N.Y., former Albany N.Y. Mayor John McEnery, former N.Y. Rep. Joe DioGuardi, former N.Y. state Rep. Michael McNulty and Johnson's son, Tuskegee Airman Herman Johnson.
In early May, Schumer and Wyden sent 2,000 pages of new information to Robert Much, the Secretary of the Army, arguing that Johnson should have been awarded the medal long ago.
Related
Popular in the Community