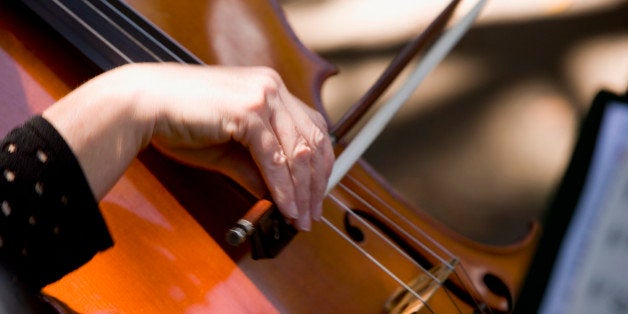 In a new initiative with the New World Symphony, began the Medellin Musician Exchange Program, where 20 fellows of Miami go to Medellin and 10 fellows of Colombia go to Miami.
For 21-year-old Juan Sebastian Forero Jaramillo, residing in Miami, Fla. for three months has been an experience that has changed his life.
He and his colleague, Santiago Bernal Montaña, are two young aspiring cellists from Colombia that traveled to the sunshine state in an exchange program between the New World Symphony in Miami and the Academia Filarmonica de Medellin in Colombia to expand their knowledge and passion of classical music.
"We came here and they [New World Symphony] began giving us lessons with the fellows. This is a really good place where we can learn a lot," Juan Sebastian said about the program that caused him to have bigger priorities and ideas.
"This is wonderful for us," he told VOXXI, "we are getting the opportunity and lessons we need to become professional musicians."
The Academia Filarmonica de Medellin is a program that began a few years ago and brings together a group of young musicians with different music institutions, giving young people the opportunity to learn music.
The project is under the wing of the famous Colombian orchestra, Medellin Filarmonica.
The initial of the exchange was during the 2010-2011 season. This year it kicked off its third year.
"The type of exchange that we use to do in the last three years was for one week," Santiago said. "At the end of the week, the fellows from Colombia would have the opportunity to play a concert in Miami."
This year, however, the program took a new approach and for the first time they offered residency in Miami for three months.
This gives the two Colombian cellists the opportunity gain maximum experience in a famous classical music institution known for its leadership, organization and level of performance.
For Juan Sebastian, the musicians in Miami are really good and the best at sharing their knowledge and work.
"It's beneficial to us and the New World Symphony is a good place to learn, grow and play better," he said.
The Medellin Musician Exchange Program is a really big project.
The musicians feel it is the perfect way to help the classical music movement in Medellin become known.
Challenges of being a classical musician in Colombia
Both Santiago and Juan Sebastian have been playing the cello for over a decade.
They agreed that being a cellist in Medellin has been quite the challenge.
"A lot of people in our country are not related to classical music because they are not that aware of it," Santiago said.
It's challenging because in cities like Medellin, people primarily listen to genres like tropical or rock.
Juan Sebastian said that with good ideas and great knowledge of classical music, it's possible to change the outlook of the city with the genre.
"We need to open the doors to classical music in our city," said Juan Sebastian.
"This culture is lacking in Medellin and it's necessary to share this art with our city and the rest of Colombia."
These two cellists are among many aspiring classical musicians in Latin America.
With opportunities like the Medellin Musician Exchange Program, they hope to expand the classical music movement and eventually many people will enjoy the genre and it'll be known through every generation.
Santiago Bernal Montaña's and Juan Sebastian Forero Jaramillo's three-month journey in Miami ended after following a successful performance on December 12 at the New World Symphony stage.
More on Medellin Musician Exchange Program
REAL LIFE. REAL NEWS. REAL VOICES.
Help us tell more of the stories that matter from voices that too often remain unheard.
BEFORE YOU GO