by Negeen Darani, Harvard Humanitarian Initiative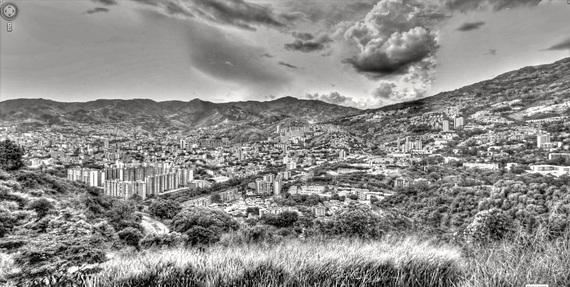 Photo by Kevin Dooley.
Today marks Day 2 of the Post-Conflict Colombia and Public Health course -- a project of the Open Hands Initiative and Harvard Humanitarian Initiative (HHI), in collaboration with the University of Antioquia School of Medicine. Sixteen students from the Harvard T.H. Chan School of Public Health and the University of Antioquia School of Medicine continue their exploration of the health concerns of urban displaced populations in the context of the city of Medellin's progressive and innovative social development plan that has become a model for post-conflict population inclusion.
Yesterday, Drs. Gregg Greenough and Christian Arbelaez, faculty leads for the course, led the group in beginning to break down barriers, encouraging the students to tell their personal stories of what attracted them to the course, how they found themselves focused on public health and what they were hoping to achieve. The stories were inspiring, infused with clarity of vision, promise and intention. Later in the afternoon, Senator Ed Markey joined the group for lunch and discussed his perspectives on public health and health diplomacy.
Over the coming three weeks, these selected student ambassadors will engage with stakeholders from multiple sectors and disciplines within the United States and Colombia to better understand the complex and salient connections between social development initiatives (education, transportation, urban design, economic development) and health. The Colombian context is particularly intriguing for two reasons: 1) Medellin's focused and progressive urban policies, which have contributed to catapulting the city from the most violent in the late 1980s to being hailed as the "world's most innovative city" by the Urban Land Institute in 2013; and, 2) the latest round of peace negotiations between the Colombian government and the largest of the guerilla groups (FARC) that have been deemed by some to be "a breakthrough" in this half-century of conflict.
For HHI, as a multi-disciplinary academic research initiative at Harvard University focused on the science and practice of effective humanitarian response, and its educational arm, the Humanitarian Academy at Harvard, the Project's approach to collaborative research and highly immersive, experiential learning, brings an excellent opportunity for faculty and student leaders to develop a nuanced understanding of the impact of such policies for public health more broadly. It is the type of analysis, assessment and learning that addresses our strongest sense that information cannot flow in one direction and that we have much to learn from each other.
This particular model of collaborative learning, essentially twinning Harvard graduate students with students from the local community being studied, has proven to be a powerful approach to immersive and experiential learning that lends, to future researchers and leaders, critical skills that are not easily honed in the classroom--skills such as respect, cultural sensitivity and awareness, empathy, and a sense of equity. In 2014 and 2015, HHI faculty offered a similar course at a long-standing refugee camp (Umpiem Mai) on the Thai-Burma border, bringing together Harvard Chan School graduate students, with little-to-no experience visiting a refugee camp, and 21 refugee students at the camp's Public Health Institute. It was a tremendous experience for students from each group, working in paired teams on projects of direct health relevance to the camp such as water and sanitation, women and children's health, and program assessments of in-camp initiatives.
The current Post-Conflict Colombia and Public Health Project also offers an opportunity for HHI and our collaborators to connect our latest research to the classroom. For HHI, the course will draw from two projects focused on issues of transitional justice and the politics of transition in the Colombian context. The first, a collaboration of HHI and the Carr Center for Human Rights at the Harvard Kennedy School, evaluates Colombia's reparation program, the most ambitious such program to date, with over 6 million registered victims. The findings of this work will ultimately inform the latest rounds of peace negotiations. A second project through HHI's Advanced Training Program on Humanitarian Action (ATHA) explores the challenges for humanitarian practitioners of operating in transition from protracted conflict to peace and what protracted transition itself (as a result of decades of ongoing peace negotiations) can mean for addressing the needs of vulnerable and displaced populations.
Our key collaborators, Open Hands Initiative and the University of Antioquia School of Medicine, are also bringing to bear tremendous resources through their missions, networks, research, and direct involvement with the Comunas and the social development initiatives being studied. As a result, the Post-Conflict Colombia and Public Health Project curriculum is enriched through multiple lenses and approaches to fill in the bigger picture.
Through these exchanges, we are better able to understand how to begin to address the critical questions of how best to serve the health needs of populations affected by migration and displacement, what challenges these communities face, and how social development initiatives in education, transportation, urban design and economic development might impact public health for affected communities. Called "Colombia's Invisible Crisis" by the United Nations High Commissioner for Refugees (UNHCR), approximately 5.8 million were still estimated to be internally displaced in Colombia as of December 2014. And yet, the successful reintegration of marginalized groups is not only of greatest critical relevance for Colombia and the U.S. Recent years have seen the worst internal displacement "in a generation" according to the Norwegian Refugee Council, mostly driven by conflicts in Iraq, South Sudan and Syria. Dr. Gregg Greenough, points out the importance of taking an interdisciplinary approach to studying public health of vulnerable populations, "Every population has a unique context and within that context are multiple factors that impact its health. The visionary work of Medellin's leadership in understanding that its informal peri-urban population, traumatized by conflict and displacement, could be meaningfully integrated into civil society through progressive urban design and development and make a positive impact on its health provides valuable lessons for post-conflict displaced populations elsewhere."

This post is part of a series entitled "Post-Conflict Colombia and Public Health" a project of the Open Hands Initiative and the Harvard Humanitarian Initiative, in collaboration with the School of Medicine - Universidad de Antioquia. For more information about the project, read here.
Calling all HuffPost superfans!
Sign up for membership to become a founding member and help shape HuffPost's next chapter