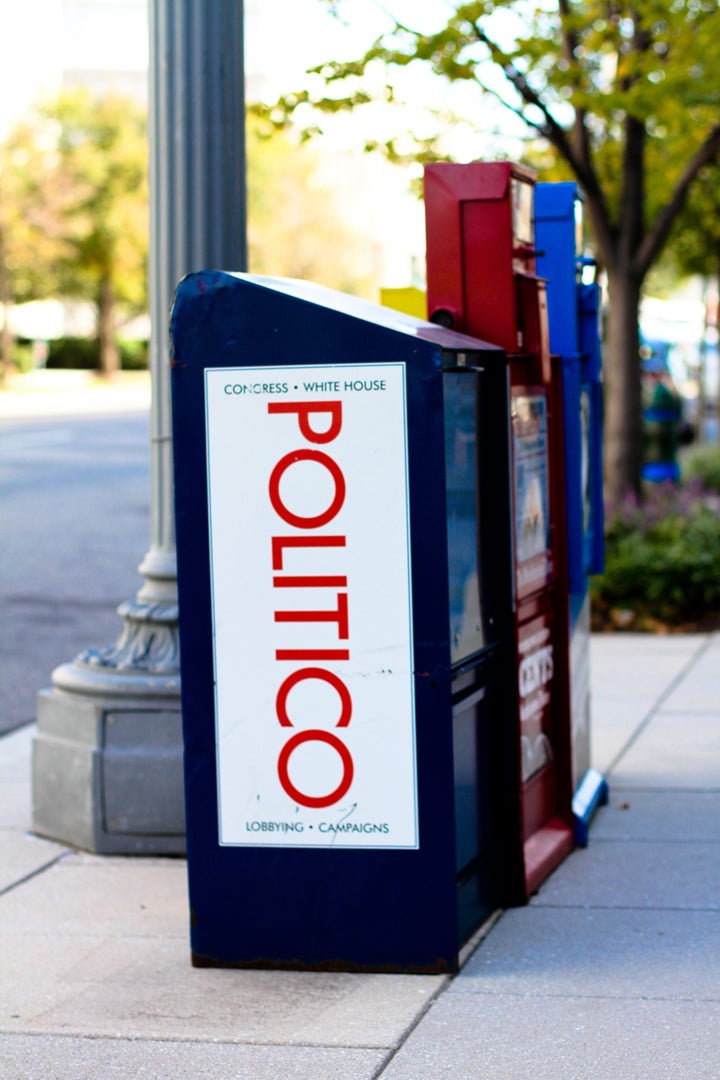 NEW YORK -- Politico's executive editor, Jim VandeHei, and chief White House correspondent, Mike Allen, suggested Thursday that The New York Times and Washington Post are biased in favor of President Barack Obama and quick to promote potentially negative stories about presumptive Republican nominee Mitt Romney.
Both papers pushed back against such claims.
"Since the very first stirrings of the 2008 campaign, the Times has exhaustively and aggressively covered nearly every aspect of Barack Obama's story," Times political reporter Richard Stevenson said in a statement, part of which Politico published. "To suggest that we've pulled our punches or tilted coverage in his favor or against his opponents just is not supported by the facts."
"The depth, quality and fairness of our coverage is visible every day to every one of our readers," a Post spokeswoman told The Huffington Post. "Assertions of bias just don't square with the reality of our journalism."
Later on Thursday, Post National Editor Kevin Merida provided a lengthy response to Politico's claims, pointing out that his paper is "criticized and complimented for our reporting by both sides of the political divide, Republicans and Democrats, liberals and conservatives."
While Obama had previously admitted to smoking pot as a teenager in his 1995 memoir and several media outlets -- including the Times -- reported on past drug use during the 2008 election, VandeHei and Allen found bias in the fact that the Times and Post didn't play up some new details of pot-smoking in David Maraniss' forthcoming biography.
Politico noted that this past Sunday, the Times ran a front-page story on Ann Romney's horseback riding, which Politico apparently saw as more evidence of bias. (Disclosure: This reporter used to work at Politico.) "It's certainly hard to argue that the Romneys' horse-riding habits today are worse than the Maraniss revelations, which have gotten little mainstream coverage," Vandehei and Allen wrote.
It's ironic to suggest media bias when it comes to covering Obama's pot-smoking, considering that Maraniss, a Post editor, is the one who dug up the new revelations for his long-awaited book on Obama's early years. And the Post didn't ignore them, running a story on Page 6 of the print edition and online -- where the paper also linked to numerous other reports of Obama's pot-smoking days, including BuzzFeed's "User's Guide To Smoking Pot With Barack Obama."
Allen and VandeHei wrote that it's "no wonder Republicans are livid with the early coverage of the 2012 general election campaign" and then quote Republicans like former Mississippi Gov. Haley Barbour and former George W. Bush press secretary Ari Fleischer, who, unsurprisingly, criticize the Post, the Times or both.
VandeHei and Allen also took aim at the Post for recently publishing a deep, strongly reported look at Romney's prep school days, which included some revelations about bullying and insensitive pranks. The "5,500-word account," they wrote, "was invested with far more significance than it merited, and is more voyeuristic than relevant to assessing Romney's readiness for office." (Incidentally, that piece, written by reporter Jason Horowitz, was edited by Maraniss.)
Despite Thursday's sniffing at the much talked-about story, several Politico reporters, including Allen, were quick to follow up on the Post article and aggregate it, as Poynter's Andrew Beaujon noted.
The Politico story resembles a classic Washington beat-sweetener, the type of piece reporters write to curry favor with and access to potential sources. In this case, Politico's slamming of rival publications as biased serves to suggest that it will give Republicans, including Romney, a fairer shake.
It might be assumed Politico would be sensitive to such bias claims, given the criticism it faced last fall from conservatives after breaking the news of sexual harassment allegations against former presidential candidate Herman Cain in the 1990s and then publishing over 90 stories on the subject. Allen and VandeHei declined to comment on whether those past conservative claims against Politico mean Politico is biased, too.
Journalists quickly responded Thursday on Twitter to Politico's allegations against the Times and Post.
New York Times political reporter Michael Barbaro noted how Politico's offering is a "pretty critical … take on a type of time-intensive journalism (long form bio/vetting) that it generally avoids." BuzzFeed's Michael Hastings offered an alternative headline: "News Organization Clearly Very Envious of Rival News Organization's Great Story." CNN's Peter Hamby tweeted that fact-checking organization PolitiFact may want to look into Politico's claim about media organizations not covering Obama's teenage drug use.
And Talking Points Memo editor Josh Marshall tweeted that the Politico story was "one of the most embarrassing things they've done in a while."
On GQ's politics blog, Devin Gordon called the story a "hatchet job," as well as "a thinly disguised, fundamentally craven argument for Politico's superiority in the world of political coverage."
"Let's call this article for what it was," Gordon wrote. "It wasn't journalism. It was business."
While such responses to the piece are less than flattering, Politico's editors -- who stress "driving the conversation" and "winning the morning" -- were no doubt pleased that the topic was being talked about by political operatives and journalists first thing Thursday morning.
After quoting Barbour and Fleischer in their article, Allen and VandeHei did quote Stevenson, who oversees the Times' political coverage. Politico ran some of Stevenson's emailed response in the first version of its article online, but added more of it later at the Times editor's request. Stevenson also passed along his full response to The Huffington Post, which is below:
Since the very first stirrings of the 2008 campaign, The Times has exhaustively and aggressively covered nearly every aspect of Barack Obama's story. To suggest that we've pulled our punches or tilted coverage in his favor or against his opponents just is not supported by the facts.

Let's take a look at a few off-the-top-of-my-head examples of our recent work.

Two days after we published the dressage piece, we ran a 6,000 word report on Obama's management of the anti-terrorism fight. Jo Becker and Scott Shane uncovered a wealth of new detail, including material that drew criticism for the White House from left and right.

We've done fresh and exclusive reporting about aspects of Obama's record that no one else has examined, like Gardiner Harris's look at the politicization of the FDA.

On campaign finance, we broke the news that in the rush to raise every possible dollar, the Obama campaign had accepted money from questionable sources.

We undertook a major investigative project to examine the link between campaign donations to Obama and access to the White House.

There's plenty more where all that came from.

On the other side of the ledger, it would be hard to sustain an argument that we are looking for negative stories about Romney. This morning's Zeleny-Rutenberg piece made the explicit point that Romney has emerged in stronger-than-expected shape from the initial engagements of the general election. Hard to see any effort there to "undermine the introduction of Mitt Romney to the general election audience."

Despite what some people in both Chicago and Boston might think or hope, we're not part of the communications strategy of either the Obama or Romney campaigns, and if they are looking to us to play an assigned role, they're going to be disappointed.
UPDATE: 4:30 p.m. -- Washington Post National Editor Kevin Merida provided a lengthy response to Politico's bias claims in an email to The Huffington Post:
In our business, we're accustomed to having our work scrutinized and we welcome that. We get criticized and complimented for our reporting by both sides of the political divide, Republicans and Democrats, liberals and conservatives. When it comes to the coverage of presidential candidates and those who ultimately make it to the Oval Office, the Washington Post has a long track record of rigorous, authoritative, illuminating journalism.

Jason Horowitz's story on Mitt Romney's years at the Cranbrook School was a great example of the kind of textured, well-reported biographical pieces we've always done on the candidates running for president. The haircutting incident got most of the attention, but the story was 5,500 words that explored Mitt Romney's teenage years and the environment that helped to shape him. Every candidate's life is different, but all lives get examined -- whether your name is Clinton or Bush, Obama or Romney. We owe that to our readers, as these are the political figures running to lead our country.

On January 3, 2007, we published on the front page one of the early pieces about Barack Obama's drug usage, which he admitted in his memoir. This was even before he had officially announced his candidacy for president but was near the top of the polls as a leading contender. For those alleging bias, it's worth noting that during the 2008 campaign we wrote about Obama's relationships with fundraiser Antoin "Tony" Rezko and the Rev. Jeremiah Wright, questions about the financing of the Obamas' home and the activities of the University of Chicago Medical Center, where Michelle Obama worked.

More recently, we launched our own database of the White House visitor logs with a piece by Tim Farnam that explored the steady stream of lobbyist visitations to 1600 Pennsylvania Avenue. We are the news organization that broke stories and aggressively followed the Solyndra loan controversy, courtesy of dogged reporting by Carol Leonnig and Joe Stephens. The first installment of our ongoing series, "Evolution of a President," by Peter Wallsten, Lori Montgomery and Scott Wilson, dissected the debt deal in a way that it had not been done before. Today, Jerry Markon had a piece in the paper about Romney's judicial appointments and his ill-fated effort to reform the system in Massachusetts. Last year, Markon wrote about the steady rise of federal judicial vacancies during the Obama administration.

As this campaign continues, we will write about the president and his challenger with equal enthusiasm. We will be fair to all sides, vigorous and thorough. We owe our readers nothing less.

Related
Before You Go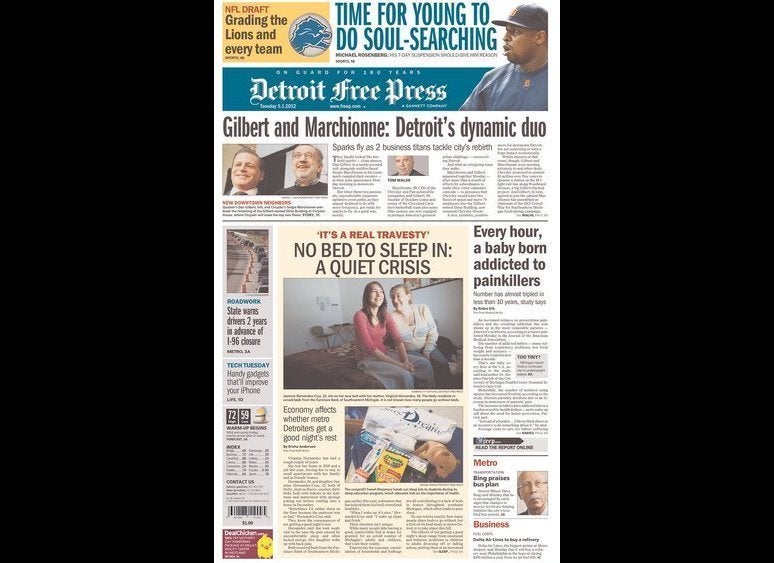 2012 Newspaper Circulation Numbers
Popular in the Community