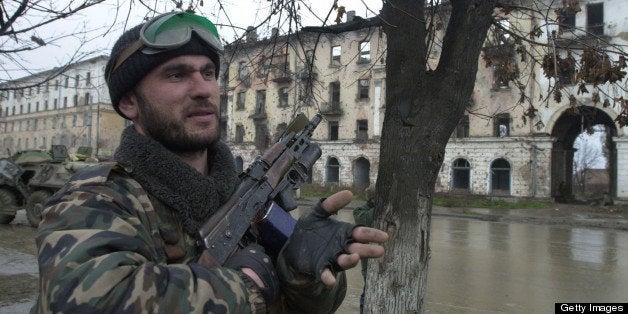 NEW YORK -– On a normal news day, Chechnya is unlikely to get batted around by pundits or make headlines in the U.S. news media.
Chechnya has received just four mentions on the top cable news networks in the past month -- a single, passing reference on both MSNBC and Fox News and just two on CNN, according to monitoring site TVEyes. But news Friday that the suspects in the Boston marathon bombing, Tamerlan and Dzhokhar Tsarnaev, were of Chechen heritage has brought the war-torn region of Southern Russia directly onto the media's radar.
On MSNBC, host Alex Wagner noted that "a lot of folks in America are hearing the word 'Chechnya' for the first time and certainly don't understand the dynamics between Chechnya, Russia and the United States."
The Tsarnaev brothers are not believed to have lived in Chechnya for the past decade, although Tamerlan flew to Russia last year and was gone for six months. Despite reported sympathies with the Chechen separatist movement from Russia, there's no evidence tying them to militants in the predominately Muslim region. It's still unclear if the attack was politically motivated, and if it was, whether there is any link to radicals abroad.
But as the networks covered the manhunt for 19-year-old suspect Dzhokhar Tsarnaev on Friday afternoon, the Chechen connection sparked ample speculation and analysis.
While no operational link between the bombing and Chechnya has so far been established, some suggested Friday that the type of carnage found during Chechnya's two devastating wars for independence from Russia had now hit U.S. shores.
"Chechnya's war just arrived in the United States," blared a provocative headline on veteran reporter Tom Ricks' influential Foreign Policy blog. The post was written by Georgetown adjunct professor Christopher Swift, who later updated it to note that the brothers had "been out of Russia for more than a decade" and that it was less likely they were "working with a terrorist syndicate out in the field." The headline was later changed to the less alarmist: "Chechen war expert: 'This is a big deal'."
Ricks told The Huffington Post that Foreign Policy editor-in-chief Susan Glasser -- who co-wrote a book on Russia with her husband, New York Times reporter Peter Baker -- decided to change the headline and that he was comfortable with the editorial decision. "Christopher Swift, after all, is an expert on Chechnya," Ricks said. "I'd go with his opinion over mine (or yours)."
The New Republic's Julia Ioffe, who has lived in Russia and written extensively on the country, acknowledged Friday that the brothers' alleged motive could have something to do with Chechnya, but suggested the link with their life in America is just as important. "They were reared by both Chechnya and America, forged in the joining of the two through the painful, disorienting process of emigration, of accepting and being accepted by a new society, or not," she wrote.
By roughly 3:30 p.m., a TVEyes search of a half-dozen broadcast (ABC, NBC, CBS) and cable (Fox, MSNBC, CNN) networks for mentions of Chechnya found over 118 hits. If an operational link emerges to Chechnya or the neighboring region, even more discussion can be expected in the days and weeks to come.
Baker, who appeared on MSNBC on Friday, told The Huffington Post in an email that members of the media "should be very careful about assuming what we don't know."
"The fact that these guys are Chechen by ethnicity and even may have espoused certain ideas does not tell us why they might have done what they are alleged to have done," Baker said. "There's a lot more reporting to be done. But it's true that Chechnya has been cursed by war and radicalism that have torn apart the region and affected many families so it's natural to ask questions."
Related
Popular in the Community