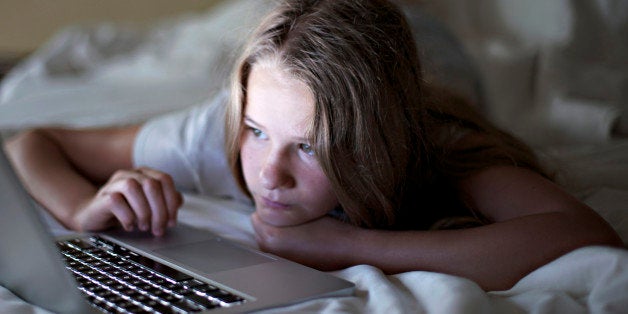 If you are like many people, you probably spend your average three-minute wait in the supermarket checkout line skimming the magazine headlines that cover the aisle. If you are like me, what you find on those magazine covers makes you want to close your eyes until you reach the cashier. From Photoshopped cover models to tabloid headlines criticizing some celebrity's makeup-free face, what I see in that aisle often has my own confidence suffering by the time the cashier asks for my rewards card.
According to Dove's 2010 report The Real Truth about Beauty: Revisited, 72% of girls feel tremendous pressure to be beautiful. What does this statistic look like? Girls touch up photos before posting them on social media; they diet and wear make-up in middle school; they worry about what they wear to class as much as the class itself.
Let the finger-pointing begin. We blame bullying, bad parenting and boys for the way girls grow up lacking confidence and with an obsessive interest in their appearance. Well, consider this: The average child between the ages of 8 and 18 consumes about seven hours' worth of media every day. (Kaiser Family Foundation). That means that from as early on as elementary school, girls are drowning in the words and images that make me cringe every time I am at the supermarket.
The other day, I passed by a group of middle school-aged girls at my community pool. One held out her cell phone to her friends, "see, I told you she got fat."
According to DoSomething.org, 5% of women naturally have the body type portrayed in popular American media. Not only do we teach girls that their looks are their value, but we tell 95% of those girls that the way they look is wrong. Ninety-five percent.
This media-saturated era is raising a generation of women who view each other as competition instead of friends, who prioritize outer looks over health, and who sacrifice happiness in a lifelong battle for unattainable perfection.
The internet is littered with the consequences.
Log onto Tumblr and search the term "skinspo" (it's an abbreviation for "skinny inspiration") and you'll find a community of women desperately trying to attain the body of the 5%. Quotes like "gyms cost money, starving is free," confessions of self-hatred and "progress" photos fill the screen.
Search @YouDidNotEatThat on Instagram. The account re-posts photos of "perfect-bodied" people posing with pizzas, cheeseburgers and face-sized cookies, mocking them for even suggesting they would actually eat these foods. Along with its 130,000 enthusiastic followers, "You Did Not Eat That" does just the opposite of the "skinspo" community: it shames women -- and a few men -- with that 5% body and jokes about unhealthy relationships with food. Word on the street is that the account is run by a woman.
Just as we encourage each other's unhealthy methods of grasping at the media's beauty standards, we tear each other down should we attain them.
People have always said that "we are what we eat." This is still true, but in the 21st century we are also what magazines we read, what photographs we look at, what cosmetics we don't leave the house without, and what pant size we wear.
The fact that the average American woman has a 37-inch waist (CDC) -- that's around a size 14 -- won't make a difference to the average 16-year-old fashion-obsessed girl until the media she consumes every day starts to reflect this reality.
Luckily for the Instagram-selfie generation, the "Campaign for Real Beauty" launched by Dove in 2004 is finally starting to catch on. "Aerie," the lingerie brand owned by American Eagle Outfitters and geared toward a young-adult customer, has been promoting "#aerieREAL," with messaging "the real you is sexy." Does this solve the way girls prioritize attractiveness? Maybe not, but it is a step in a positive direction.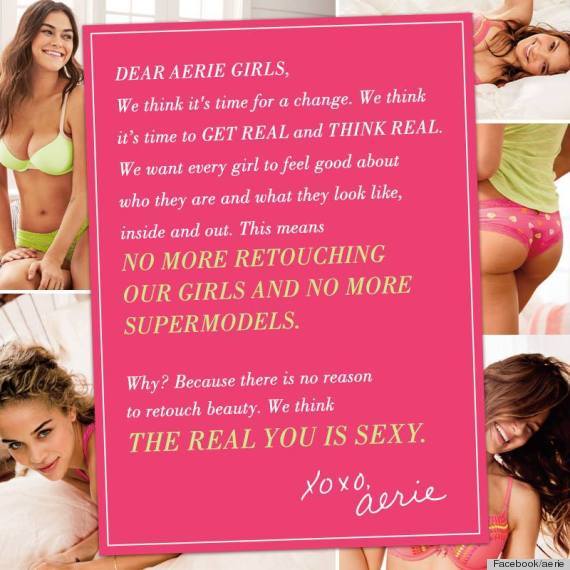 Still, though, I loathe the checkout line at the supermarket. Even more, I loathe running into someone in that line who will comment on my appearance ("you look thin!", "I love your makeup!") before asking about school or work.
Here's the bottom line. A friend of mine has 10-year-old twin siblings, a boy and a girl. I asked them what they wanted to be when they grow up. The boy said a scientist; the girl said a celebrity.
When girls grow up believing we are our appearance, and when the media glorifies -- and bombards us with -- an appearance that is so unrealistic, we are set up for dissatisfaction, low self-esteem and a less-fulfilled life.
Trust me, ladies, the cleanse we really need doesn't involve cayenne pepper drink or green juice.
Calling all HuffPost superfans!
Sign up for membership to become a founding member and help shape HuffPost's next chapter