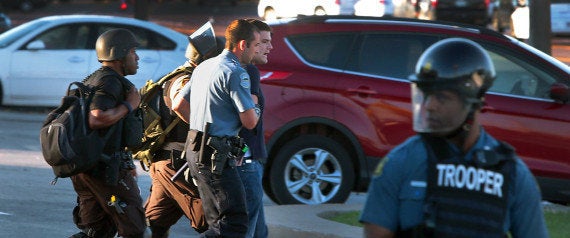 NEW YORK -- The Reporters Committee for Freedom of the Press, in a letter signed by 38 news outlets and media organizations, on Tuesday called for St. Louis County officials to drop charges against The Huffington Post's Ryan J. Reilly and The Washington Post's Wesley Lowery.
The two journalists were arrested in a McDonald's while covering demonstrations in Ferguson, Missouri, on Aug. 13, 2014.Though Reilly and Lowery were quickly released without any charges, press freedom organizations widely criticized police for arresting them in the first place. The incident seemed to be over, but last week, just under the wire of a one-year statute of limitations, St. Louis County officials charged Reilly and Lowery with trespassing in the McDonald's and interfering with police.
"The fact that these journalists were kept from doing their jobs was troublesome enough. But the fact that your office -- after having had time to reflect on police actions for a full year -- has chosen to pursue criminal prosecution now is astonishing," the letter says.
The Reporters Committee-led coalition wrote that "the best way for Ferguson to show that it will respect the First Amendment rights of journalists covering the continuing controversy there is to rescind these charges immediately."
St. Louis County police have tried justifying arresting the journalists on the grounds that they were not leaving the restaurant fast enough as it was being closed. It wasn't until April, more than eight months after the arrests, that police finally filed an incident report and referred the journalists' cases to prosecutors to determine whether to press charges.
The decision to file the charges has been strongly condemned by press freedom advocates.
Both advocacy organizations signed on to the Reporters Committee letter, along with groups such as the American Society of News Editors, Center for Investigative Reporting and the Online News Association.
Several news outlets, including The Huffington Post, The Washington Post, The Associated Press, The Daily Beast, Bloomberg News and McClatchy, also signed on.
Read the Reporters Committee letter below:
Related
Popular in the Community