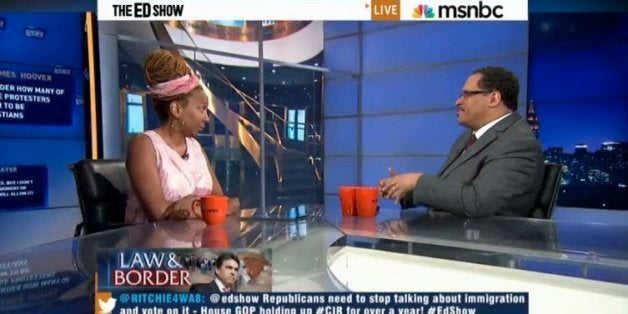 WASHINGTON -- Channel surfers who stopped on MSNBC on July 11 in the 6 p.m. hour would have stumbled on something new in the world of cable news. At first glance, it would have seemed like nothing out of the ordinary: a host and a panel talking about the tragic, much-covered death of an infant left in a car. But after a moment of thought, the difference would have become clear.
Network and cable news have long been a bastion of whitedom, with white hosts and commentators. As the industry began to diversify, black guests were typically brought in to discuss topics traditionally associated with the African-American community: police brutality, voting rights, gun violence and President Barack Obama's appeal to minority voters. It would be similar to bringing on white guests to discuss only golf, polo or the latest in boat shoe fashion.
But in the July segment, every person on camera -- the host and the two guests -- was African-American. That such a phenomenon is new, of course, is itself a broad indictment. But on MSNBC and occasionally CNN, black hosts and black guests have been discussing news that is targeted not just at the black community, but at all viewers. It's finally a recognition that African-Americans are just as interested in and qualified to discuss celebrity gossip, Federal Reserve policy, immigration issues or babies locked in overheated cars as anyone else is. It's an acknowledgement, at last, that black people are, to put it simply, people.
HuffPost, after anecdotally observing the shift, asked Media Matters, which monitors print and television news for conservative bias and other trends, to track CNN, Fox News and MSNBC over a two-week period, from June 29 to July 12.
Fox News had no all-black segments. That left MSNBC and CNN.
MSNBC had the advantage since it has more shows where an all-African-American segment is possible, with regular hosts Melissa Harris-Perry, Tamron Hall, Al Sharpton and Joy Reid as well as fill-in hosts Michael Eric Dyson, T.J. Holmes, Kristen Welker, Jonathan Capehart and Craig Melvin. The network had 46 segments in that period that featured an African-American host talking exclusively to African-American guests.
CNN had 14 such segments, with hosts Victor Blackwell, Don Lemon, Rene Marsh, Michaela Pereira and Fredricka Whitfield.
Yet, the majority of topics with all-black panels are still on issues that are traditionally tied to the African-American community: gun violence in Chicago, police brutality, the Essence Music Festival, voter ID laws and diversity in entertainment media, as a few examples.
MSNBC had 27 segments on such topics out of the 46 segments it had with all-black panels. CNN, however, did only four of its 14 on similar topics, with the remainder having a broader focus.
These are also topics that don't get as much coverage when there are white hosts and white guests. It can be a distinct advantage at times like this week, with the nation following the killing of Michael Brown in Ferguson, Missouri, and the subsequent protests, as well as the shooting death in Los Angeles of Ezell Ford earlier this week, both of which followed the chokehold death of Eric Garner. All three were unarmed black men killed by police.
During the two weeks tracked by Media Matters, MSNBC frequently covered the story of the African-American woman beaten on film by a white California Highway Patrol officer.
The study is the first of its kind to go beyond a simple aggregate count of diversity in the media and look at segments as a whole.
The group Fairness and Accuracy in Reporting recently looked at the guests on the top primetime shows on CNN, Fox News and MSNBC over a five-week period. Eighty-four percent of the guests were white, and 72 percent were men. White men were overrepresented the most on "The Rachel Maddow Show" on MSNBC.
A 2013 survey by Media Matters had similar findings, showing that women accounted for less than 33 percent of the guests on each of the three networks.
Ryan Grim is an MSNBC contributor.
CORRECTION: This article incorrectly stated that Fox News has no black hosts.
Calling all HuffPost superfans!
Sign up for membership to become a founding member and help shape HuffPost's next chapter