The theater world, rightly, was shadowed but not fully darkened by the Orlando terrorist hate-crime, as the Tony Awards ceremony presented the all-conquering Hamilton cast performing the Battle of Yorktown - rather bizarrely, but pointedly and arrestingly - with firearms completely removed from the scene.
While the minorities-celebrating phenomenon that is Hamilton largely swept the awards board, one category in which it did not compete - Best Actress in a Play - went to Jessica Lange, nowadays a very mainstream multiple Oscars and Emmy award-winner, for her performance in the enduring classic Long Day's Journey into Night.
(But is has to be said that the Tonys TV show underlined how outworn the dubious duality of diversity-versus-establishment has mercifully become. How 'disruptive' does a show like Hamilton feel when it is introduced, not merely by Chicago South Side rapper Common, but by the President and First Lady of the United States?)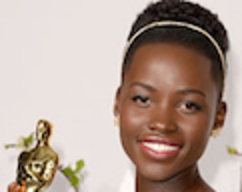 In the female acting category Lange beat out among others Lupita Nyong'o, the Kenyan-Mexican actress who has since March been another media phenomenon who's the toast of Broadway. She followed up her 2014 Oscar for Twelve Years a Slave with a searing, critically-acclaimed stage performance in Danai Gurira's Eclipsed - a heartrending study of West African women empowering themselves in the face of paramilitary male domination and sexual slavery.
But Nyong'o is today unfazed by not being a winner again, and goes on this week to employ her thespian skills to a bigger purpose than gaining one of last night's Antoinette Perry medallions. She's dedicating her Thursday June 16th Eclipsed performance to the fight against women's cancer in Liberia, where the play is set.
Proceeds from the night's show will go to The Women: Global Cancer Initiative that works to diagnose and treat female cancers at a new specially-dedicated medical center in Liberia's capital, Monrovia. The non-profit was founded by the wife-and-husband team of Doctors Ann Marie Beddoe and Peter Dottino from New York's Mount Sinai Hospital. Besides Liberia, the foundation has also started programs in South Africa and with immigrant populations in Brooklyn.
Individual donors will be contributing up to $2,500 to the Initiative, but for more than their seats in Broadway's Golden Theatre. As well of course as supporting the vital medical work, they will also be getting the chance to visit backstage with Nyong'o, and have a discussion - over cocktails - with Liberia's Minister of Health, Dr Berenice Dahn, who was previously the nation's first female Chief Medical Officer (equivalent to the US Surgeon General). A few tickets still remain (available from annmarie.beddoe@mssm.edu and info about the charity is at www.thewomen.org/) This is quite an opportunity, in purely theatrical terms too, since the play closes at the weekend.
For those who know Nyong'o, her support for this fight against cancer will come as no surprise. Her mother Dorothy Nyong'o is President of the Africa Cancer Foundation, and her father, Peter Anyang Nyong'o is a former Minster of Health for Kenya.
****
Read more of David Tereshchuk's media industry insights at his online column, "The Media Beat", with accompanying video and audio. Listen also to "The Media Beat" podcasts on demand from Connecticut's NPR station WHDD - and at iTunes.
Calling all HuffPost superfans!
Sign up for membership to become a founding member and help shape HuffPost's next chapter