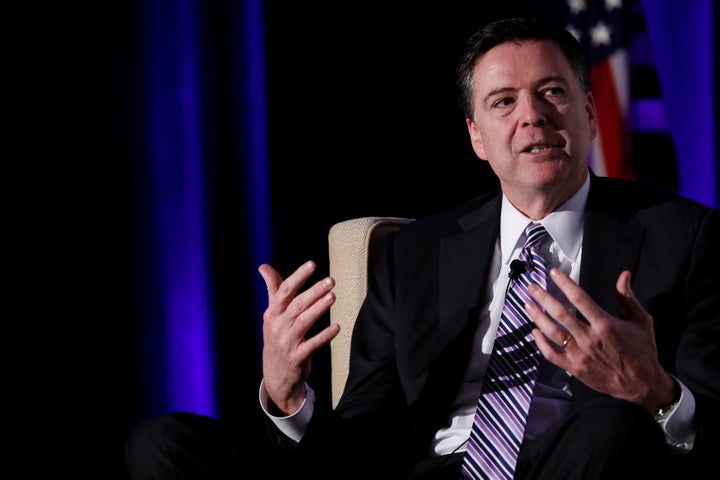 Major news organizations blasted out reports Friday afternoon that the FBI was "reopening" its investigation involving Hillary Clinton's use of a private email server while secretary of state, an issue that has dogged her candidacy and could further threaten it with just 11 days left in the 2016 presidential race.
But after the news rapidly spread online ― and GOP nominee Donald Trump proclaimed the story "bigger than Watergate" at a New Hampshire rally ― several organizations dialed back their original reports to better reflect the language used by FBI Director James Comey in a letter sent to Congress on Friday.
Republican Rep. Jason Chaffetz (Utah), chairman of the House Oversight Committee, seems to have started the media frenzy by tweeting a line from Comey's letter just before 1 p.m. along with the words, "Case reopened."
The full letter would circulate soon after. In it, Comey wrote that the FBI "learned of the existence of emails that appear to be pertinent" to the Clinton investigation and that the agency would take "investigative steps designed to allow investigators to review these emails."
Comey never said the Clinton case, which technically had never closed for bureaucratic reasons, was now being "reopened." That was Chaffetz's description.
But a number of news organizations, including The Washington Post, Politico, NBC News, PBS, Vox and The Huffington Post, initially reported the Clinton case was being "reopened" before adjusting their headlines and stories to match Comey's letter.
News organizations also clarified earlier tweets with additional ones, though the original posts had already circulated widely on social media.
News organizations routinely update breaking news stories with new information as a story develops and tweak headlines accordingly.
But given the heightened political climate before Election Day, it's more important than ever that news organizations are sure a potentially explosive headline is accurate. Thousands, if not millions, of people could have seen reports online and on cable news that the investigation was "reopened" before it was clarified.
Benjamin Wittes, a Brookings Institution fellow and editor-in-chief of Lawfare, took issue with news organizations' immediate interpretation of Comey's letter.
The story took several other turns on Friday afternoon that complicated the early, screaming headlines, and then ensured the story would remain a topic of discussion in the days ahead. Multiple outlets subsequently reported that the new emails weren't sent by Clinton and didn't come from her private server. NBC's Pete Williams, citing high-level sources, said the findings weren't even likely to be a "bombshell" but they wouldn't necessarily be available in the next 10 days.
And then the coup de grace.
The New York Times, which had used the language "reviewing new emails" rather than "reopening" the case, reported the new emails were discovered in devices belonging to top Clinton aide Huma Abedin and husband Anthony Weiner, the former congressman who is under federal investigation for allegedly sexting with an underage girl.
Related
Popular in the Community