Here at IrishMediaNation we're a little gaga (not as in Lady Gaga) over social media, digital media and digital journalism, but traditional media continues to grab much of the Celtic mindshare. As analog media has a lot of history going for it, we'll turn from the "now" to the "then" with a few highlights of Irish media history.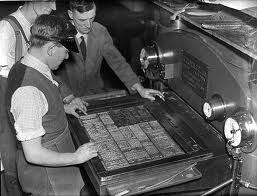 Print: Start the presses! The printing press arrives in Dublin in 1550. In 1571, Aibidil Gaoidheilge agus Caiticiosma was published, the first book printed in Irish in Ireland. In 1659, the first periodical news-sheet in Ireland, An Account of the Chief Occurrences in Ireland, rolled off the press. Other newspapers would follow; the Dublin Newsletter in 1685, Dublin Intelligence in 1690 and many others including the well-regarded Faulkner's Dublin Journal, which was first published in 1725 continued in print for a century. The oldest extant newspaper in Ireland is the News Letter of Belfast, first published in 1737. It still rolls off the presses daily except Sunday and is online at http://www.newsletter.co.uk.
Newspapers remain popular in Ireland, with near 90 percent of Irish adults regularly reading them according to a recent National Newspapers of Ireland and Joint Readership Survey.
Dublin has long been Ireland's center of printing and publishing. Much of the information for this piece was gleaned from the Encyclopaedia of Ireland, published and printed in Dublin in 1968 by Allen Figgis & Co., on paper made in Ireland.
Film: The first Irish motion picture footage may have been shot just before 1900 during a visit to Ireland by representatives of the Lumiere Company, which had held what is generally considered to be the first real cinema show in Paris in 1895. In 1910 American director Sidney Olcott came to Ireland and produced several films starting with The Lad from Old Ireland. His films were mostly set in the Kerry towns of Beaufort, Dunloe and Killarney. The first Irish color film footage was likely shot covering the 1911 post-coronation visit by Britain's King George V.
The propaganda potential in film was quickly recognized, as "Irish Interest" films started to be made primarily for viewing at Irish American meetings. In 1914 an American named Walter Macnamara made the political film Ireland, A Nation, considered by the British to be so volatile that it was not shown in Ireland until 1917, and then was banned after only a few days (by some accounts after just one screening).
In 1917 the Irish company General Film Supply started producing the newsreel Irish Events, and made the animated film Ten Day's Leave from drawings by Dublin newspaper cartoonist Frank Leah, as well as some short films and at least one feature. Also active starting in 1917 was Film Company of Ireland which produced one-reelers and some features. The Archive of the Irish Film Institute in Dublin holds representative material from indigenously produced Irish cinema newsreel series along with a wealth of other material on Irish films. Gael Linn, an organization dedicated to promoting the Irish language, commissioned Amharc Eireann, an Irish language newsreel series that ran for five years starting in 1959. Several clips are on YouTube, including this glimpse of Gaelic football action:
British Pathe also has vast archive of newsreel footage shot in Ireland and on view at http://bit.ly/ahzp2o.
In 1958, Ardmore, the first Irish film studio opened in Bray, Co. Wicklow. Films made or based at Ardmore include The Spy Who Came in from the Cold (1965), The Lion in Winter (1968), My Left Foot (1989), The Commitments (1991), In the Name of the Father (1993), Braveheart (1995) and The Tailor of Panama (2001).
Broadcasting: On New Year's Day, 1926, with Gaelic League founder and future first Irish president Dr. Douglas Hyde at the microphone, indigenous Irish radio broadcasting began over the Dublin Broadcasting Station, with its call sign 2RN meant to invoke the last two words of the song "Come Back to Erin." (BBC had begun broadcasting its programs in Belfast two years earlier.)
BBC Northern Ireland brought television to the island in 1953, followed by Ulster Television (UTV) in 1959. Approximately 60 percent of the Republic's population could receive UK-based signals from Northern Ireland, Wales and England.
The Irish Republic's Radio Eireann Authority began broadcasting its license-based television service on the last day of 1961, In 1966 Radio Eireann became Radio Telefis Eirean, the now familiar RTE, overseeing both radio and the development of Irish television.
So that was then. Exciting new media is emanating from the Emerald Isle, but that's news for another day.

Popular in the Community