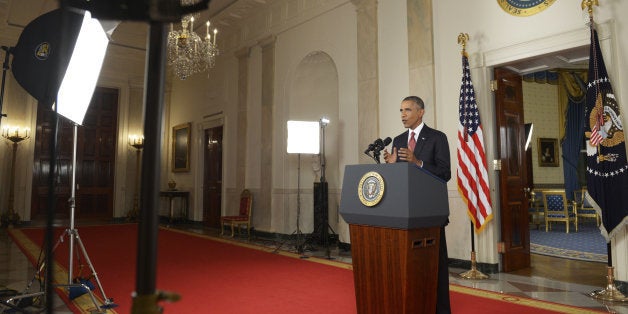 As President Obama prepares to take America into another open-ended conflict in the Middle East, some notes of media skepticism are starting to interrupt what has thus far seemed like a chorus of cries for increased escalation against the militant Islamic State group.
The calls for war have been so loud that some mainstream pundits like CNN's Brian Stelter have worried that the media is pushing the U.S. into battle. On Wednesday and Thursday, though, several major outlets published very skeptical takes on Obama's plans for widening his military intervention in Iraq and Syria.
The New York Times, for instance, ran a front-page piece raising some pertinent points about ISIS:
But as President Obama prepares to send the United States on what could be a yearslong military campaign against the militant group, American intelligence agencies have concluded that it poses no immediate threat to the United States. Some officials and terrorism experts believe that the actual danger posed by ISIS has been distorted in hours of television punditry and alarmist statements by politicians, and that there has been little substantive public debate about the unintended consequences of expanding American military action in the Middle East.
While the group has been successful at seizing parts of Iraq and Syria, it is no unstoppable juggernaut. Lacking the major weaponry of an established military, it wields outsize influence through the fanaticism of a hard core of several thousand, capitalizing on divisions among its rivals, and disseminating terrifying videos on social media.
McClatchy's Hannah Allam wrote about "5 potential pitfalls in Obama's plan to combat the Islamic State": "So, what could go wrong? Quite a bit, according to longtime observers of U.S. involvement in the Middle East."
There were also some tough takes on television, such as Richard Engel's scornful rejection of Obama's use of the situations in Yemen and Somalia as a way to bolster his ISIS campaign.
REAL LIFE. REAL NEWS. REAL VOICES.
Help us tell more of the stories that matter from voices that too often remain unheard.