"Was there ever a people whose leaders were as truly their enemies as this one?"
- Ernest Hemingway, For Whom the Bell Tolls, Ch. 13.
It's a question being asked by the media and across the Arab world where leaders-for-life have been the norm is several countries and where the winds of change have been blowing stronger than ever.
"Irhal ya khanzeer," (leave, pig!)," read the sign carried by an impassioned Egyptian woman demonstrating near Cairo's Tahrir (liberation) Square demanding the ouster of President Hosni Mubarak, who has ruled his country with an iron grip for three decades.
That and other signs expressing the people's discontent reversed the image of complacent, joke-loving Egyptians who were used to being trampled and accepted their fate.
The middle class, the poor, mostly the young, but also the old, were mad as hell and weren't going to take it anymore, and they took to the streets, to cyberspace, and let loose, partly inspired by Tunisia's own toppling of a dictator, and partly reacting to decades of accumulated grievances.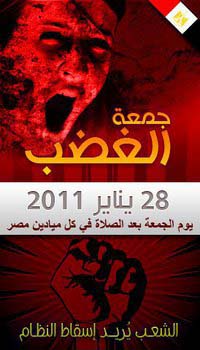 Friday of Rage poster
"There is no future for our youth," shouted a demonstrator breaking the barrier of fear to complain about the 10% unemployment rate and the fact that privatization of state-run industries had tossed countless Egyptians out of work.
The scene of protesters trying to break into the state-run TV station on Cairo's Corniche brought to mind other revolutions where control of the media was of primary importance.
Reports of Egyptian and foreign reporters being beaten, their cameras broken or confiscated and a shutdown of the Internet were some of the measures taken to silence the media.
On Thursday, Jack Shenker of Britain's Guardian newspaper recounted how he'd been roughed up by plainclothes officers.
When he shouted that he was a British journalist, a uniformed officer punched him twice and yelled "f--- you and f--- Britain."
Egyptian authorities cut off transmission of Al Jazeera Mubashar's (direct) broadcasts on the Egyptian-controlled Nilesat satellite causing the Qatar-based channel to change its frequency.
On Sunday, Al Jazeera reported outgoing Egyptian Information Minister Anas El Fiqi had ordered the closure of its Cairo bureau and the revocation of its correspondents' accreditations.
The cat-and-mouse game between Egyptian authorities and the media demonstrated how desperately the regime sought a news blackout.
Mahmoud Saad, a popular presenter of the state-run TV's Cairo Today show was suspended indefinitely for saying he supported the demonstrators.
As the situation unraveled and led to Friday's Day of Rage, Egyptian newspaper Al Ahram demonstrated, yet again, how spin was the order of the day.
It ran a front page headline and picture of unrest in Lebanon rather than news of the exploding revolt in its own back yard and the people's demand that Mubarak step down.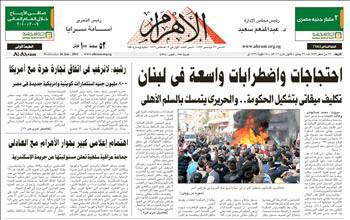 Al Ahram's front page focuses on Lebanese demonstrations
rather than Egypt's own revolution (Abu-Fadil)
Al Ahram's editor in chief Osama Saraya told Al Arabiya satellite channel: "The Egyptian people don't have economic problems... We need a security government to control the street," as state-run TV covered the violence in Egyptian cities' streets, but failed to mention their causes.
A day later this is what trying to access the paper's site, and that of other Egyptian media, netted: "Server not found." On Sunday they remained inaccessible.

In an interesting twist, Al Ahram's journalists on Sunday issued a statement calling for the resignation or removal of President Mubarak from power, the BBC reported.
"What happened happens in all newspapers," Al Ahram CEO Abdel Moneim Said told the World Editors Forum in Hamburg in defense of the doctored photo, but conference participants there were unconvinced.
Although a semblance of opposition media had emerged in recent years, government-run newspapers, magazines, television and radio stations continued to enjoy the lion's share of Egypt's readers, listeners and viewers.
But even they faced harassment, and worse, in the run-up to last November's legislative elections and what was to be this year's presidential ballot.
The days of reckoning had arrived and demonstrators of all stripes refused to accept half measures like cabinet reshuffles or promises of reforms.
All seemed too little, too late for the masses yearning to breathe free and dreaming of a better life while media connected the dots between Tunisia's ongoing "thawrat el yasmine" (jasmine revolution) and Egypt's "thawrat el fol" (Arabian jasmine revolution).
For Lebanon's daily An-Nahar, the city of Suez had turned into an Egyptian version of Tunisia's Sidi Bouzid, the spark for the Tunisian revolt, and only change in Egypt was seen as a solution to the country's intractable problems.
Another Lebanese paper, Assafir, headlined: "Egypt's Pharaoh staggers: Friday of Rage Terrorizes Regime" and ran an editorial saying "Egypt regains its spirit."
Mostafa Al Fiqi, a former Mubarak adviser who dealt with foreign media in the 1980s told Al Jazeera channel that security services alone couldn't handle the situation and he urged Mubarak to address the people and announce reforms were underway.
But a protester said on the BBC Arabic Service's TV after Mubarak's pledge to improve conditions: "He's been around for 30 years. What possible reforms can he implement in 30 days?"
Unfortunately, analyst Omar Ismail explained, the regime had "locked the door on itself" leaving little wiggle room.
"Living in the presidential palace is an addiction," opined pan-Arab daily Al Hayat's editor Ghassan Charbel, adding that Arab leaders prefer making history to writing their memoirs, and that none of them fancy the title of "former president."
Meanwhile, Britain's Sky News and Arab media reported that an official at Cairo airport claimed 19 private jets carrying families of wealthy Egyptian and Arab businessmen had flown out of the capital.
The BBC's Arabic service said President Mubarak's son (and until recently heir apparent) Gamal, his wife and child, and mother Suzanne had flown to London with 97 bags.
Mid-week, opposition paper Al Wafd reported a number of rich Egyptians had prepared their private jets for a hasty exit with later reports emerging that multimillionaire Naguib Sawiris had fled to Dubai, which he denied by the weekend.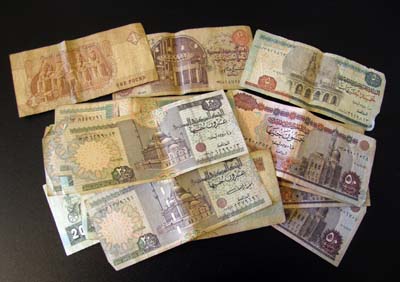 Has Egyptian capital taken flight? (Abu-Fadil)
Disruption to Egypt's financial and banking sectors has been very troubling for Saudi Arabians, who hold some $17 billion in investments in the country.
The head of the Saudi-Egyptian Council told Al Riyadh newspaper that over 2,000 Saudi firms stood to lose major investments in Egypt as a result of uncertainty and chaos coming on the heels of the Egyptian stock market's $14 billion loss in the last two weeks of unrest.
"Capital is a coward," noted a trader in front of Cairo's stock exchange.
So how does it all spell out for Egypt's neighbors and allies?
It's a dilemma for President Barack Obama who has tilted towards change, blogged Mark Mardell, adding that U.S. policymakers used to worry about the communists, but are now very concerned about Islamists, several of whose leaders were arrested earlier this week.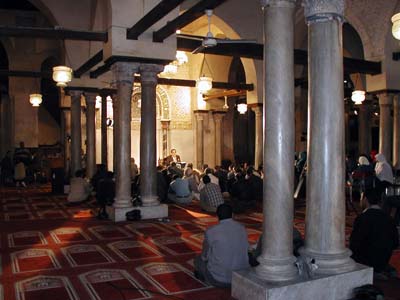 Teaching Islam in Al Azhar Mosque (Abu-Fadil)
"After all, in Egypt, the best organized, biggest opposition movement is - despite being banned from open political activity - the Muslim Brotherhood. Some say they would easily win any free election in Egypt and they wouldn't exactly be the coziest partner for Mr. Obama and the U.S.," he wrote.
Will another domino fall in the region?
"No man is an island, entire of itself...Therefore, send not to know for whom the bell tolls, It tolls for thee." John Donne
Calling all HuffPost superfans!
Sign up for membership to become a founding member and help shape HuffPost's next chapter