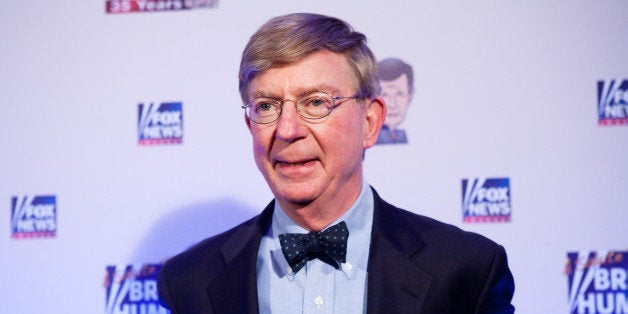 Conservative columnist George Will will be named the "Misinformer of the Year" by Media Matters on Monday, staffers at the liberal-leaning group tell The Huffington Post.
Media Matters will claim that Will is 2014's "most prolific purveyor of conservative misinformation," according to an article to be published on the group's website on Monday. The group cites Will's controversial June 2014 column about campus sexual assault, comments he made this year about Ebola and global warming, and ongoing questions about Will's potential conflicts of interest.
Will, who won a Pulitzer Prize for commentary in 1977, joins previous winners of Media Matters' annual "award," including Rush Limbaugh, Sarah Palin, Glenn Beck and Sean Hannity.
In the June 6 column, Will put the term "sexual assault" in quotation marks and wrote dismissively about a rape case at Swarthmore College in Pennsylvania, alluding to suggestions that the reported victim in that case had not been assaulted at all. The column argued that "victimhood [was] a coveted status that confers privileges" and criticized federal efforts to address sexual violence on campuses.
"I absolutely have not received any privileges from sexual assault," Lisa Sendrow, the accuser in the Swarthmore case, told Media Matters in an interview for its article about Will. "He has clearly never experienced the fear of sexual assault. He clearly has no idea how hard it is to sleep, to walk around, thinking at any moment this person that you live down the hall from could come out."
Sendrow told Media Matters that she had received death threats and was diagnosed with post-traumatic stress disorder as a result of the assault she experienced, as well as the media coverage that followed.
When asked on CSPAN in June about the pushback from U.S. senators, Will said he takes "sexual assault much more seriously" than the lawmakers do, and added that he didn't regret any of his writing about the issue.
Will did not return a request for comment by HuffPost on Monday. Washington Post Editorial Page editor Fred Hiatt did not respond to a request for comment either.
"This captures what appears to be the crux of Will's argument: that there are real rape victims, and fake ones -- women whose stories he doesn't believe are bad enough to qualify under his own definition of the term, but who reap (unidentified) benefits by pretending to be victimized," Media Matters writes. "Will believes he is qualified to determine what is and is not 'real sexual assault.'"
In addition to the sexual assault issue, Will is taking heat for helping spread exaggerations about Ebola, which have been collectively named "the lie of the year" by PolitiFact. Will said in October that Ebola was airborne and could be spread by a "sneeze or some cough." This came from a misreading of commentary posted on a University of Minnesota web page. The university later issued statements saying unequivocally that its employees never suggested Ebola was airborne.
Another example of Will's "misinformation" cited by Media Matters has to do with global warming. Appearing on Fox News in October, Will rejected the notion that 97 percent of climate scientists agree that man-made global warming is a real phenomenon. Although the statistic is widely accepted by experts, Will asked: "Where did that figure come from? They pluck these things from the ether."
Media Matters further dinged Will for not disclosing his ties to groups like Americans for Prosperity, the National Retail Federation and the Wisconsin-based Lynde and Harry Bradley Foundation. Erik Wemple, Will's colleague at The Washington Post, said earlier this month that based on his ties to the foundation, Will was guilty of a conflict of interest when it came to his writings about education policy in Wisconsin.
The conservative writer defended himself on that count to Wemple, responding: "I see no reason -- no service to readers -- to disclose my several degrees of separation from the program: My tenuous connection has no bearing on what I think about what they do."
Calling all HuffPost superfans!
Sign up for membership to become a founding member and help shape HuffPost's next chapter