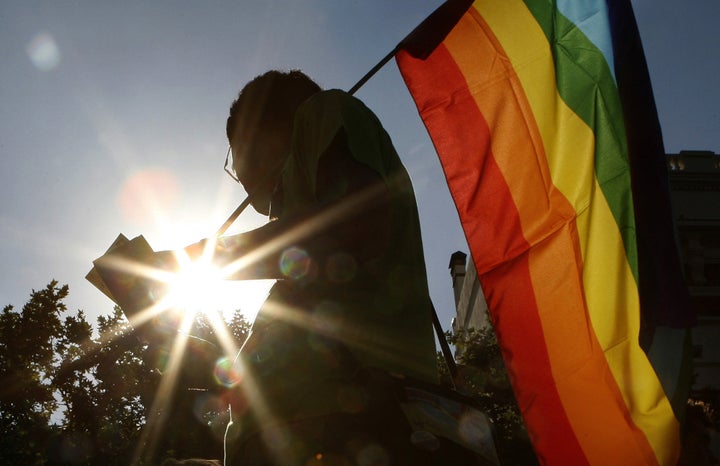 WASHINGTON -- Media Matters on Monday drafted a letter announcing a new campaign to persuade Orbitz to stop advertising on Fox News citing the conservative outlet's coverage of LGBT issues, The Huffington Post has learned.
A month after Glenn Beck announced his impending departure from his daily Fox News program amid declining advertising revenue, the progressive media watchdog group is gearing up to launch DropFox, a campaign to persuade Orbitz that Fox's representation of LGBT issues is at odds with Orbitz's own brand identity.
"Orbitz risks alienating gay and lesbian customers by giving ad dollars to Fox News, a network that blatantly promotes an anti-gay political agenda," said Ilyse Hogue, Senior Adviser at Media Matters. "Orbitz customers who value equality can and will take their business elsewhere, and this is just the tip of the iceberg. Any company whose customer base values the diversity, civil rights, and journalistic standards should recognize that doing business with Fox will only cost them in the long run."
The letter being sent to Orbitz is informed by data from the StopBeck campaign showing how advertisers were successfully pressured to discontinue their ads, which ultimately led to Fox dropping Beck's program.
A breakdown of the data quantifies the impact advertiser losses had on Beck's show and how the StopBeck effort used social media to convince advertisers that associating themselves with Beck was inconsistent with their brand identity and, by extension, that dropping their ads from his show could help insulate them from public frustration with Beck.
In launching its DropFox campaign, Media Matters expects to build on the strategy used in targeting Beck.
"After losing more than 300 advertisers and seeing more than 1,000,000 viewers abandon his show the only surprise is that it took Fox News months to reach this decision," Media Matters founder David Brock said of Fox's decision to drop Beck's show. "Fox News now has to choose: Will it eliminate all violent rhetoric from the network -- not just during the 5 p.m. hour? And will the network make a commitment to end its role as a political operation masquerading as a news station?"
Now the progressive watchdog group will turn its focus to specific instances of Fox using anti-gay language and actions. It lists the following examples:
· Giving Mike Huckabee his own show despite Huckabee's history of comparing homosexuality to drug abuse, incest, pedophilia, and necrophilia. Huckabee has repeatedly used his Fox platform to campaign against gay marriage, and he has suggested that marriage equality poses a threat to stable society.

· Bill O' Reilly repeatedly using his popular prime time show to warn against the "dangers" of allowing gay people near children, to assert that same-sex marriage could lead to polygamy, nuptialswith turtles, ducks or dolphins, and to claim that implementing a hate crimes bill could protect pedophiles.

· Perpetuating the claim that repealing Don't Ask Don't Tell would impact troop readiness and morale, despite multiple reports -- including the Pentagon's -- to the contrary.
Gay rights organizations GLAAD, Courage Campaign and Equality Matters have also signed on to the letter.
Popular in the Community