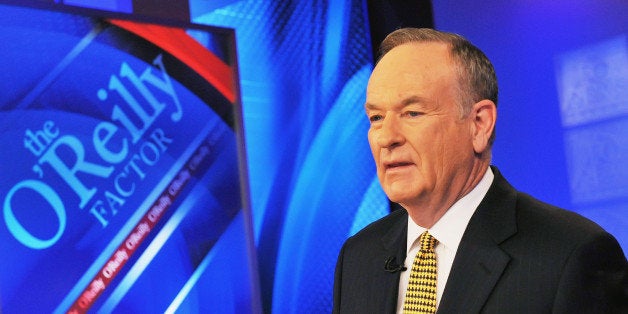 On Tuesday, progressive watchdog group Media Matters released a 56-page, six-chapter ebook detailing the many alleged inaccuracies surrounding Bill O'Reilly and his so-called "war reporting" experiences over the years.
The controversy around O'Reilly first began in February when left-leaning political magazine Mother Jones published an article accusing the Fox News host of embellishing the violence he witnessed while covering the Falklands War in 1982 for CBS News. O'Reilly claimed to have "reported on the ground in active war zones" and "survived a combat situation," despite being stationed in the Argentine capital of Buenos Aries some 1,200 miles away from the fighting.
Media Matters' senior fellow Eric Boehlert has now compiled the often tangled web of stories into one comprehensive text for readers, delving deeply into the narrative and nuance surrounding each episode.
"We really wanted to put all this information, all this damning evidence, in one place so people could get a useful overview of what O'Reilly's been doing in terms of manufacturing his past," Boehlert said in an email to The Huffington Post. "When this story unfolded over the winter, it did so over several weeks as more and more revelations came out. People might have lost track of all the confirmed contradictions and this book was a good way to present it in one telling."
Titled Killing Truth: The Lies And Legends Of Bill O'Reilly -- a play on O'Reilly's popular books Killing Lincoln, Killing Kennedy, Killing Jesus and so on -- Boehlert's book paints the Fox News host as a pathological liar with an inferiority complex. The book salts old wounds, unearthing lies O'Reilly may have told about his accomplishments as a high school and college athlete, and spends ample time recounting his failure to ascend the slippery ladder of network news before landing at conservative powerhouse Fox.
"[W]hen you read chapter after chapter, from Argentina to El Salvador, to Northern Ireland to the LA riots, you really get a sense of a man who's almost desperate to reinvent his past and to concoct a resume of a courageous wartime reporter," Boehlert explained.
The e-book slams O'Reilly's employer, calling Fox News a "house of mirrors" where "facts are fungible and contradictions are professionally ignored." The text criticizes Fox's bitter defense of its host despite a wealth of evidence against him, and suggests the network is more like a cult than a news organization.
"Fox News still pretends it's in the news business. Fox News still tells its viewers they're getting the 'no spin' version of current events, " Boehlert said. "But you can't be in the news business if [your] most famous host is a fabulist who refuses to concede he's lied about his biography for years."
Read Media Matters' Killing Truth here.

Related
Popular in the Community