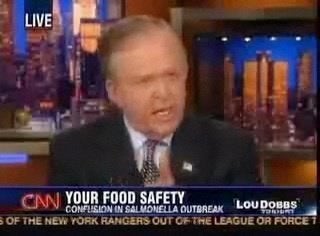 It looks like CNN president John Klein's laissez faire attitude about Lou Dobbs "birther" obsession is about to be tested.
Yesterday we noted that CNN host Lou Dobbs' "birther" obsession -- the right-wing theory Dobbs has been trumpeting that President Obama has no U.S. birth certificate, is an "undocumented" alien, and his presidency is "illegal" -- has been good for creating controversy and hot feelings but bad for CNN's ratings. In short, since Dobbs began talking Obama birth certificate conspiracy theories on his radio show, his audience on CNN has decreased by 15 percent.
CNN's president John Klein has been largely defending Dobbs. After initially declaring the birthers story "dead" in an internal memo to Dobbs' staff, Klein switched tacks and went on to say that "Lous' his own show," and, in a panel discussion, Klein emphasized that what Dobbs said on his radio show was not his (Klein's) problem. "We have no control over what he says on his radio show." Klein said. "It's not a CNN radio program so he does what he does on the radio separate from what he does on our air."
A Media Matters spokesman tells me the group has bought a week of ad time on CNN, MSNBC and Fox News in D.C., New York, and Atlanta, beginning Tuesday. The catch: Media Matters has specifically purchased time to air the ad during Dobbs' show -- putting CNN in the position of either running the spot or nixing it and making this a bigger story
Read the full transcript of the ad here.
UPDATE: Dobbs has now responded to the ads on his radio show, calling them a "Swift Boat of the left" and "really extraordinary." He ends his rant suggesting he won't try to put a stop to the ad running: "So it'll be interesting to see what Media Matters runs. That sounds like a fascinating ad."
REAL LIFE. REAL NEWS. REAL VOICES.
Help us tell more of the stories that matter from voices that too often remain unheard.