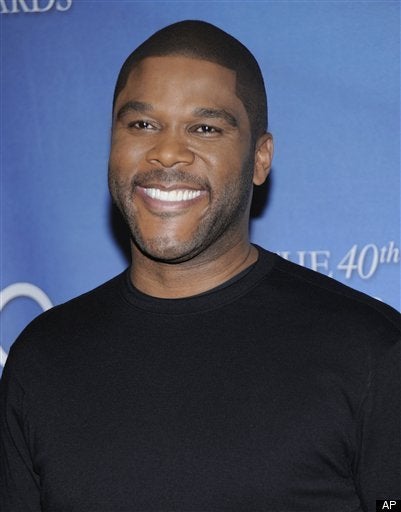 Sitting at a conference table almost too full with cast members of I Can Do Bad All By Myself, the mulit-hyphenated Tyler Perry came to Manhattan to offer a lively Q&A session with a broad range of press people. While his latest film is remotely based on an early play of his of the same name, Perry's feature focuses more on his on-going positive message of redemption and growth than the antics of his flippant but caring Grandma Madea character. And again, once it opened it topped the box office.
Coming from poverty and homelessness, Perry has gone on to make an incredible success of himself, first as a writer/director/producer of plays, then as the creator of films and television series. Through his female alter-ego, Madea, he became a huge comic phenomenon, and a whole industry in and of itself.

Besides producing plays, film and television out his huge Atlanta-based production studio, the 40-year-old has become a media mogul and motivational speaker with various charities under his auspices. According to Wikipedia, Perry's films have grossed just under $400 million worldwide as of July 2009. And to add to his list of accomplishments, Perry co-produced -- with Oprah Winfrey -- director Lee Daniels' Precious based on the novel by Sapphire -- a movie that has won top audience awards at both Sundance and Toronto Film Festivals, will be the centerpiece film at the upcoming New York Film Festival and is already stirring Oscar talk.
In I Can Do Bad All by Myself, Madea (Perry) catches 16-year-old Jennifer (Hope Olaide Wilson) with her two younger brothers looting her home. The big-mouthed, wise-cracking granny takes matters into her own hands and delivers the young delinquents to their only relative, aunt April (Taraji P. Henson), a hard-drinking nightclub singer who lives off her married boyfriend Raymond (Bryan J. White). April wants nothing to do with the kids who live with their grandma (but she's M.I.A.). When a handsome Latino immigrant Sandino (Adam Rodriguez) is sent by the pastor of their neighborhood church (Pastor Marvin Winans), he trades work for a place to live in her basement.

The closer April and Sandino grow, the more she realizes the importance of faith and family. Once she's told by church elder Wilma (Gladys Knight) that her mom has died, she knows she has to take care of the kids, and reluctantly sees her life in a different light.
Things come to a head -- Ray and Sandino fight; Sandino proposes to April -- her best friend bartender Tanya (Mary J Blige) sings a song that is both the film's title and its signature statement: I Can Do Bad All By Myself.
Q: What's the key to your success especially with this subject matter.
TP: I'm just a man that has used what I've learned in this life and I've tried to put it in film. I don't want to just do film to make a movie for people to see; to blow up something, to kill somebody, explosions. None of that is attractive to me because what I've tried to do with my work and with my life is inspire and motivate people because I've come through too much hell to be able to sit in this seat.
I have a tremendous debt to pay so I want to just pay it forward and pass it on to other people; that's why I keep doing positive movies. This is what I know for sure; you reap what you sow. That's why I think I've been so successful; god is just blessing me and honoring everything that I'm doing.
Q: Your films are based on your plays; you've been able to work out the experience before a live audience. How has that experience of working in theater educated you and what your plans are with theater going forward.
TP: There's nothing like a live performance; it's immediate. And being on the circuit that I was on for a very long time doing 300 shows a year, most of them sold out, for 10 years straight, I learned a great deal. What will work and what won't work and how far I can go and how far I can't. And I'm still writing from those experiences. Everybody at the table can attest to that immediate give and take from an audience, and you take that and you go with it.
Q: You have a knack for talking about contemporary issues as you do in this film with the child molestation element.
TP: In writing this and talking about molestation and sexual abuse, it is very very clear to me that a lot of our own issues, including myself as a person, are a result from what has happened to us as children. So when I was thinking about April and her, "I don't care about anybody but myself," where would that come from? And molestation is the root to so many things, so I wanted to explore it a little bit and I think that when people really see it, they get it. They understand that, "Wait a minute; is this why I'm this way?"
Because it's happened to so many people, and [because whatever goes on in this house stays in this house and nothing ever gets covered], that's why I wanted to address it. I think that as people see it they'll really get it.
Let me say this to everybody here; I'm speaking to people, for the most part, my base, my core audience, that everybody has ignored for years. And we are a people that exist and need to be spoken to in a way that we get, in a way that we understand. And I'm just really really fortunate and blessed to have that opportunity to do that.
Q: What are your thoughts on the current status of African American women who are not getting married at the same rates of other ethnic groups or white women, particularly because you cast another ethnic minority in a role that is the love interest for an African American woman. Were you subtly suggesting that African American women need to exercise other options [laughs]?
TP: I want to make sure that this is clear; hell no! No, the thing is this; I didn't suggest anything, I didn't even know those stats. I was once accused of being anti-Semitic last time I was here doing a press conference because one of the attorneys in "Diary of a Mad Black Women" got an award called the Feinstein award and they said that was anti-Semitic because I named the award after a Jewish person.
I don't get it. It's kind of similar to this; I'm just writing. I'm not thinking about what race a person is because I don't live my life that way. I just write the story and I thought these two would be a good look and be good for each other with his story, his problems, his issues that he's worked through, and her with hers. He could have been Tyrone Jackson, it wouldn't have mattered, but in this case it just happened to be somebody who's Latin.
I had the same issue in the first two movies; a couple of critics went off because all of my heroes seem to be light skinned. It's not something I was even thinking about, it just happened. And so I went and found some dark skinned heroes in the next one. So I will take this into consideration; next time I will make sure that the black woman finds a black man.
Q: While white and Hispanic women may be on their second husbands, many African American women have never been married by the time they are in their 30s and 40s. One reason for that is that African American men are more likely to marry outside of their race.
TP: It doesn't matter who they are or where they come from, but my point was that part of the reason that a lot of people are not married is because they have this list of what they want their men to be, have, make. And more important to the point of what Adam was making, it doesn't matter if the person has nothing; if they can bring you love and the love you need then that should be enough.
Q: You do allow for some adlibbing; not everything is scripted. Were there parts of the movie where you were allowed the cast to expand their roles?
TP: Well there is this one scene, it was a really serious scene where Taraji and Adam are sitting on the sofa and we're shooting the scene and Taraji leans over and she starts to kiss him but it wasn't in the script. So I'm looking through the script and I'm sitting at the monitor watching and I just sit back and see how long it's going to go. I don't understand how when you're kissing somebody you put your tongue in their mouth and you're supposed to be acting, when there's no camera inside your mouth to see the tongue.
So the kisses went on and on and on and I sat there waiting for them to finish and they just kept kissing. I have it on video; it's a long long long long long kiss and they wouldn't stop. So I finally said "Cut" and I said, "What the hell was that? Where did that come from?" Taraji was like, "What? It's in the script," "Show it to me," so they adlipped.
Q: Being around such soulful singers and such an amazing pastor, was there ever a time during taping when you were doing the church scenes, that you literally go to church?
TP: Yeah, the entire church scene is real. I had five cameras rolling because I knew the only way to capture what I wanted is to have church, so that's what we did. [Pastor Winans] actually preached a sermon and sang the song, that was it. It wasn't like we did a million different setups; we did maybe one or two, but that thing that you feel when you're watching it is real and you can't fake that. You can't cut and resetup and cut again and re-setup and try to get it; you have to get it as it happens and I was very adamant about capturing that moment.
Just like in Diary of a Mad Black Woman, when she comes in that church, you feel it. It was the same way I wanted it in this situation and the only way for that to happen is it had to be caught all at the same time.
Q: I Can Do Bad is one of your earliest plays. Why did you wait until now to bring it to the screen? And what sort of changes did it go through in the adaptation?
TP: No rhyme, no reason. And it's so different from the play; the only thing that the movie has in common with the play is the title and Madea, that's it. It was Madea's first time on stage, I was scared to death. It was the Regal Theater, 79th and Stony Island. I had rehearsed all month the show without ever looking at a costume or putting it on, just like this. The night of the show I put the costume on and looked at myself and was like, "Oh god, what have I gotten myself into? It's sold out out there and these people are waiting."
So I'm standing there and they're saying, "Go, go, go," and Brown pushed me on stage. And that's where she was born. But no rhyme or reason for it; I just thought the time was now.
Q: What are your upcoming projects?
TP: I'm working on a new album with Mary J. Blige [laughs]. Not. I just finished Why Did I Get Married Too; it comes out in April. The first thing that comes out in November is Precious directed by Lee Daniels. Oprah and I are presenting it. And then it's Why Did I Get Married Too and I can't wait for you guys to see it because Janet [Jackson] went through all the stuff with Michael at the time and she needed the work so she brought everything she had into the film and she's got some scenes in here that I can't wait for you guys to see.
Q: And you're adapting For Colored Girls Who Have Considered Suicide When the Rainbow Is Enuf--a challenging and highly respected play. What makes you want to do that as your first adaptation?
TP: 'm writing it now, don't worry there will be no Madea in it. I know there are For Colored Girls fans who are wondering, "Why the hell is he doing For Colored Girls?" but I really really embraced the material and listened to the stories and the cast I think is going to blow people away. It is the most incredible cast of women of color, and Latin, that has ever been assembled in film. Ever.
Q: Are you sticking with the play?
TP: It's all of Ntozake Shange's work, her poems, but as you know, as everybody who knows For Colored Girls knows, there's no story there; it's all different vignettes. But what I did was each woman has her own story and all of their lives cross. It's kind of like Crash; none of the women know each other. They pass through each other's lives and they're all living their own lives but nobody knows that they're all on a collision course to meet each other.
At the middle of the movie what happens is one of the women has just started a For Colored Girls center, where women go through this 12-step program of healing from relationships and everything. A lot of the poems happen in this center when all of these women come together. So it's going to be fantastic.
I'm also working on a new play; the first date is October 4th and it's called "Laugh to Keep from Crying" but I haven't written a word yet. But it will be ready.
Q: Have you cast For Colored Girls yet?
TP: I have made five phone calls. We haven't made an announcement yet; the five women that I've spoken to have said yes, but it's sixteen women, sixteen major roles, and I can't wait to tell you. But the dream cast is pretty darn exciting and most of the dream cast has said yes.
Popular in the Community