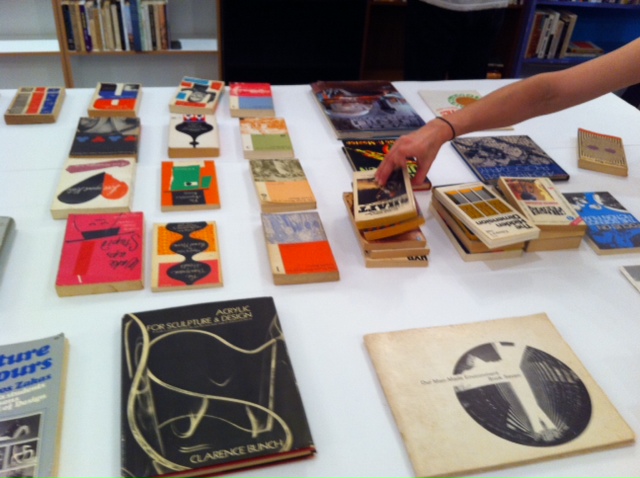 I had no clue that October was National Book Month, but it became apparent the minute September closed. On the morning of the first, I heard a SoundPrint segment on NPR that addressed the alluring smell and heft of the physical, bound in leather tome and the bookstores and libraries that contain them. The report surveyed the seemingly uncomfortable shift from hard copy to e-reader and the fact that we're losing bookstores to the distribution ease of web-based sources.
I checked my Facebook over coffee that morning and found numerous reminders from friends who are participating in the New York Art Book Fair at PS1, an event sponsored by Printed Matter that honors niche demographic of zine makers and artists. My cousin Roz in LA posted about the West Hollywood Book Fair which she coordinates. That event addresses a broader range of literary tastes, but is similarly notable for its sense of fae-to-face conversation and sales.
There was a small but significant literary storefront event in San Francisco; Nick Hoff and Matt Borruso, a writer/bookseller and an artist/bibliophile, respectively, opened a month-long pop-up shop/art installation in the Mission District Mina Dresden Gallery. Titled Scanners, after the 1981 David Cronenberg film, the project is essentially a curated bookstore, a subjective read and re-display of quirky selections sourced from flea markets and garage sales and displayed with an eye to snarky juxtaposition and cultural studies camp (a gay porn novel knowingly placed atop the Feminine Mystique being one obvious example), yet other sections earnestly included used copies of currently fashionable critical theory and architectural analysis. A table featured an array of books all with covers designed by Paul Rand, presenting the idea of packaging as one means of categorization. Everything here was filtered, given hip, intellectualized context.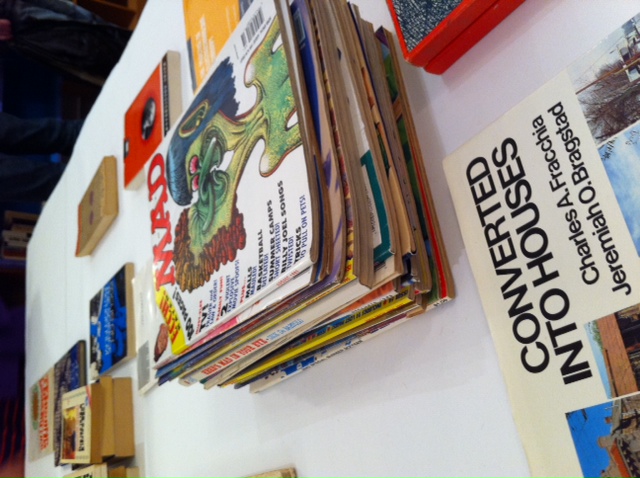 The project exploits its temporary nature for the ephemeral inventory as well as the social possibilities -- novelty brings people in. The opening night was convivial and well attended by writers, artists, readers and collectors with a similar counterculture sensibility. Part art opening, part shopping spree, the event focused as much on the opportunity to handle, sniff, consider and acquire as it was about recognizing a collage of material and the act of book shopping as an art. I spotted books that are on my own shelves, editions that mark my membership in a particular generation and community of thought. It reveled in the physicality of the book as object -- a fellow teacher lamented to me that he doesn't see students with books anymore, all of their texts stored on their slim iPads. Young thinkers will no longer develop arm strength from lugging their homework assignments.
Reformulating distribution systems are also part of the project's appeal. While it was essentially a high-concept privately-owned used bookstore, more than one person seemed to interpret it as non-profit venture, where patronage supports the arts. It also could be perceived as an appropriation-based artwork, with elements that are priced within reach -- I couldn't help but purchase, for eight bucks, a bizarre book of Hollywood photographs accompanied by an obscure poem by Bob Dylan (who knew?). Public discussions of bookselling, archives, appropriation, and the effect of reading on the human brain are scheduled in the Scanners space throughout the month. (The project was partly supported by a grant from the San Francisco Art Commission.)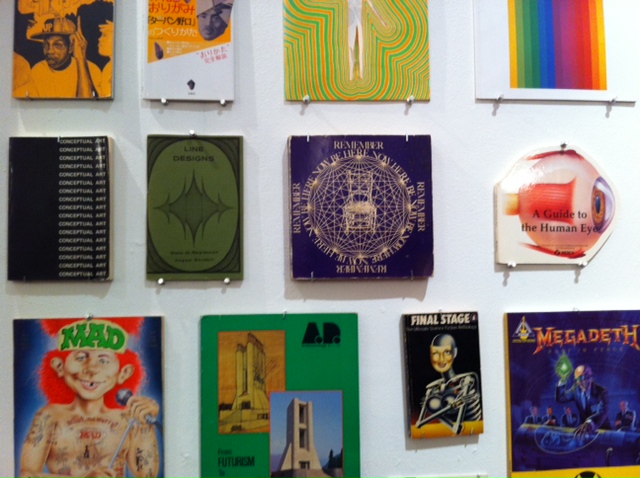 The model may not be groundbreaking, but what made this event so interesting was its sociability. As our intake of media becomes increasingly isolated -- downloaded rather than through interpersonal exchange -- there is equally a sense that we can create rituals that bring people together to share interests and ideas. Coincidentally, the same day Scanners opened, I'd had conversations with two art dealers who, unbeknownst to each other, are organizing curated film series to address similar shifts in the distribution of cinema. Either we're all in a quest to re-frame and preserve our connection to the arts or November is national film month.

Popular in the Community