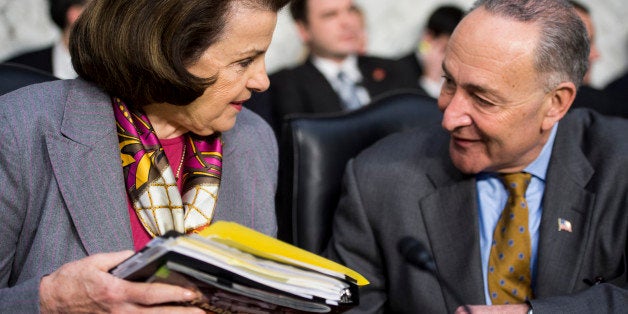 Senators on the committee sparred last month over who would be covered under such a law. Sen. Dianne Feinstein (D-Calif.) argued that a covered person should be a salaried employee, independent contractor or "agent of an entity that disseminates news or information" at the time in question. Sen. Charles Schumer (D-N.Y.), one of the sponsors of the bill under consideration, countered that bloggers and others providing news and information today, especially online, may not necessarily receive a salary and yet still deserve protection.
The Schumer-Graham media shield bill states that those covered would be persons with the "primary intent to investigate events and procure material in order to disseminate to the public news or information."
Schumer's office has hammered out a compromise amendment with the offices of Feinstein and Sen. Dick Durbin (D-Ill.), the two senators who recently proposed an amendment to narrow language in the bill and ensure that organizations such as WikiLeaks would not be covered. Feinstein and Durbin also proposed that a covered person have an employer relationship with a media outlet in three months of the last two years.
Under the compromise, an individual who has had an employer relationship for one of the past 20 years or three continuous months in the past five years would be covered, according to details Schumer's office provided to HuffPost. The bill would also cover student journalists, as well as freelancers with a substantial track record of doing journalism in the past five years.
Importantly, there will be a safety valve in case an individual does not meet those requirements, with a federal judge having discretion to determine if someone is protected under the shield law.
With the addition of the compromise, the Judiciary Committee is expected to vote to send the legislation to the full Senate.
Paul Boyle, senior vice president of public policy at the Newspaper Association of America, a group that has worked with a coalition of over 70 media organizations in advising congressional staffs, told HuffPost that his coalition is satisfied with the new language since more independent journalists will be protected.
In May, President Barack Obama called on Schumer to reintroduce a version of the Free Flow of Information Act, a bill proposed in 2009 that didn't pass. The reintroduction of the bill came two days after revelations that the Justice Department had secretly seized phone records for 20 lines used by Associated Press journalists in a leak investigation.
An earlier federal shield law was proposed in 2005 after Judy Miller, then a New York Times reporter, went to jail to protect her source, I Lewis "Scooter" Libby, a former adviser to Vice President Dick Cheney, in an investigation over the leaking of a covert CIA officer's name. That law didn't pass and the 2009 version stalled after concerns that a new player in the media world, WikiLeaks, could be covered. Forty-eight states and the District of Columbia have shield laws or some form of reporter's privilege on the books.
Last month, Schumer expressed confidence to HuffPost's Sam Stein that a bill may pass this time around, given the "strong bipartisan coalition" that supports it. He explained the need to cover individuals doing journalism who may not be currently employed by traditional news outlets.
"I think the bill is pretty good," Schumer said. "You have to do two things. You first have to realize that the world has changed, and not everything occurs in print from people who work seven days a week at journalism. There are fine journalists that don't do that anymore. But on the other hand, you can't just say anybody who writes one single thing gets the same kind of protection. And so I think we've come to a pretty good balance, and we have most of the more traditional groups on board, as well as the newer groups who generally practice the new form of journalism on the Net."
There is a national security exception in the bill, whereby the government could argue that a journalist's confidential information is necessary to prevent an act of terrorism or could cause "significant and articulable harm to national security." Some media advocates expressed skepticism in May over the reintroduction of a shield law, arguing there are too many possible exceptions for the government to still obtain a journalist's materials or compel them to testify.
In a recent interview, Boyle said he believes journalists Matt Apuzzo and Adam Goldman -– the AP reporters who revealed an already thwarted terrorist plot in Yemen, sparking the DOJ investigation and seizure of AP phone lines -– would be protected under the bill.
"It's probably hard for the government to prevail on that," Boyle said or the AP's situation. "But the point is, they could go to the judge and say, 'Listen, there's these leaks and here's the potential damage to national security going forward and make their case."
Boyle said that a "judge would make that determination, balancing interests on both sides if the government needed [a journalist's] testimony to prevent significant or articulable harm to national security."
UPDATE: 12:10 p.m. -- After roughly two hours of debate Thursday, the Senate Judiciary Committee passed the media shield law bill with the Feinstein-Durbin amendment by a vote of 13-5.
Related
Popular in the Community