All people think of when they hear the word "schizophrenia" is the ramped-up media headlines about the very rare occurrences of people with the illness turning violent. The majority of people who experience schizophrenia are only likely to do harm to themselves.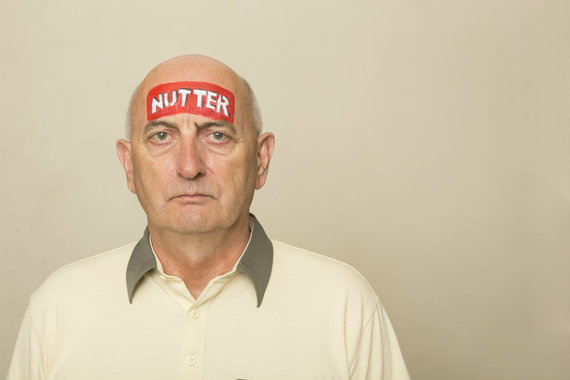 I wanted to challenge the media stereotypes with my make up design. I chose the word "nutter," which is often used to talk about people with schizophrenia, and to make it look like it was on a tabloid I used red and white.
The stereotypes the media projects are prejudicial, unfair and unhelpful. They don't help people with schizophrenia, or their friends and family.
My diagnosis is paranoid schizophrenia. I first became ill when I was in my 20s, and I did not receive the help I needed. This resulted in over 20 years ping-ponging in and out of the old asylum system, with multiple admissions. Whenever I was discharged I would avoid having my injections of medication, which would result in me becoming psychotic again. Then I would get returned to hospital, where the same failed cycle would be repeated. On my last admission in 1991 I asked to have my medication by tablet rather than injection. I have taken my tablets every day for the last 20 years, and it's meant I have not become psychotic or deluded.
This has enabled me to get a BA (Hons) from the Open University in Politics and an MA in Social Policy from Brighton University. I also tell my story at various events and produce graphic books that help explain mental illness. This has been a therapeutic and cathartic process, telling my story in my words, not in the terms of other people, and I have a tangible product to share with friends, family and caregivers.
I was selected to be a peer support worker for the NHS, supporting those with mental health issues. I will be editing a newsletter and also producing graphic books for service users and carers too. Knowing I may be able to help others gives me a huge sense of achievement.
My experience of paranoid schizophrenia, and crucially the lack of the right treatment, has meant I have missed out on forming relationships, having a family, a career and making a home, as well as other aspirational things that others have. But today I have the use of my brain back, and I can say I am in a happy place.

Watch Andrew's story via this short film:
Schizophrenia can affect anyone at any time. Rethink Mental Illness is fighting to help thousands of people like Andrew get the right support when they need it. You can help by making a donation and supporting our online campaign.
If you have a story about living with mental illness that you'd like to share with HuffPost readers, email us at strongertogether@huffingtonpost.com. Please be sure to include your name and phone number.