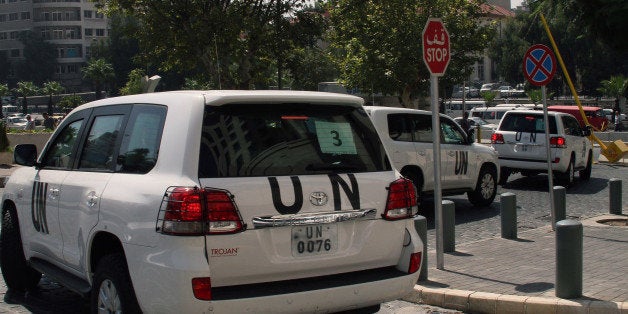 NEW YORK -- When Syrian foreign minister Walid Muallem held a news conference Tuesday in the capital city of Damascus, Wall Street Journal reporter Sam Dagher asked about the government's reaction to reports of chemical weapons use.
Dagher, who reported Monday from Homs, Syria, stood out at Tuesday's presser: He was the only U.S. newspaper reporter to pose a question. Dagher also appears to be the only U.S. newspaper reporter in Damascus.
Meanwhile, CNN's Frederik Pleitgen, who sat down Tuesday for an exclusive interview with Syria's information minister Omran al-Zoubi, has the distinction of being the only TV correspondent from a U.S. network in the capital.
For days, media war drums have been beating in network studios and across op-ed pages, with prominent columnists and commentators calling on President Barack Obama to strike Syrian President Bashar al-Assad's regime in retaliation for a a horrific chemical attack. The question in the U.S. media Tuesday wasn't if an attack takes place, but when. U.S. officials anonymously hinted at Thursday .

Social media has played a significant role the world's understanding of Syria's long-runing civil war that's resulted in more than 100,000 deaths. But journalists still serve a vital function in trying to independently verify the competing claims from government officials and rebel leaders, while gaining perspective from the ground amid the heightened war rhetoric of "red lines" and target lists.
"People here in Damascus are afraid of the U.S. getting more involved and that possibly tipping the scales in this conflict," Pleitgen told The Huffington Post in an email Tuesday "The vast majority of people we speak to want stability more than anything else in order to preserve their way of life. Government officials seem to now understand how serious the U.S. is about military action. Their tone has certainly become more reserved, even as they continue to say they would retaliate if America attacks."
Pleitgen also spoke to what he'd like to bring to the Syria story from a somewhat unique position right now among Western journalists:
"I think, especially at the beginning of this conflict, it was often portrayed as though it was the Assads and their military against the people. But there are many here who support the regime even though they are very critical of it. They are afraid of the alternative, and afraid of losing their very secular and open way of life. I think that Syrians, no matter which sect they belong to, see themselves as Syrians first and that social fabric is currently being destroyed. That's the tragedy I hope to convey in my reporting from Damascus -- to help viewers understand why it's important for the international community to preserve this nation, regardless of who will lead it in the future."
The Associated Press has also continued to operate out of Damascus. On Tuesday, reporter Lee Keath wrote of the "thin veneer of normalcy" in Damascus -- rare glimpse at how Syrians are dealing with the two-and-a-half year conflict.
"It is the lynchpin on which the region's security lies," di Giovanni wrote. "A larger, proxy war is at stake. Human rights abuses are happening everywhere inside, and every day."
To tell the story of what's happening in Syria, journalists have two basic options, each with benefits and drawbacks.
Journalists can report from Beirut, Lebanon, or from along the Syrian border and occasionally enter the country illegally, often with the help of rebel contacts. Some incredible reporting has been done this way, including Le Monde journalists spending two months in Syria to report on the use of chemical weapons in May.
Still, the threats of kidnapping by al Qaeda-linked fighters, and being held for ransom, is a major concern. The New York Times published a harrowing story Friday about an American photographer who was kidnapped and managed to escape captivity after seven months.
There's also the official route, which is the only way to report from Damascus. News organizations can seek a Syrian government visa, but requests are often turned down and, even if issued, are only temporary.
The Washington Post hasn't been able to secure one for more than a year, according to foreign editor Douglas Jehl.
New York Times foreign editor Joe Kahn said the paper does not have have a staff reporter in Damascus, but has worked "with good stringers in Damascus and around Syria who have been integral to reporting efforts."
Kahn added that the Times has had some reporters and photographers in Damascus on visas in recent months. But he said the visas "are not always granted on demand and are not open-ended."
The Wall Street Journal seems to have had more success than some other newspapers in obtaining government visas.
Bill Spindle, Middle East bureau chief for the Journal, said the paper has simply applied like other news outlets and "in most cases they've given them to us." He said Dagher has been inside Syria for roughly a year.
Even with a visa, Pleitgen acknowledged the restrictions on reporting in Damascus. While there isn't a government minder following the CNN crew, he said, the journalists only have permission to film in government-controlled parts of Damascus.
"Filming with the military can be frustrating, so we often have to independently make our way to the front line to get access to Assad's troops," Pleitgen said. "By and large, it is not too bad on the streets of Damascus as many people are willing to talk to us in the center of town. Things get more difficult on the outskirts close to rebel-held territory."
Another difficulty, he said, is in dealing with Syrian ministries, which often lack a spokesman or someone designated to deal with the press.
"When it comes to working with the media," Pleitgen noted, "Syria does not have a culture of transparency."
CORRECTION: This article originally labeled CNN's Frederik Pleitgen as the only western TV journalist in Damascus, a description used on air by the network. However, France 24, a French TV network, is also on the ground in Damascus.
Related
Before You Go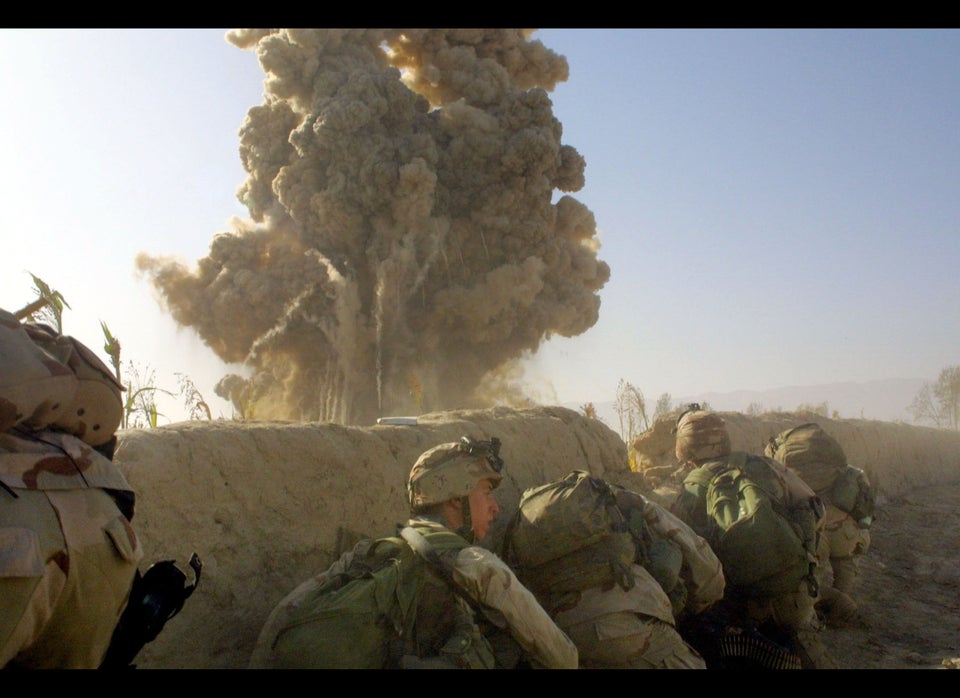 Afghanistan War, By The Numbers
Popular in the Community