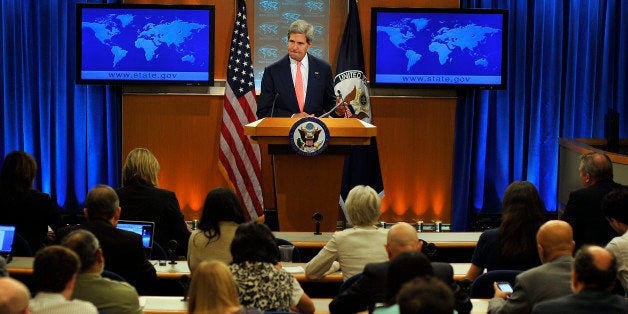 There appeared to be a hardening media consensus on Monday that some form of American military intervention in Syria is all but inevitable.
After Secretary of State John Kerry forcefully denounced an alleged chemical weapons attack in the country, and said President Obama would come up with some form of "response" to the incident, many reporters and news outlets quickly framed his speech as a preamble to a military attack.
Kerry, the Washington Post wrote, "left little doubt that the decision for the United States is not whether to take military action, but when."
The Wall Street Journal wrote that the speech was "the clearest indication yet that the Obama administration is preparing to attack President Bashar al-Assad's regime."
The New York Times said Kerry's remarks hinted the administration "was moving closer to a military response in consultation with America's allies."
Twitter was full of similar pronouncements:
One skeptical voice came from McClatchy, which wrote, "Middle East analysts say the United States faces the tricky task of coming up with a meaningful punishment for Assad without sucking the U.S. deeper into a civil war that's raged for more than two years and already is spilling into neighboring countries."
REAL LIFE. REAL NEWS. REAL VOICES.
Help us tell more of the stories that matter from voices that too often remain unheard.